Continuing our series of #Covidtimes talk and its huge impact on our lives and business , we speak to Alberto Candiani from the globally well known Candiani Mills Italy . Sandeep Agarwal speaks to him on various impacts of this crisis and Alberto shares his candid and insightful views about the situation and how he sees it will affect our industry. Here we bring a transcript of the talk.
Sandeep
Hi Alberto, Very Good Morning , It's too early there. How are you and how're you doing ?
Alberto
Hi Sandeep,Good Morning, it is still dark here. All good here, I hope the same for you guys.
Sandeep
Thank You, everything is fine here. How are you coping with the current situation at personal and professional level?
Alberto
Well, the situation here went out of control when our region became one of the most affected regions in the entire europe. We are still under lockdown, everything is closed here and we do not have any other solution to limit the outbreak. But now the government is thinking as to how to resume things gradually. We may see a phased resumption from May 4th, but as of now we are under lockdown.
Sandeep
There are a lot of things expected to change post pandemic. How long it would take to come back to normality ,and what would be the new normal ?
Alberto
It's a good question. More than normality, I think we should talk about ADAPTATION. I'm afraid of that if we will ever go back to normality but I'm sure there will be a new normality which we all have to adapt to and that will be depending on social distancing and other types of practices which will certainly change our society probably longer than the adaptation of time itself.
Sandeep
Do you see in these times digital communication and digital tools are coming very important and how even after this crisis they are going to be a part of our new normality?
Alberto
Communication is becoming key, connection is the only way or tool now to keep going. In my case we run pretty large textile operations and if you don't produce, there will be no much communication. We made a miracle by finalising the last collection. We've got to ship it out right before the shutdown and the past two weeks have been very interesting as the market is "working" remotely from home. We did put together a very amazing presentation about a very good collection considering we rushed it in the month of March.
I hope our industry is willing to learn more about it, so you want to feed people with more information and deeper information and yes communication is key. It also needs to be successful when you want to show the difference between your product and the others, but it has to be very honest too. We have to be a little more conscious during this time as this is the great time for fake news, but it should be no more time for fake marketing.
We make denim and again we only have to create more interest in people, these is something that denim is lacking quite a lot being it's the most democratic fabric in the world. It's such a big industry and it should be as popular as music.. again we need to bring it out there.Sustainability is giving a greater push to make Denim more interesting to the people and I believe that we're on the right path, as Candiani we do everything we can to make Denim look cool.
Sandeep
One thing I'm curious to know is that your company was founded before the II World War – so your family has faced the IInd World War and now you've been facing this war like situation with an invisible enemy. Do you compare what was the situation during the II World War and what is the situation now? What is really the difference between two times ?
Alberto
There are so many many common things – this is a very interesting question. Yes our company went through that moment when it was a much smaller company in a domestic market. Today we are a larger company in a global market. I think things did not stop at that time while things did stop this time because of mandatory lockdown. And that gives you a little bit idea of the damage or or the disaster which we actually have been facing.
That time we've fought against visible enemies, this time the enemy is invisible which is more dangerous. I realised after the II world war, my father- my great-grandfather's company decided to transform the company from a little weaving into a vertically integrated company. So if you look at the 50s and the 60s especially with my grandfather taking the lead when he was only 18 years old, it was reconstruction creating opportunities.
He faced the right economical conditions which were very supportive that time, now I don't really know if this disaster is going to create interesting economical conditions anytime soon. The market we envision is something which we will only be able to read after compression and oppression times. Having said that, I believe there will be an opportunity for growth and again.
Sandeep
Do you see the big part of supply chain disappearing post this crisis in terms of retailers or in terms of manufacturers and that's what we are hearing from lot of players would be disappearing and then the ones who are remaining are will be the strong ones would be the one who will really carry over the whole industry in a strong way?
Albert
Look, I'm afraid the industry is gonna take a serious hit ,a serious one actually. I don't know how much of the supply chain will disappear, some people will leave and some people will join in the future but the supply chain will suffer a lot because of the outward business model.
As Candiani, a Denim mill, we're sitting at the very beginning of the process, so we have to source the raw materials in order to make our products and that exposes us significantly. If you're not a solid company, if you're not a very healthy company, then you can find yourself lost especially if you didn't manage to scale up your economy.
I was thinking this morning about small Italian textile companies, they will certainly suffer because now they don't get nothing and due to uncertainty unfortunately these guys don't really know what's gonna happen tomorrow. So there will be loads of problems in the supply chain. especially small vendors. I'm not really talking about my competitors or garment makers. I relate with them, but for sure many smaller companies are not going to survive this. I just wish everybody's prosperity in this moment, but we have to face reality, if you can't take this, you would probably fail.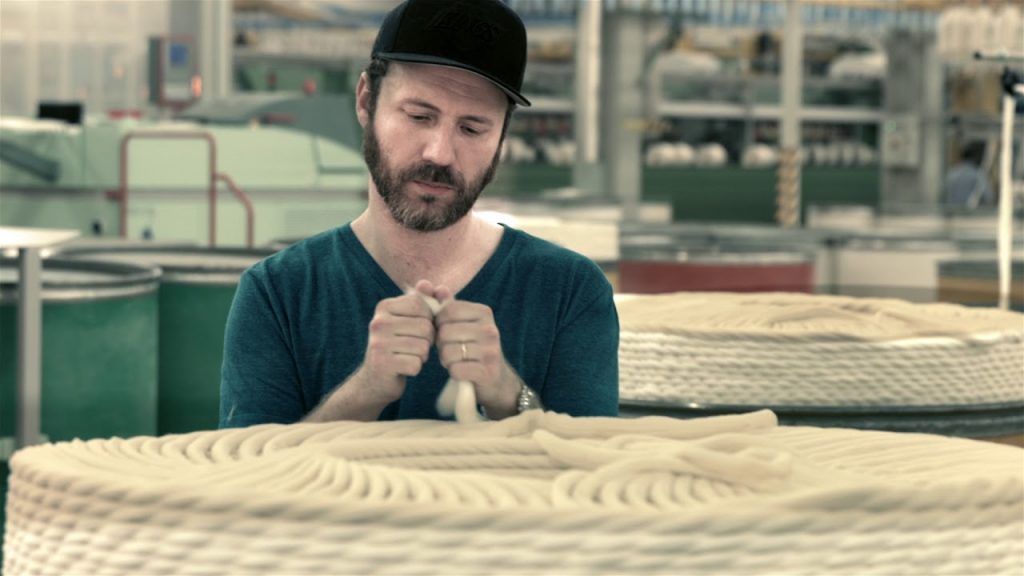 Sandeep
In terms of sustainability, your company has such a huge name globally in terms of contributing to sustainability in various ways, also recently you came out with the natural stretch and so many of the technologies you've been working on, so what do you see and how do you see sustainability changing after this crisis?
Albert
It will change, because I believe we're all relating ourselves to a very interesting thing which is "health".. so now we're looking at the health of human species, we're looking at health of the planet which is a reflection of sustainability as we were just talking about a potential disaster. I think people are now ready for a fresh start and people have been sitting long enough in their living room to gather more informations about what's good what's not. Also this pandemic is touching pretty much everyone.
I think this is gonna wake up people and will make them more careful, conscious and wishful for better stuff and better in this case necessarily means cleaner and nicer. Most of the time you know it's just better ingredients that makes a better pair of jeans. Just like food, better ingredients equals better quality and that normally leads to healthier food. I think it is going to be an interesting change and sustainability will certainly play a bigger role.
Sandeep
Do you think denim can also contribute in some way in protecting the health of consumers some way with applications with future technological developments?
Albert
You know, we can help people to preserve their health by using smarter ingredients and new technologies. I think our KITOTEX applications today can be rediscovered under a different prospective and not only water savings, due to their bacterio-static and anti-microbial properties. This new type of R&D can literally change the game.
It's also time to differentiate what is technical from the styptic stereotype. Nowadays much cleaner chemistry is finally available as much as smarter applications of natural products with incredible features. Chitosan , a natural and bio-degradable polymer, probably represents the most amazing solution to several issues.
We're doing deeper studies now on our KITOTEX beneficial effects and properties. We will certainly extend this technologies to more dyes and finishings. I am expecting to include several new developments in the second release of our REBOOT collection, since the first release is already in our agents hands and available to our customers.
Sandeep
Coming to consumers what are the major changes you see in the consumer perceptions post crisis and will this really differ from region to region?
Alberto
The main problem now is related to uncertainty. Uncertainty creates depression and it is not just about the crisis, I'm afraid that consuming behaviour of people will certainly be changed because of three reasons.
Reason #1 – There will be less money and this will further reduce the purchasing capacity of people and I am talking about from a global perspective , not only in Italy. People will not buy more just because it's cheap, hopefully they are going to buy less and might be of better quality.
Reason #2 – Second reason would be Uncertainty itself. People don't know about the scalability of this damage.
Reason #3 – Sci-Fi… I am afraid that a lot of people's behavior will be changed drastically due to the mutation of humans during this time of isolation and social distancing. I can't say what is gonna happen, but yes, I am positive some of the people's behavior will change forever after this crisis due to a real mutation. I believe that this is going to be a small part of the population though.
This pandemic is something which was totally unexpected six months ago and again I was just saying that we cannot really predict which things are going to change post this pandemic.
Sandeep
In terms of retailers, those retailers which were direct to consumers are probably better off than those which are pure brick-and-mortar stores ?
Alberto
If you look at retail, retail has been suffering a lot already for the past 10 years, I am not talking about the fast fashion retailers, I am talking about all the others. What's been growing lately is the online market, so retail can now adapt to this new online type of distribution, because we're talking distribution in the end. Those retailers who are manufacturing quality products should literally find a way to communicate with the consumer. Direct-to-consumer again is an interesting way but it's also not easy: you have to create confidence, you have to create pretty much the same experience you want to create in the physical store.
Sandeep
In terms of product development , how does this pandemic affect the whole cycle? Everybody would like to have a shorter cycle and not want to invest their resources for a long time so this product development cycle, how much do you think it can be reduced?
Alberto
I find this entire season thing "bullshit". I mean look at the seasons, they don't really make sense. Sometimes we look at crazy product cycles while the product stays pretty much the same or too similar to other products. If it is about a pair of jeans just make sure its own creative cycle makes it relevant enough to look in a way it is supposed to be. I think while we go forward we have to look at more relevant changes. A whole new cycle again for something which is not relevant is representative of a broken system.
We are mostly talking about basic and core products which are mostly seasonal and don't require permanent new cycles, but adjustments, corrections, updates.
Sandeep
In terms of globalization what changes do you think we're going to see and what changes do you think will be coming times we'll see in terms of near-sourcing ?
Alberto
Everything will be affected, in fact sourcing has been affected already.The world has been under a global lockdown and its consequences are not known yet. So far as the consequences on the sourcing is concerned, I'd like to tell you that, important customers, especially the big guys are cancelling on full winter and pre-spring 2020 collection.
I see costs going crazy, cotton going down but I also see crazy speculation probably coming on soft commodities going forward. We believe no one is in control and again this thing will create opportunities at some level. When you face this type of uncertainty you have to you have to wake up early, adapt to the new environment and you have to realise what's going on before others do so you can create or catch those new opportunities. You just can't wait, you have to move.
Sandeep
If you want to rank and let's say for the denim fabrics if you were to rank one two three the biggest changes in denim fabrics, what we will see in the coming times biggest biggest three changes which will come in the name as character of denim in the next few months or year let's say in the near future what would that be number one two and three.
Albert
So as you mentioned before technical innovation, so certainly more special finishings which will not necessarily alter characteristics of the jeans. We're looking at finishings, clear coatings, they're transparent so on paper they're are not really interfering with the aesthetics of denim unless you want them to.. unless you want to create something special, something which looks different from usual denim going in a more technical direction.
I believe what's gonna change is not really the aesthetics but the contents though. We will find more and more interesting compositions. We will certainly find more and more sustainable stories and sustainable ingredients as well again .
Every day the industry can be fair and talk about sustainable products more than sustainable stories. At least we have to come up with a sustainable story when we have a sustainable product and make sure your brand talks about it, not just green-marketing style, but also contents. So when I say composition and contents I don't only refer to the fabrics but also the message and the transparency that this whole process requires in order to be honest while communicating it.
I believe the future of denim of course is about sustainability, we talked about it a lot before . But in reality we are seeking new paths which finally people can take to increase their knowledge and awareness about the product. We want to go straight to the seed of our cottons, to the nature of our dyes, we want to explore agriculture and link it to the industrial process,. That goes straight back to the nature.
This is something that people couldn't see for the past hundred years. They couldn't see that the items sitting on the shelves of the stores would come from certain fields, certain mills and people did't really know what's going on in those fields or those mills. Today the consumer ,which I rather call the citizen , is willing to know more and traceability is the way to create more interest.
Again storytelling is going to be such a big deal but again you have to tell the story of something good and you have to make something good in order to tell that story. And again that's gonna change for sure. "Something good" is not only related to the aesthetics but it's also related to the perception of quality and then the importance that you finally give to your next pair of jeans.
Sandeep
What are the main big positives you see from the current situation ?
Albert
Well as I said earlier I'm a little scared to talk about opportunities in this moment, I'm not scared to talk about positivity because this can be over, the sooner the better. I can tell you that I am a positive person and people in our industry will be a little more conscious about how vulnerable we are, us, humans, and our industry, our models. I mean we're working in an industry that constantly overproduces, we're probably making the world's biggest landfill.
The planet is good for everybody and I don't like to call this particular situation or virus an equalizer, but in a way it has been an equalizer and I really hope we're not going to go back to the old normality in which the consumer is just a consumer and not a citizen.
I think we can have some interesting surprises going forward, but for now we know how vulnerable we can be.
Sandeep
It was a pleasure talking to you, thank you so much for your time.
Alberto
Thank you