Do you have a projector? Join in!
Join in with the special denim apps and gifs to show our support for those we clap for
I clap for…
From UK to India to Italy, communities applauded in a somewhat simple gesture, but powerful and often emotional combined – to support those helping us through Covid 19. They are now being beamed on buildings around the world thanks to our friend  and artist Ian Berry.
It's now been seen in dozens of Towns and Cities in the UK – and as far away as Colombia , Braziland Mexico City. This week they have double downed with many cities lighting up per night.There's no photoshop here but truly on iconic buildings like Edinburgh Castle, Durham Cathedral and the Angel of the North.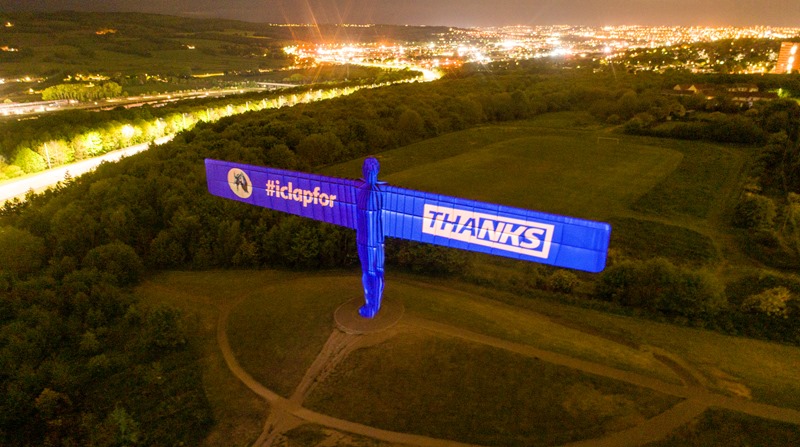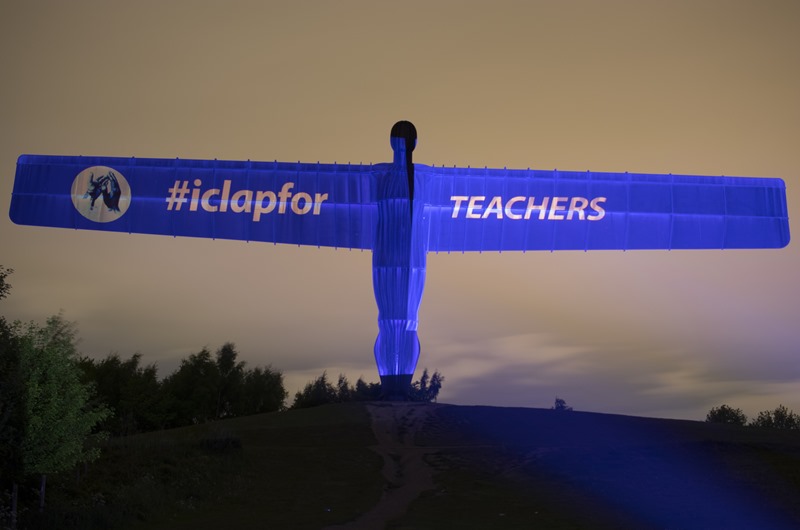 Ian Berry, had made two pieces of art combined to make an animation showing the clapping motion. Ian is of course known worldwide for his art in denim and it is with this material in which he made them, fitting a health care blue. In New York they clap every night. Can we get more clapping around and in the denim community?
The pieces of art animated are now showing up on cities all over the world, from Newcastle to New Orleans. They are also lighting up the length and breadth of the UK, from John o' Groats on the northern tip of Britain to Portsmouth in the South, with a series of networks of projectionists. This week it will be in some very impressive locations.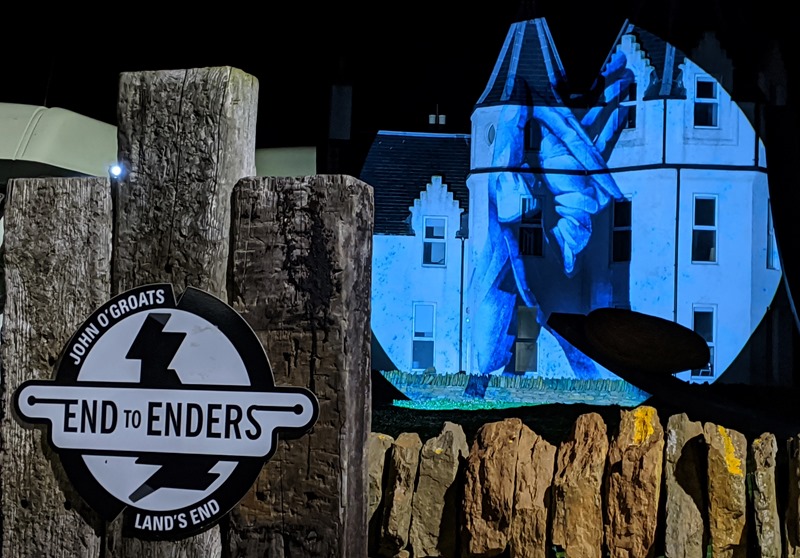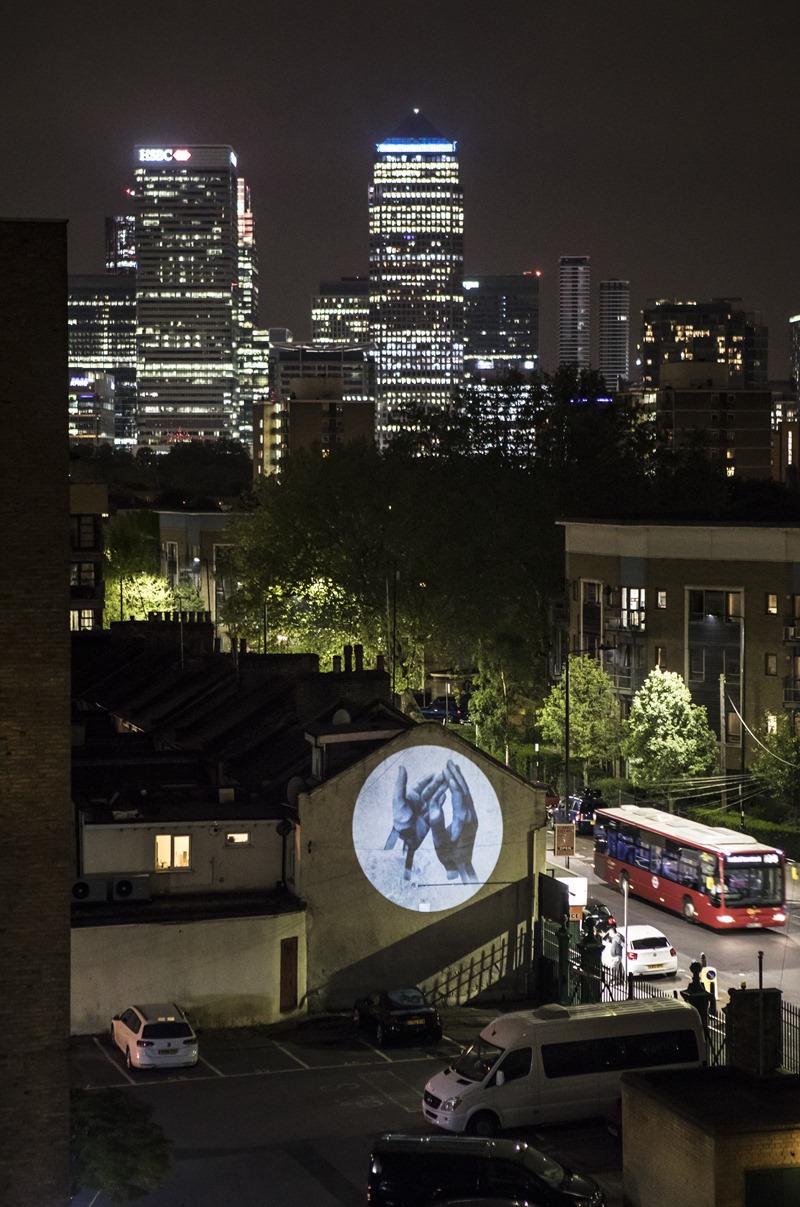 The batman like beam has also been spotted in East London where Ian now lives and works from his studio. He was moved by the clapping, at 8pm on Thursdays in the UK weekly event. His son couldn't wait for Thursdays to come 'is it Thursday yet?'and preparing for it.
It was his son Elliott, 6, who took the photo of his hands as he was being home schooled. Ian sent it on as like a greeting card to say thank to some of his friends in the health service, many who had been sick. While watching a film on a projector it was Elliott that said, can we put the clapping on there? Soon they were beaming it off the balcony and an idea was born.
It's now on electric billboards and being captured by drones in Sweden, opening the Autocinema Coyote in Mexico City and playing in Greensboro, North Carolina, aka 'Jeansboro', and Medellin in Colombia famed for Narcos and Sao Paolo Brazil.
Ian asks the question, who do you clap for? Using the hashtag#iclapfor . Ian wants people to highlight their friends, family or organisations they clap for. There's already been hundreds of reactions to the question, and some will get beamed on future projections to give thanks to those we clap for. Within the next week there will be some surprises so be sure to follow @ianberry.art if you don't already
Online there are special gifs and AV filters of the Clapping Hands for you to be able to use (type in iclapfor) and share as we say who we clap for. Ian is now asking if other artists and creators would like to have their work projected as well as if anyone would like to join in with their own projectors, you can find out more at www.iclapfor.com
Extra and quotes.
'Of course the streets are pretty empty so it's good to get some somewhere where people can see from home or frontline workers can see as they go past. Telling my son what the clapping was for and explaining individuals like his auntie who is on the corona team in Lund Hospital in Sweden and him having his new heroes. I hope they grow up to remember that.'
Ian adds 'While clapping is a nice gesture, and has brought many communities together, it is noted they need money and support. Well, let's use this platform to try and raise some money for the charity and a platform for good, like making the projections into projected art galleries.'
He along with some friends launched the website www.iclapfor.com where people will be able to leave messages for who they clap for as well as fund raising initiatives.
Later in the year Ian will show at the Levis Museum in Germany, Museum Rijswijk, Holland before next Spring showing at the Huddersfield Art Gallery. Part of the show will look at this period – fitting as many of Ian's work have depicted isolation. People have been invited to submit their isolation pictures and many will be curated to show as photographs in the Museums – along with some in denim.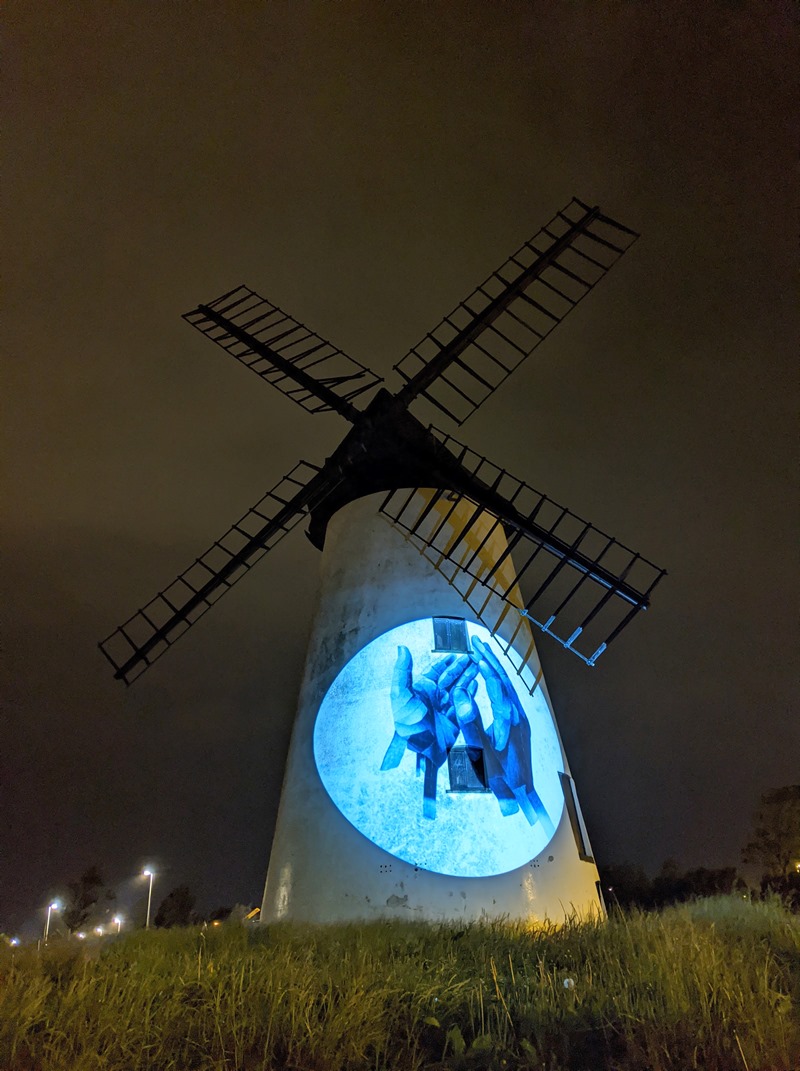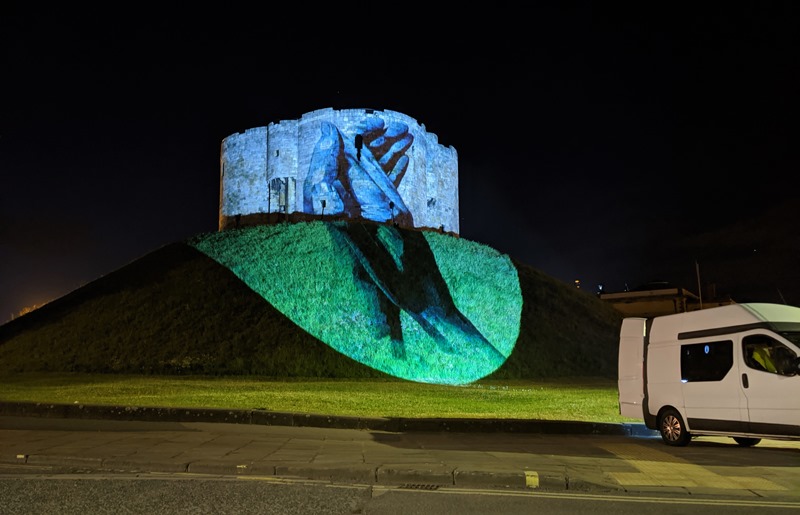 Ian Berry
Ian Berry is known around the world for his work making layered and textured pieces out of only denim jeans. He was named a top 30 artist under 30 in the world and also named a top 50 most influential person in denim last year, with Hailey Bieber and the Hadid sisters! He has shown his work around the world in Galleries, museums and Art fairs. He will soon unveil an installation in San Francisco which was postponed for the corona virus.
His work is much more than being made in denim, often depicted scenes of isolation, becoming even more topical in these times. He also looks at the changing fabric of our urban environment, making scenes of vanishing places like launderettes, pubs, and newsstands.
He is also known for doing official portraits of Armani, Debbie Harry and Ayrton Senna out of his family members jeans.
Ian has a busy schedule coming up with museum coming up at the Levi's Museum, Germany, Museum Rijswijk in Holland, in Basel along with Huddersfield Art Gallery and the National Textile Museum of Sweden.
For more information on his art and activities, you can contact him at