Denimsandjeans India show ,that was organized on April 26-27 , 2023 , was an incredible success ! We were privileged to have some of the most recognized denim supply chain companies from over 12 countries around the world come together and present their world-class products. The visitors got to witness the best in fashion, technology and innovation that this gathering had to offer. The enthusiasm of our partners' presence created a vibrant atmosphere for everyone in attendance. The event had special arrangements which gave the visitors more options when it came to choosing their favorite products. To add on, we had interactive seminars by industrial experts .
A two-day event held in India recently drew significant attention from more than 250 companies with an influx of attendees from nearby countries also . With its huge success, this event was had more than 1350 visitors came along to experience first-hand the Denimsmandjeans platform. The event provided an ideal atmosphere for exhibitors and visitors to view different products, discuss strategies and collaborate with other businesses.
There was no shortage of popular brands and retailers participating in the event and showcasing their products. The event was attended by companies such as Gap, Allen Solly, Pepe Jeans, Landmark Group, Levi's , Asmara, etc to name a few.
Event Theme
This year, we came up with an innovative theme 'REPURPOSED DENIM' to promote sustainable fashion by bringing focus on upcycling pre-loved and vintage denim into new fibers, yarns, fabrics and garments. Moreover, numerous activities were organized that kept people engaged.
We had also set up a live indigo vat dyeing workshop by Indenium School of Responsible Design – India's first Denim School where people got to experience real indigo dyeing techniques showcased by some passionate students. The students also brought out wonderful pieces of garments based on 'Repurposed Denim' theme and were highly appreciated.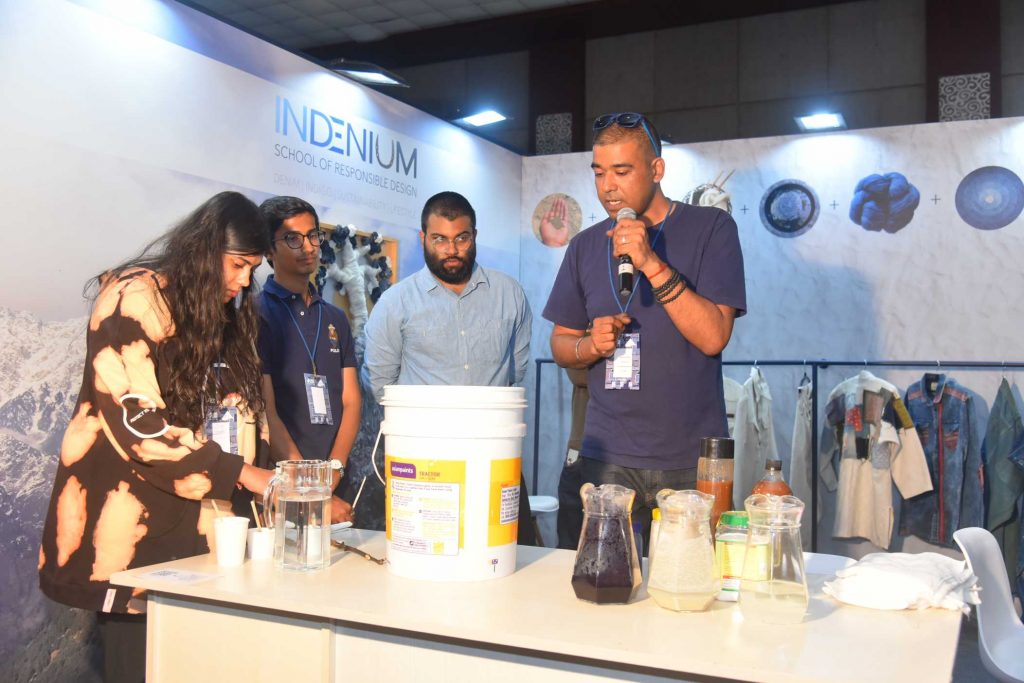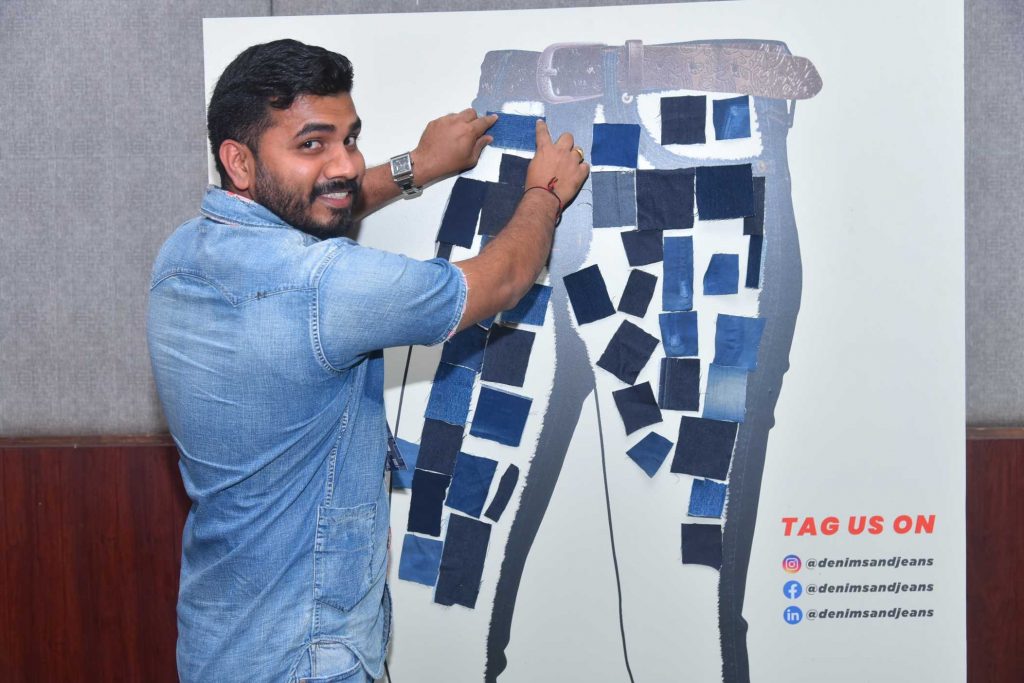 Trend Area
The 5th edition of DnJ India had a Trend Area at its event which showcased the Repurposed theme. The collections that were on display in this event featured majorly five categories:
Re_Cycle(d) which had 2 parts Recycled PCW 20+ and Recycled PCW 30+, Cotton (IS) Less , Eco-Trims (for sustainable material content), Eco-Wash (for products used minimum water, chemicals and energy ) and Performatic (for performance jeans), Trendy And Cool (for eye catching garments) .
Each of these categories is reflective of the latest trends and provide customers with clothing that had both look and functionality.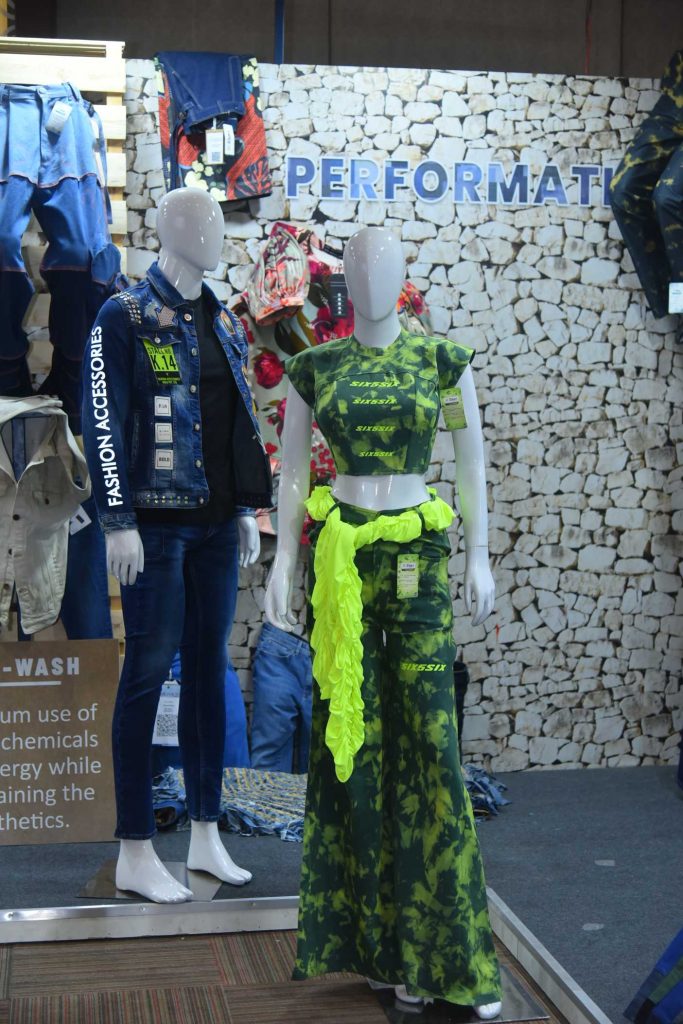 Seminars
Participants were also invited to join forums and seminars conducted by experts on different topics related to important denim topics. The primary goal was to provide useful insights and ideas on how this framework can be used as an effective tool for business operations in various industries.
The speakers' presentations were inspiring and very informative. And we share the same with the youtube links below .
Opportunities And Challenges for Indian Denim Brands – by Nidhi Raj
With the rise of global competition in the denim apparel industry, it has become increasingly difficult for Indian Denim brands to remain relevant in the market. Recognizing this, Mr Nidhi Raj's recent talk on "Opportunities and Challenges for Indian Denim" provided a helpful insight into how these chanlleges can be overcome through both local and global solutions. His talk highlighted how, with the right approach, Indian Denim Brands can continue to make innovative contributions to the global denim market and reclaim their original status.
"From Cotton To Customer: Revolutionizing The Denim Supply Chain Through Digital Transformation" – Panel Discussion
Denim has been a fashion staple for decades, and the journey from cotton to customer is vast and complex. To learn more about how modern-day technology is revolutionizing the denim supply chain, we gathered six experts on the topic with David Tring as the moderator and other panel members. They discussed their unique perspectives on how digital transformation can be used to optimize the denim supply chain.
Moderator: David Tring, Visiting Fellow Hong Kong Design Institute
Panel Members: Mr. Mohit Mathur (Chief Sourcing Officer Ace Turtle), Mr. Arvind Mathur (CEO at Raymond UCO), Mr. Aditya Goyal (CEO, Managing Director Anumbha), Mr. Pramod Hebbar (Design & Product Management Ace Turtle), Mr. Manuj Kanchan (Division Director Jeanologia)
Sustainable And lnnovative Processes In The Value Chain by Vasco Pizarro
Sustainable and innovative processes are essential for successful businesses, and this was made clear at a special talk on the same topic last week. It was delivered by renowned speaker Vasco Pizarro where he highlighted how sustainable practices and innovation can shape the value chain for businesses today. Attendees were able to gain valuable advice from the seasoned speaker.
Vasco is the Marketing Director of Pizarro S.A from Portugal – a full package company which works with most of the brands in Europe and is the largest laundry in EU.
Resilient Sri Lankan Apparel Industry Rebounds by Yasotharan Paramanantham
Yasotharan Paramanantham recently delivered a captivating talk on the resilience of the Sri Lankan Apparel Industry, highlighting its remarkable recovery since being impacted by the COVID-19 pandemic. During his speech, Mr. Paramanantham, as President of the Sri Lanka Apparel Brands Association, focused attention on both traditional and upcoming challenges faced by the industries. He also spoke about how these challenges should be addressed in order to ensure continued successful operations of the industry in Sri Lanka's future.
Denim Forecast AW 24 – Puneet Dudeja WGSN
Puneet Dudeja is the Business development lead for WGSN in South Asia. His talk titled Denim Forecast AW24 was delivered at this event where he provided an overview of the current trends, technologies and future forecasts for denim manufacturers. Attendees gained valuable insights about denim styles that stand out in the current marketplace so they can stay ahead of their competition.
Its Only Waste If You Waste It – David Tring
David Tring , with his rich background in the industry with top brands , has been focused on sustainability and education. His talk gave the audience global examples on waste recycling and inspired them. During his address, he demonstrated how other establishments have successfully leveraged on their waste to make innovative products that have a positive impact on the environment and profitability. He argued that it's only a waste if you let it be so.
The presentation by David Tring was followed by a panel discussion which had included besides him as moderator Sukhraj Singh (Founder at Indenium School of Responsible Design) and Ms. Aticka Chona -Business Partner & Principal: Sustainability Architect at Circular Fashion Pvt. Ltd.
The discussion highlighted the importance of using resources wisely and making use of what is available to us. The participants discussed how all resources can be valuable, if used in the right way. They also discussed ideas for minimizing resource wastage, ways to mitigate its impact on our environment, and scenarios where a little bit of creativity can yield higher value out of resources that were previously considered to be "wasted".
The world is ever-changing and staying informed about the latest trends is key to succeeding in any industry. With new developments occurring each day, it's important to stay up-to-date on the latest global trends to remain competitive. For this reason, we are coming with more exciting events to keep you up-to-date and organized with all the reports you need. Be sure to stay tuned for more updates regarding our upcoming events and in the meantime, visit our website for global trend reports.
---
Follow Us On Our Social Media
Stay Tuned for upcoming events