Finally ! the much awaited EU-Vietnam Free Trade Agreement along with EU-Vietnam Investment Protection Agreement (EVIPA) ratified on Feb 12, 2019 in the EU Parliament with 401 votes for, 192 against and 40 absentions. The negotiation for which started in Oct 2010 finally culminated in the ratification of the treaty. The agreement was signed on June 30 last year and was expected to be effective soon. After the European ratification, both the agreements are expected to be passed in the upcoming session of the Việt Nam's Nation Assembly in April-May and likely to come into effect from July this year in Việt Nam. The agreement will be opening up opportunities for the Vietnam to enter into a huge market which has GDP value worth $18 trillion. This is going to be a major push for Vietnam's exports and will allow the global players to expand their businesses into one of the fastest economies of SEA. Currently VietNam is the EU's second largest trading partner in the ASEAN region with trade value of €49.3 billion for goods and over €3 billion for services.
At a press conference on this event held by the Ministry of Industry and Trade in Hà Nội the same day, Minister of Industry and Trade Trần Tuấn Anh said:
"This is a meaningful result for Việt Nam and the EU, two comprehensive strategic partners."
The agreement will remove virtually all tariffs between the two parties ( EU and Viet Nam) in ten years. Under this agreement, Việt Nam will reduce 65 per cent of import tarrif on EU commodities after it comes into effect, while the rest will be erased over a 10-year period. Meanwhile, the EU will cut more than 70 per cent of tariffs on Việt Nam's commodities , and the rest will be abolished over the seven subsequent years. According to research by the Ministry of Planning and Investment, the two deals will help Việt Nam increase its GDP by 4.6 per cent and its exports to the EU by 42.7 per cent by 2025. Meanwhile, the European Commission has projected the EU's GDP to increase by $29.5 billion and its exports to Việt Nam by 29 per cent by 2035.
President of the European Commission Jean-Claude Juncker said:
"I welcome the decision taken today by EU Member States. After Singapore, the agreements with Viet Nam are the second to have been concluded between the EU and a Southeast Asian country, and represent stepping stones to a greater engagement between Europe and the region. It is also a political statement by two partners and friends standing together for open, fair and rules-based trade."
Meanwhile, Commissioner for Trade Cecilia Malmström said:
"I am very pleased to see that Member States have given a green light to our trade and investment agreements with Viet Nam. Viet Nam is a vibrant and promising market of more than 95 million consumers and both sides have much to gain from stronger trade relations."
According to the Ministry of Planning and Investment, once the EVFTA takes effect, Viet Nam's export value to the EU is projected to increase by 20% by 2020, 42.75 by 2025, and 44.37% by 2030.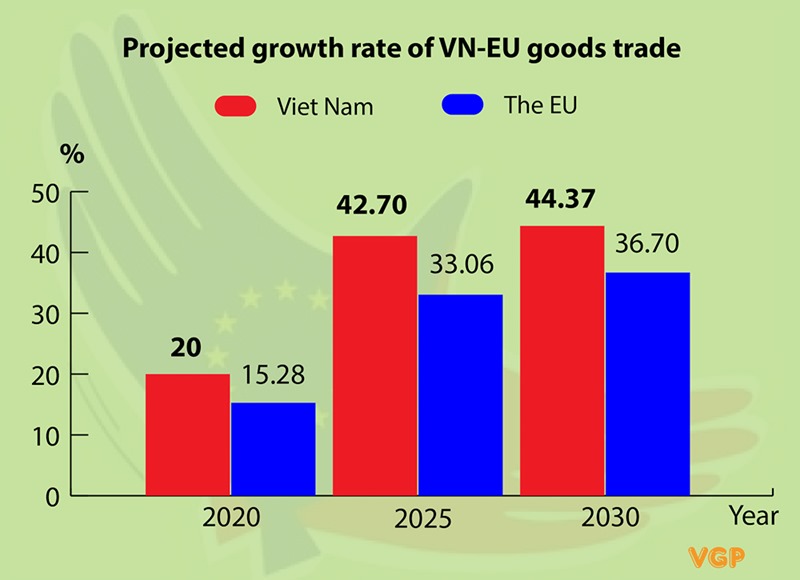 SEA countries have signed 13 FTAs with external partners, of which EVFTA and CPTPP are considered the "new-generation" deals with higher and broader commitments. The Government estimated that the CPTPP, which took effect since January 14, 2019, will help increase Viet Nam's GDP by 1.3% and export value by 4% by 2035. You can refer the below infographic to understand the number of FTAs Vietnam right now have. Vietnam is now one of the biggest exporters of garments to the USA now, with this EVFTA, Vietnam is going to increase its presence in EU countries very strongly. Garment exports would be one of the biggest beneficiary industry under this agreement . Vietnam is , in any case, being benefited due to increasing costs in China and many customers have shifted their sourcing base . Once duty benefits are available , huge benefits are expected to accrue to Vietnam .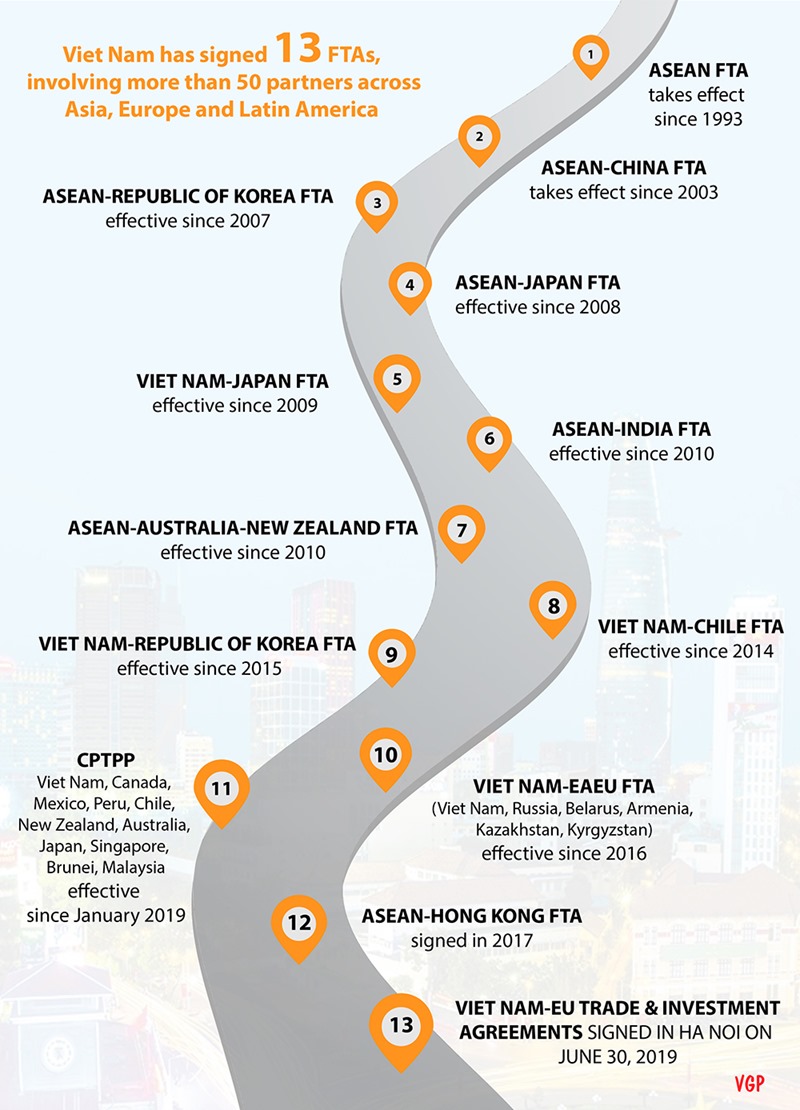 ---