Munich is set to witness the launch of the upcoming edition of Munich Fabric Start on September 4 , next week,  with over 110 Denim Companies from around the world .  Participants from denim supply chain including  Fabric mills , Garment companies, Accessories , Machinery , Lazer and chemical categories are participating in this event and it is probably the biggest Blue Zone of Munich till now.
 Blue Yard. At The Blue Yard , the visitors will get to see and will experience  new technologies, new heritage, vintage showrooms, around communication and networking about how to handle the latest process solutions. The high-quality 'performance offensive' will focus on the latest fabric innovations, trend-setting end uses as well as complex functionalities of the market-leading vendors of denim & sportswear innovations, finishes, washes and processing methods.
Some Interesting Exhibitor Presentations Include
Atelier & Repair – a cooperation between CANDIANI and LENZING at the stand of the denim specialist at CATALYSER

Sashiko Denim – Repair don't replace

Vintage Showroom x Orta

Denim Boulevard, Hamnsutra, SAAT, Tintes Egara x MOUNTEK

Regenarated Fabric – Berto presents fabrics made of production waste under PIANETA FABRIC DEVELOPMENT

Zero Waste Water Collection resented by Soorty
A G E N D A
Denim Club by BLUEZONE as a meeting point for denim lectures, round tables and workshops on relevant themes on the denim market. Following denim talks are scheduled to happen at the show along with the broadcast of the documentary – BLUE GOLD: AMERICAN JEANS – THE MOVIE  at 04.00 PM.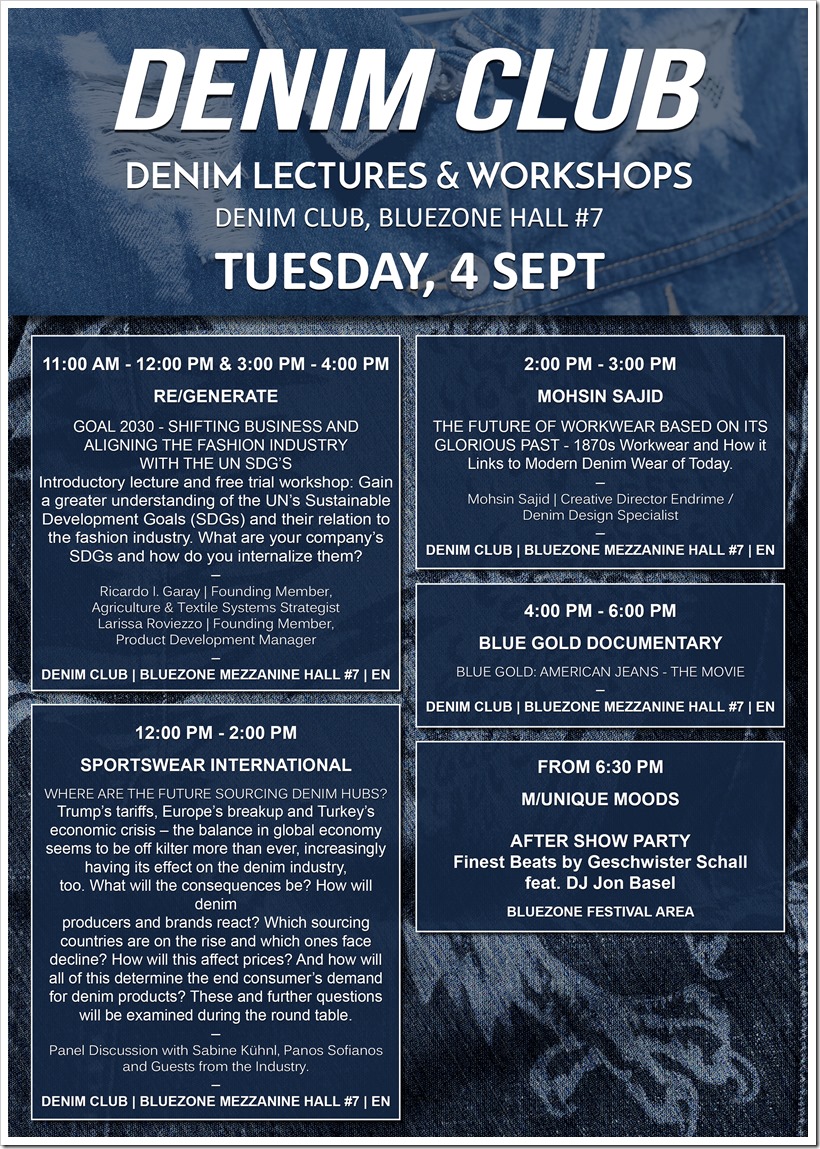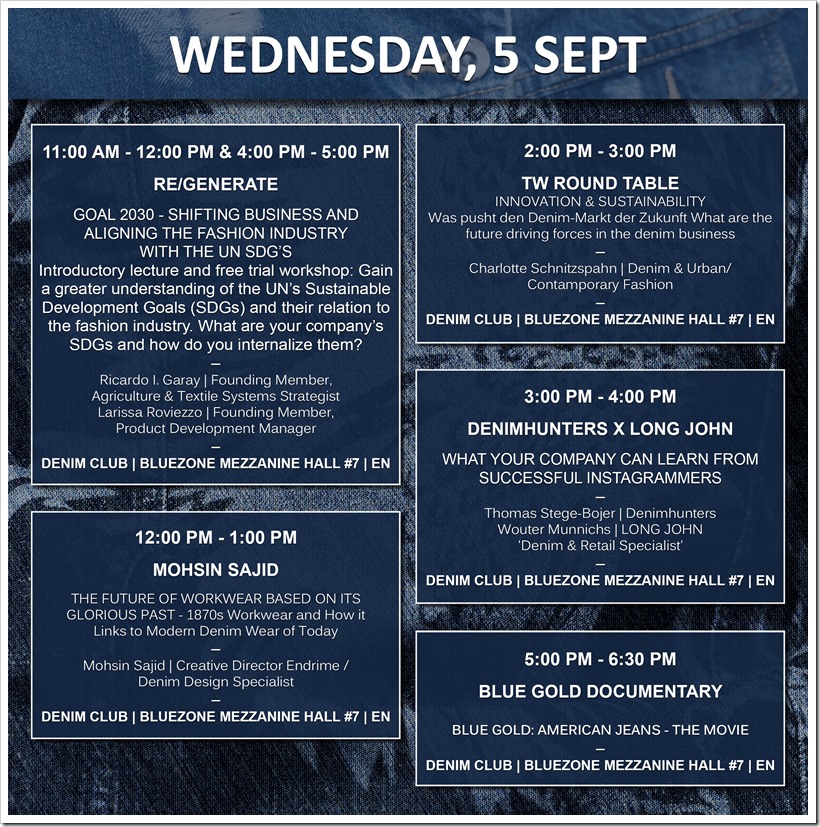 E X H I B I T O R S
There will be over 110 denim companies exhibiting at the show from over 20 countries. The denim companies are located in the Hall #6 & 7 . Once again , this time also the show is being dominated by the European Exhibitors however this a lot of companies from South East Asia are also participating.For more information , Please visit https://www.munichfabricstart.com/
Company Name
Country

 

Hall No
Stand No
DB Wash International
Albania
H6
B 06
Pizarro Wiser B.V
Amsterdam
H7
B 08
Absolute Denim Co., Ltd.
Bangkok
H7
C 04
Pacific Jeans Ltd.
Bangladesh
H7
B 05
UCO Raymond
Belgium
H7
B 11
Blue Diamond by House of Gold
China
H6
B 02
Foshan Foison Textile Co., Ltd.
China
H7
C 32
Foshan Seazon Textile and Garment Co., LTD
China
H7
A 11
Prosperity Textile Ltd.
China
H7
ST 06
Zhejiang Jinsuo Textiles Co. Ltd
China
H7
C 24
Desert Studio – Indigo garments FZE
Dubai
H6
A 03
Eurotex Garments
Egypt
H7
ST 05
Lotus Garments Group
Egypt
H7
Bluepark #1
Monsieur-T. EURL
France
H6
B 08
Swift Denim
France
H7
B 36
Velcorex since 1828 SARL
France
H6
B 12
CHT Germany GmbH
Germany
H7
C 30
Die Designwerkstatt
Germany
H6
Tank
Gonser Group
Germany
H7
C 35
Gunold GmbH
Germany
H1
Bluepark #5
Hamansutra
Germany
H7
Bluepark #6
Landes Lederwarenfabrik GmbH
Germany
H7
ST 03
Maibom GmbH*
Germany
H7
A 01
Mountek GmbH
Germany
H7
Bluepark #5
New HeitageFOXnFRIENDS GmbH
Germany
H7
Bluepark #2
re/GENERATE
Germany
H7
C 09
SAAT
Germany
H6
B 07
Setex Textil GmbH
Germany
H7
C 01
van Delden textile GmbH
Germany
H3
D 02
Alexandros Garment Treatments
Greece
H7
ST 01
Altero Accessories & Co
Greece
H6
B 01
ISA TanTec Ltd.
HongKong
H7
B 07
Anubha Industries Pvt. Ltd.
India
H7
A 16
KG Denim Limited
India
H7
C 14
LNJ Denim (RSWM Limited)
India
H7
C 21
Raymond Uco Denim Pvt Ltd.
India
H7
B 13
Albiate 1830 – Division of Cotonificio Albini SpA
Italy
H6
B 04
Berto E.G. Industria Tessile S.r.l.
Italy
H6
C 05
Candiani S.p.A.
Italy
H6
C 07
Cappio Tessuti S.r.l.
Italy
H6
A 04
Carlo Bonomi since 1860 Division of E.I.T.*
Italy
H6
B 05
Denim Boulevard
Italy
H7
Bluepark #10
Denim Inn Srl
Italy
H6
B 06
Europa SAS
Italy
H6
C 06
I.MA.TEX s.r.l.
Italy
H7
A 12
IMjiT35020 Manufactus srl
Italy
H6
C 04
Metal Service Srl
Italy
H6
B 06
Niggeler & Küpfer Textile SpA
Italy
H7
B 21
P.G. Denim
Italy
H6
A 01
Piovese Fashion S.r.l.
Italy
H6
B 03
Tessuti Pordenone
Italy
H6
C 08
PureDenim SRL
Italy
H6
C 01
Kuroki Co Ltd.
Japan
H7
A 11
Hyosung Corporation
Korea
H7
A 09
Denim Authority
Morocco
H7
C 15
Paris Texas
Morocco
H7
B 06
Sashikodenim by Pey
Netherlands
H7
Bluepark #8
Indigo People
Netherlands
H7
Bluepark #3
Vicunha Netherland B.V
Netherlands
H7
A 24
Advance Fashion Pvt. Ltd.
Pakistan
H7
C 28
Artistic Fabric & Garment Industries (private) Ltd.
Pakistan
H7
B 01
Artistic Milliners Pvt. Ltd
Pakistan
H7
B 24
Azgard 9
Pakistan
H7
A 02
Denim Clothing Company

 

Pakistan
H6
A 03
Diamond Denim By Sapphire
Pakistan
H7
A 06
Indigo Textile (Pvt.) Ltd.
Pakistan
H7
A 14
Kassim Denim
Pakistan
H7
A 15
Kohinoor Mills Ltd.
Pakistan
H7
C 06
Master Textile Mills LTD.
Pakistan
H7
C 05
Naveena Denim Ltd. (NDL)
Pakistan
H7
B 10
Naveena Denim Mills -NDM
Pakistan
H7
B 23
Nishat Mills Limited
Pakistan
H7
B 03
Rajby Textiles (Pvt.) Limited
Pakistan
H7
C 17
Rantex (PVT) Ltd.
Pakistan
H7
C 07
Sapphire Finishing Mills Ltd.
Pakistan
H7
C 18
Soorty Enterprises (PVT.) Ltd.
Pakistan
H7
B 30
Jeanologia S.L.
Spain
H7
A 18
Tejidos Royo
Spain
H6
C 03
Textil Santanderina S.A.
Spain
H6
C 02
Evlox
Spain
H6
A 05
Tintes Egara S.L.
Spain
H7
Bluepark #5
Atlantic Mills (Thailand)
Co. Ltd.
Thailand
H7
B 27
Dynamo Denim Kumascilik Ltd.
Tureky
H7
ST 08
Ayyildiz Dokuma Kumas Pazarlama
San. ve Tic. AS
Turkey
H7
C 34
BE-MA Tekstil
San. Ve. Tic. Ltd. Sti
Turkey
H7
ST 07
Bossa
Turkey
H7
ST 02
Calik Denim Tekstil
Turkey
H7
B 32
Denim Studio
Tekstil Dis. Ticaret AS
Turkey
H7
C 22
Denimco Tekstil Pazarlama AS
Turkey
H7
A 20
DeriDesen Etiket
San. ve Tic. AS
Turkey
H7
B 09
DNM Tekstil
Turkey
H7
B 20
F´blue Denim Fabric
Turkey
H7
C 16
Fashion Point Textil Üretim AS
Turkey
H7
C 131
FG Tekstil Kon. San. Tic. AS
Turkey
H7
B 02
Gediz Kumas San ve Tic. Ltd. Sti.
Turkey
H7
ST 09
Indigo Istanbul Tekstil
Turkey
H7
C 08
Iskur Denim Islet. San Ve Tic A.S.
Turkey
H7
C 02
Kilim Denim
Turkey
H7
C 10
Kipas Mensucat Isletmeleri AS
Turkey
H7
ST 12
Maritas Denim
Turkey
H7
A 28
Mavera Jeans
Turkey
H7
C 03
Mesura Tekstil San Ve Tic Ltd Sti
Turkey
H7
C 19
Orta Anadolu
Turkey
H7
B 40
Pagada Tekstil
Turkey
H7
C 23
Realteks Tekstil
Turkey
H7
ST 04
Sharabati – Denim
Turkey
H7
C 36
Stitch & Trim
Turkey
H7
A10
Zares Danismalik Turizm Tekstil
Turkey
H7
A 08
Denimci Dis. Tic. Pazarlama A.S. (WDenim)
Turkey
H7
B 25
Turteks Tekstil Etiket San. ve Tic. A.S.
Turkey
H6

 

B 10
Tüsa Denim
Turkey
H7
B 15