The second edition of Denimsandjeans India show has concluded with an unprecedented response on August 2nd at the Hotel Lalit, Bangalore. The show has witnessed the presence of all leading Denim Brands, Retailers, Buying Houses, Design Studios and Factories brought together the denim supply chain in India. Both the exhibitors and visitors expressed an equal quantum of satisfaction over the overall response of the show . Likewise its first edition, the visit hours of the show had to be extended on both the days this time also on the requests of exhibitors as visitors and exhibitors wanted more time to spend with each other. The show was opened by Dr Roy – the person who was instrumental in bringing denim to India and is also known as the 'Father of denim in India',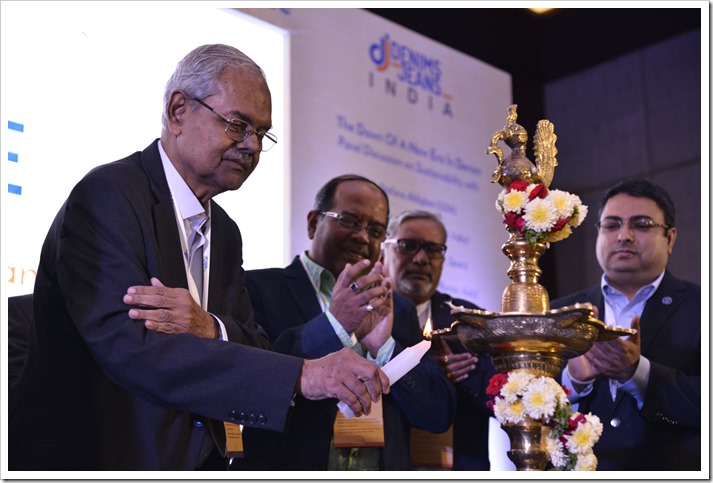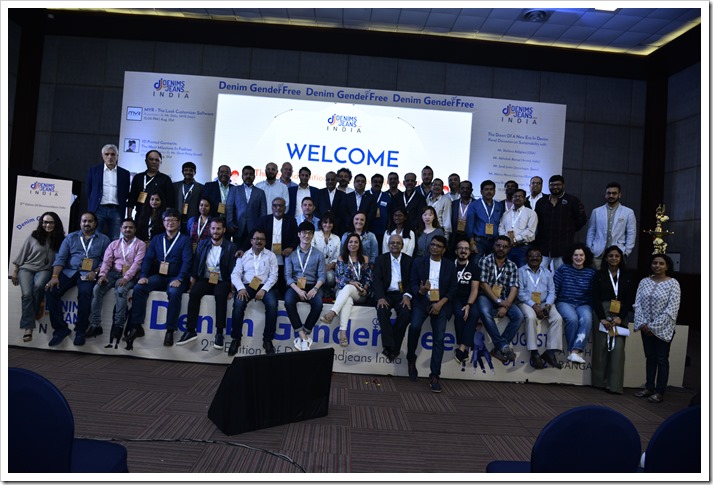 With over 1850 visitors from over 365+  companies from India and overseas at this two days of  International Denim Supply Chain show, Denimsandjeans India successfully organized their consecutive editions In India. The 2nd edition of Denimsandjeans India was the 12th show of the Denimsandjeans which has been doing International Denim shows in other parts of the world as well. The organisers had just finished their 3rd edition of Vietnam show on June 28 at Ho Chi Minh City , which was again a successful event .
This edition has witnessed 40 exhibitors from different parts of the words and half of the companies exhibiting at the show were international – from countries like Bangladesh, China, Turkey, Italy, Spain , Netherlands, Singapore, Switzerland , Korea etc. The exhibitor list can be checked here .
All the major retailers and brands including H&M, Marks & Spencer, VF Corporation (all major divisions) , Landmark Group , Future Group , Future Retails , Naygard, Li Fung , GAP Inc , Zara , Tesco , Pepe Jeans , Killer Jeans , Spykar , Target , Benetton , Shopper Stop , Reliance Trends , Myntra , Hypercity Retail, ITC Limited , Indus Clothing, VOI Jeans, Saint Blue ,Mothercare ,Levis, C&A ,PVH, Being Human, Blackberry, Jabong, Pantaloons, FFI, Ajio, Westside, Asmara India , Asmara Bangladesh , Bestseller , Impulse, Ostin , Mufti, Aditya Birla Fashion, Arvind Brands, Raymonds Apparels, Newtimes, etc  visited the show.  Some of the most reputed factories and exporters including Orient Craft, Gokaldas Exports, Shahi, Garden City Fashion, Trigger Apparels, Famous Fashion also checked out collections with their teams.
Many tier  I and tier II brands along with big fabric dealers and distributors have also marked their presence at this show thus providing a complete basket of buyers to the exhibitors . This way, people travelled from all over the country to attend the show besides some foreign buyers who were also drawn in.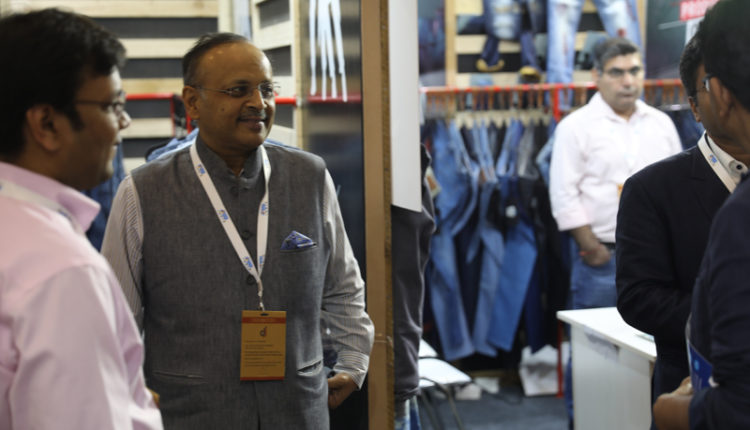 TREND AREA
The 2nd edition of Denimsandjeans India also brought TREND AREA – where latest innovations in the denim industry were displayed from all exhibitors. The exhibitors have showcased their AW18/19 collection in 5 categories at the trend area and they were:
(1) GENDER FREE  (2) TWO TONE (3) ASYMMETRICAL DENIM  (4) DECONSTRUCTED DENIM (5) WOMEN R HERE (6) CARE FOR NATURE
Besides, Tonello presented their Denim Art Gallery at the show .
An Indian designer – Bipin Nahak – created the first Denim Basketball court to coincide with the Denim Genderfree theme.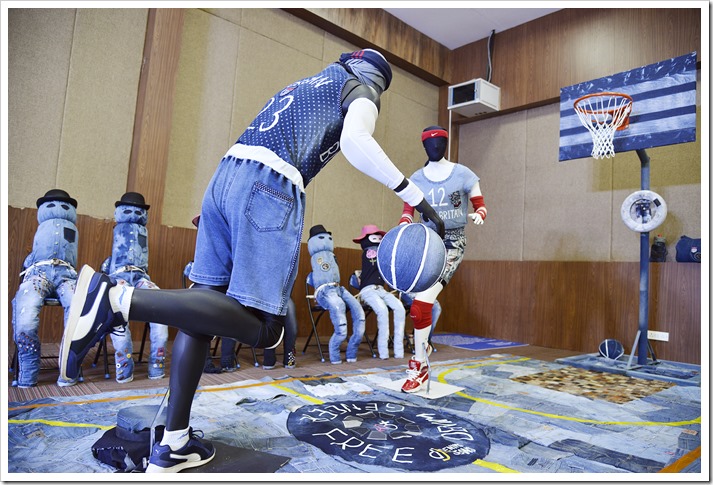 Apart from the routine exhibition, the show had 6 Knowledge transfer session where some of most popular Denim experts and Innovators participated and share the latest developments with the exhibitors and visitors of the show..
Here are the details of Denim Talks which happened at the show
MYR – The Look Customizer Software
Presentation By Ms. Dalia, MYR(Italy) : MYR is a digital project dedicated to fashion design and fashion designers, conceived by Mr. Umberto Brocchetto with a 30 year experience in the fashion industry and in enriching fabircs, Denim among all.  Ms Dalia presented the new software created for the industry .  The direct FB telecast of her presentation can be seen here.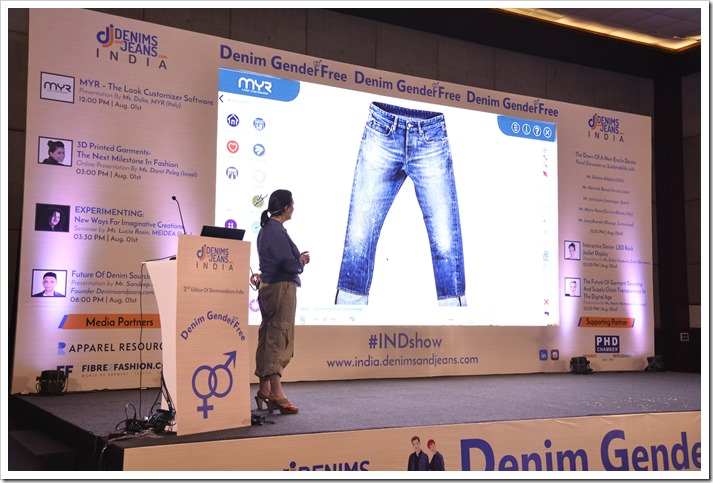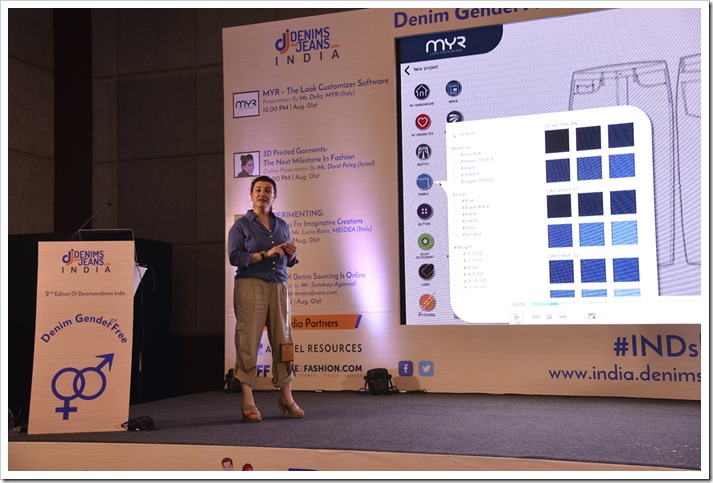 3D Printed Garments-The Next Milestone In Fashion
Online Presentation By Ms. Danit Peleg (Israel) : Danit Peleg is a fashion designer from Israel who 3D printed an entire collection from home. Danit is from Israel and spoke on the above topic. She has been invited to TED Talks recently which received more than million hits on the YouTube. Danit was chosen to be the designer of Amy Purdy's dress for her dance at the Paralympics Opening Ceremony in Rio 2016. The direct FB telecast of her presentation can be seen here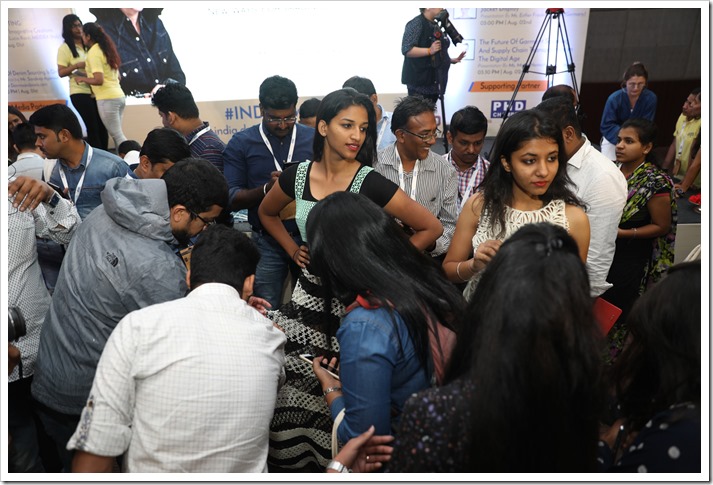 EXPERIMENTING: New Ways For Imaginative Creations
Seminar By Ms. Lucia Rosin, MEIDEA : Lucia Rosin, fashion designer, denim expert and sustainability enthusiast she has been working in fashion and textile business for 30 years and as a consultant for denim companies since 1998. She explained how we can use our imagination for more creative designings. The direct FB telecast of her presentation is here
Future Of Denim Sourcing Is Online
Presentation By Mr. Sandeep Agarwal, founder Denimsandjeans.com We reproduce her entire PPT presentation here for originality and can be downloaded here . The direct FB telecast of his presentation is here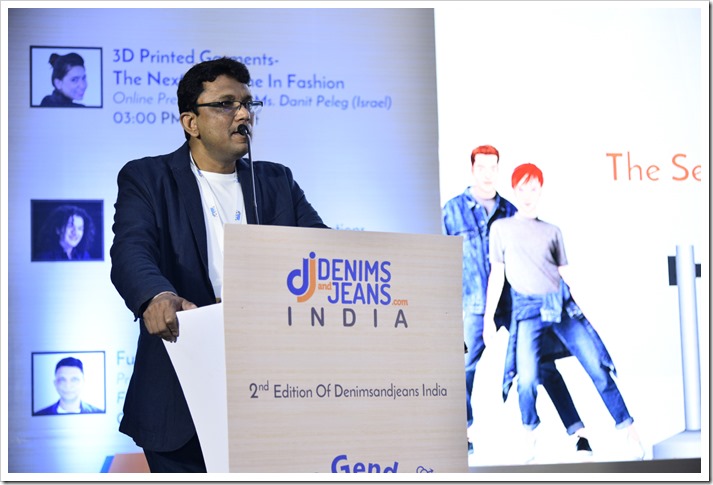 The Dawn Of A New Era In Denim
Panel Discussion on Sustainability with Mr. Stefano Aldigheri(USA), Mr. Abhishek Bansal(Arvind),Mr. Jordi Juani(Jeanologia,Italy), Mr. Marco Nava(Garmon/Kemin,Italy) and Mr. Juerg Brander(Bluesign,Switzerland ). The panel deliberated about the various aspects of sustainability  and how they are trying to contribute to the furtherment of the cause. The audience also enthusiastically contributed to the deliberations and fruitful discussions entailed which were enlightening for the industry. The direct FB telecast of his presentation can be seen here
Interactive Denim LED Rock Jacket Exhibition – UX.FTT(Fashion Textile Technology)
Presentation By Ms. Esther Friederike Zahn Esther is a Berlin-based Fashion and E-Textile Designer.She gained an extensive experience in the area of FashionTech. An interesting display of her interactive Denim LED jacket by a musician directly playing from the jacket had the audience enthralled ! . The direct FB telecast of his presentation is here .
Garment Sourcing And Supply Chain Transparency In The Digital Age. How Technology Disrupts The Clothing Sector
Presentation by Ms. Marte Hentschel : Garment production & supply chain maven with years of experience in the fashion and textile industries. Speaker, Lecturer & Consultant with a focus on sustainable innovations
Tonello Denim Gallery At The 2nd Edition
Tonello brought their "Denim Gallery" to Denimsandjeans India  show at Bangalore. With Denim Gallery Tonello showcased the designs of 10 creative people together to discover new visions and interpretations of reality. Denim Gallery is a bona fide display of "dreams and visions of reality", as told by 10 Designers from around the world who have used Denim as their canvas for painting, staining, and assaulting, in order to express themselves with artistic languages, materials, and concepts. The installation will be one of the important attractions at the show specially for washing nerds !
For more info, Please click here
A Soulful Musical Evening
After a hard days' work, the exhibitors and visitors were able to unwind and relax a bit during the Soulful Musical Evening hosted by a Musical Band from Mumbai. Artists performed some of the most joyful and soothing Bollywood numbers to ease the visitors and exhibitors after a tiring day followed by a networking Dinner.
Denimsandjeans India will be back with an another exciting edition next year and will be in more improved and with more innovative concepts . To get the latest updates , please subscribe to our newsletter at Denimsandjeans.com and update your email address in our system. Please visit www.india.denimsandjeans.com for latest updates.