After almost 3 years , Denimsandjeans India show successfully hosted with a huge traction showing how the industry really missed the physical shows. With around 40 exhibitors from 8 countries participating in the show this year , the 2 day event attracted around 2100 visitors from 600 companies and experienced the Denimsandjeans platform. Major brands, retailers, buying house , traders and manufacturers participated from not only cities in India like Bangalore, Mumbai, Chennai, Hyderabad, Telangana, New Delhi, Ahmedabad etc, but also from overseas including those from Bangladesh , Turkey , Sri Lanka and Hong Kong. Post the pandemic times , a lot of footfall was witnessed with people wanting to network with each other face to face rather than on online video calls. Meanwhile, all the covid norms and precautions were well maintained at the venue ensuring the safety of one and all.
All the major retailers and brands including H&M, Marks & Spencer, VF Corporation ,Kontoor Brands , Mufti, Landmark Group , Future Group , Future Retails , El Corte , Li Fung , GAP Inc , Fifth Avenue, Bhartiya Fashion, Tesco , Pepe Jeans , Poeticgem UK , Spykar , Benetton , Celio Sourcing, Shopper Stop , Reliance Trends , Myntra/Jabong , Flipkart, ITC Limited , Amazon, VOI Jeans, Saint Blue ,Levis, C&A ,PVH, Being Human, Blackberry, Aditya Birla Fashions , FFI, Ajio, Westside, Asmara India , Asmara Bangladesh , Bestseller , Inmark Retail, Impulse, Arvind Brands, Raymonds Apparels, Synergies Sourcing , Newtimes, etc visited the show. Some of the most reputed factories and exporters including Shahi, Garden City Fashion, Trigger Apparels, Prateek Apparels, Classic Polo Fashion, VD Fashions, Shivassa Apparels, Aquarelle Clothing and Hasbro Clothing also visited with their teams.
The theme of the show was coined as 'GREENABLE' – focusing on denim as a GREEN and COMFORTABLE product post COVID. The keynote address was given by Dr. Naresh Tyagi – Chief Sustainability Officer, Aditya Birla Fashion and Retail. His presence and words of wisdom surely helped commence the 4th edition with enthusiasm. See Full video here.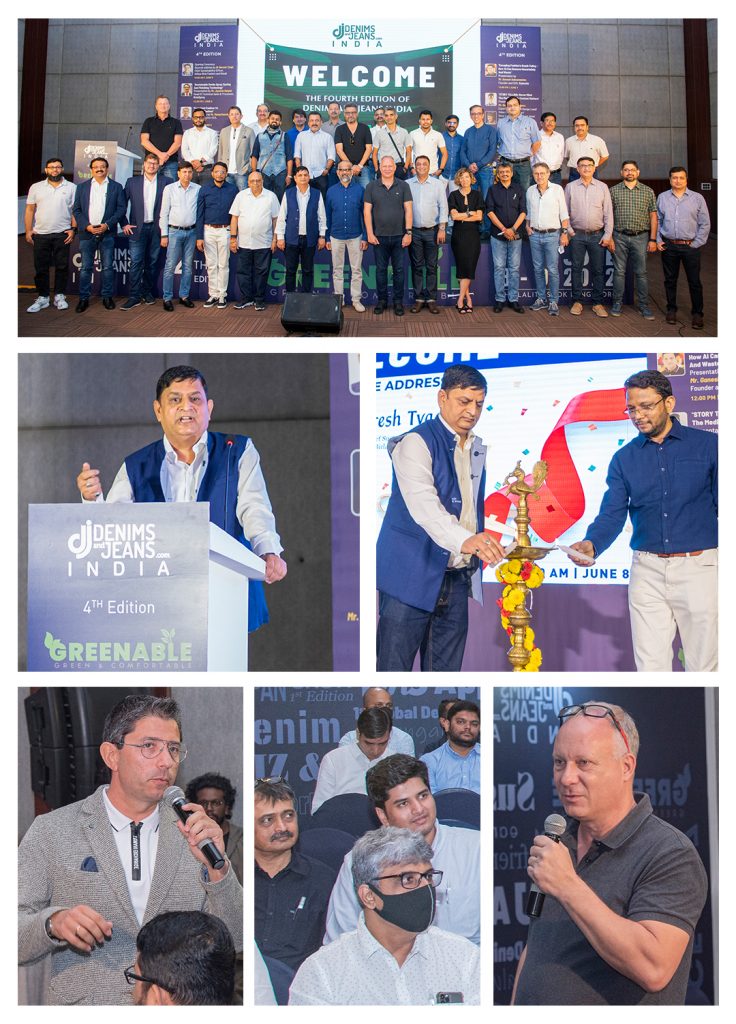 TREND AREA
The Trend Area at the 4th edition of Denimsandjeans India showcased the GREENABLE theme with a background view of a garden against the latest creativities of the denim industry . SS23 and AW23 collection were on display in majorly 5 categories as – COMFY FASHION , WATER AND CHEMICAL THRIFT , FASHIONABLES , GREEN FIBERS and RECYCLE THE PAST.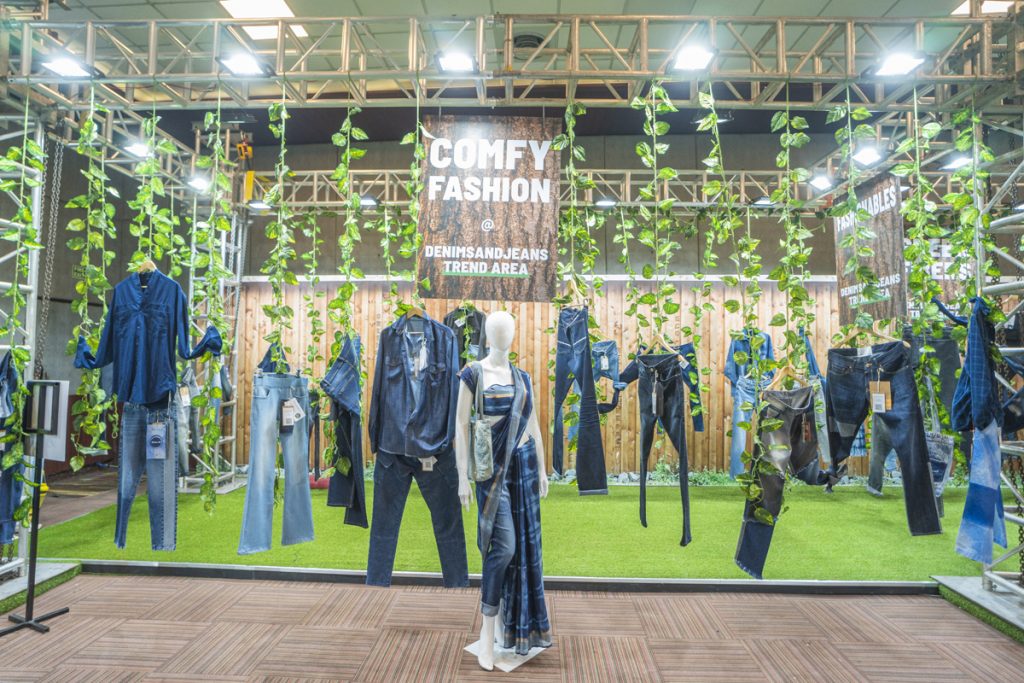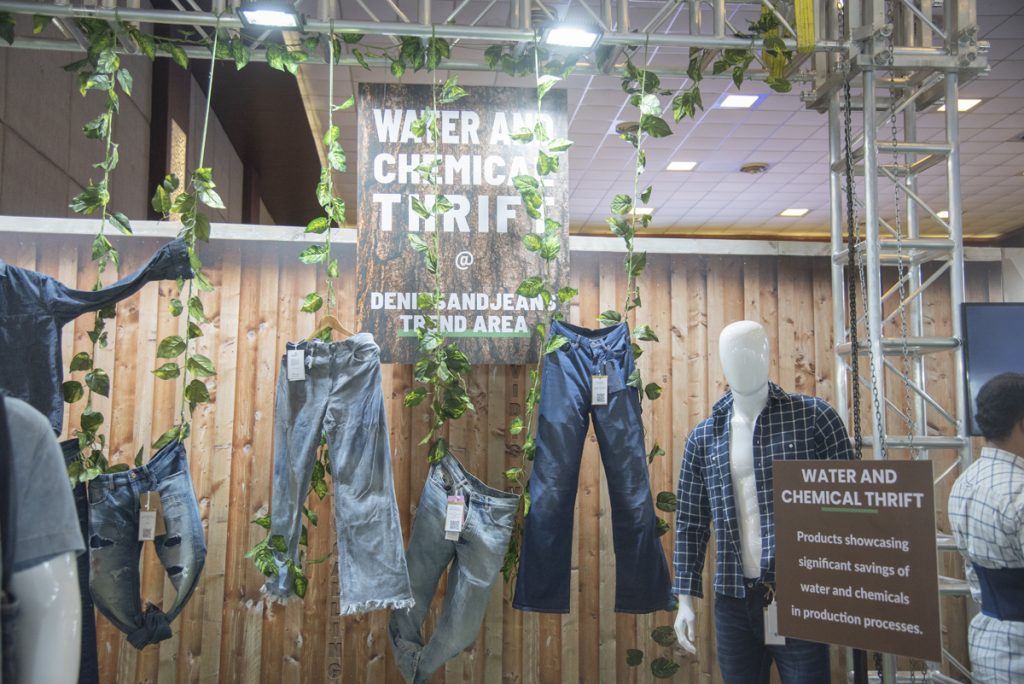 ACTIVITIES and FUN
Reinforcing the need to make our earth more green, Denimsandjeans introduced a bare tree to which the leaves were put up by the visitors in the show with their messages and quotes. Many inspiring as well as motivational thoughts were shared through this medium. Along with this , a Denimandjeans magazine photo booth attracted a large number of audience and were shared on instagram handles. But the most interesting part can be said to be the DENIMSANDJEANS PARTY in the evening , where the exhibitors let their hair down and enjoyed the music and networking .
Denimsandjeans Instagram handle
There were many seminars including a panel discussion by renowned denim heads on very interesting topics during the show.
Raw Material Volatility – Effect On The Supply Chain
A panel discussion moderated by Mr. Stefano Aldighieri ( President , Another Design Studio ) with Panel members –
Mr. Subir Mukherjee ( Business Head , Bhaskar Industries Pvt Ltd )
Mr. Fabrizio Maggi ( Apparel Commercial director South Asia and EMEA distribution )
Mr. Avinash Mane ( Commercial Director (South Asia, Middle East, Thailand), Lenzing Fibers. )
Mr. Bharat Desai ( President – Raw material Procurement, Alok Industries Ltd. (An integrated textile mill) )
Mr. Sartaj singh Mehta ( Product Director Pepe Jeans London )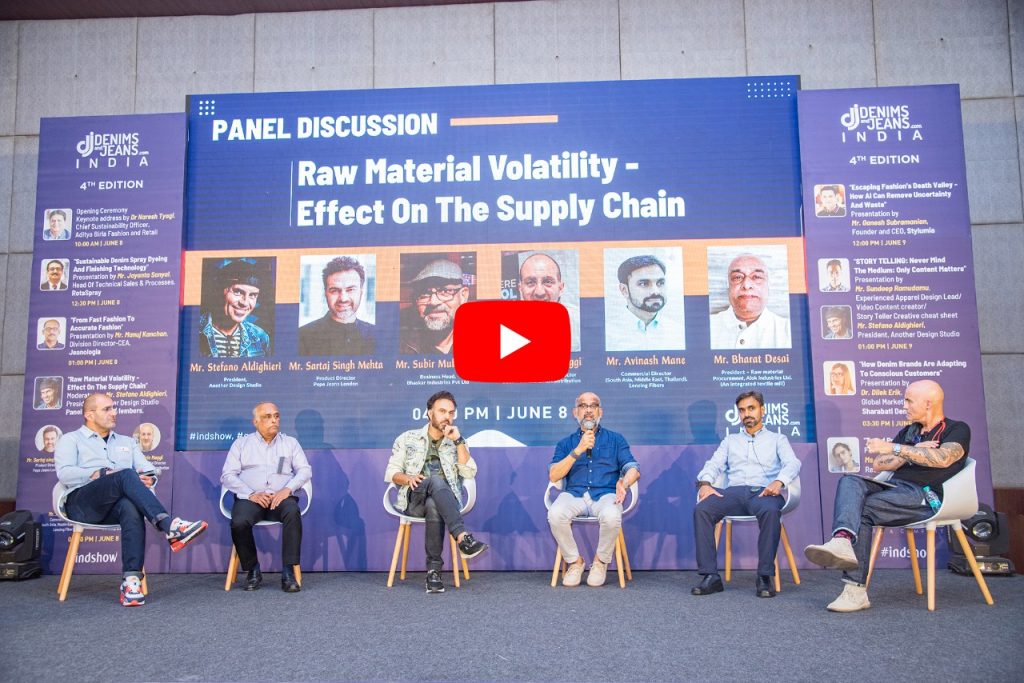 Escaping Fashion's Death Valley – How AI can remove uncertainty and waste
A Presentation by Mr. Ganesh Subramanian Founder and CEO, Stylumia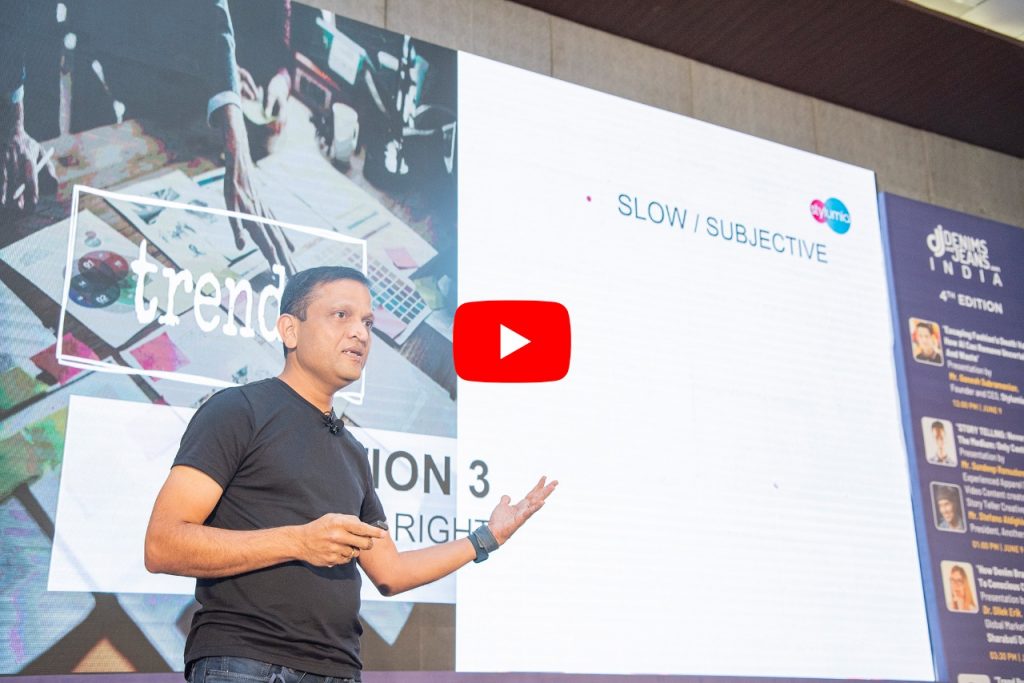 STORY TELLING: Never Mind The Medium: Only Content Matter
Presentation by Mr. Sundeep Ramudamu Experienced Apparel Design Lead/ Video Content creator/ Story Teller Creative cheat sheet and Mr. Stefano Aldighieri President , Another Design Studio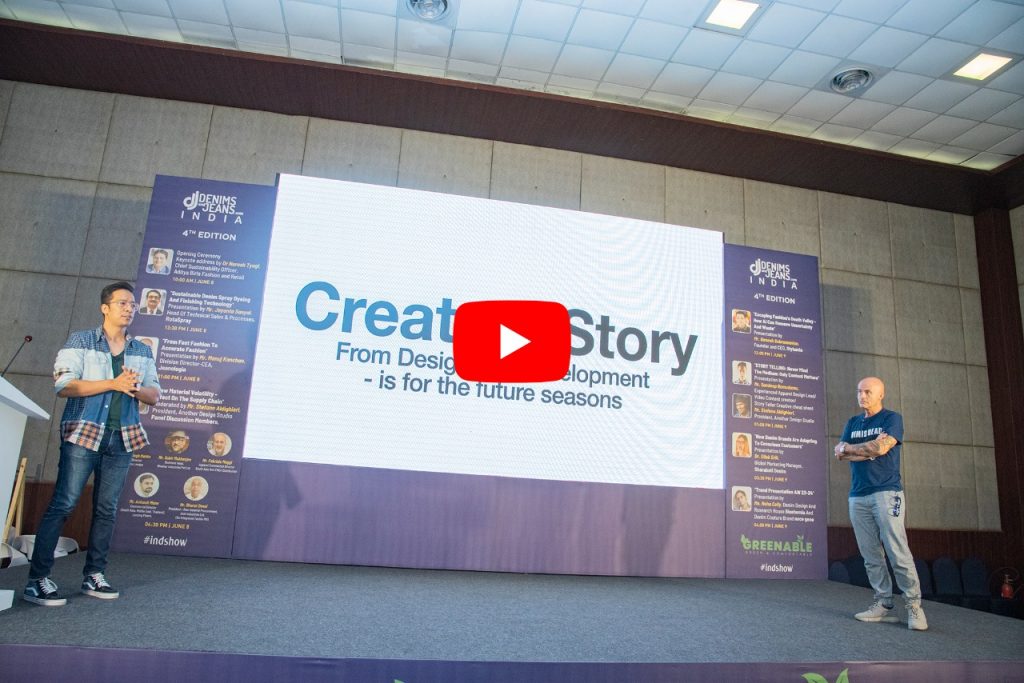 How Denim Brands Are Adapting To Conscious Customers
Seminar by Dr. Dilek Erik Global Marketing Manager, Sharabati denim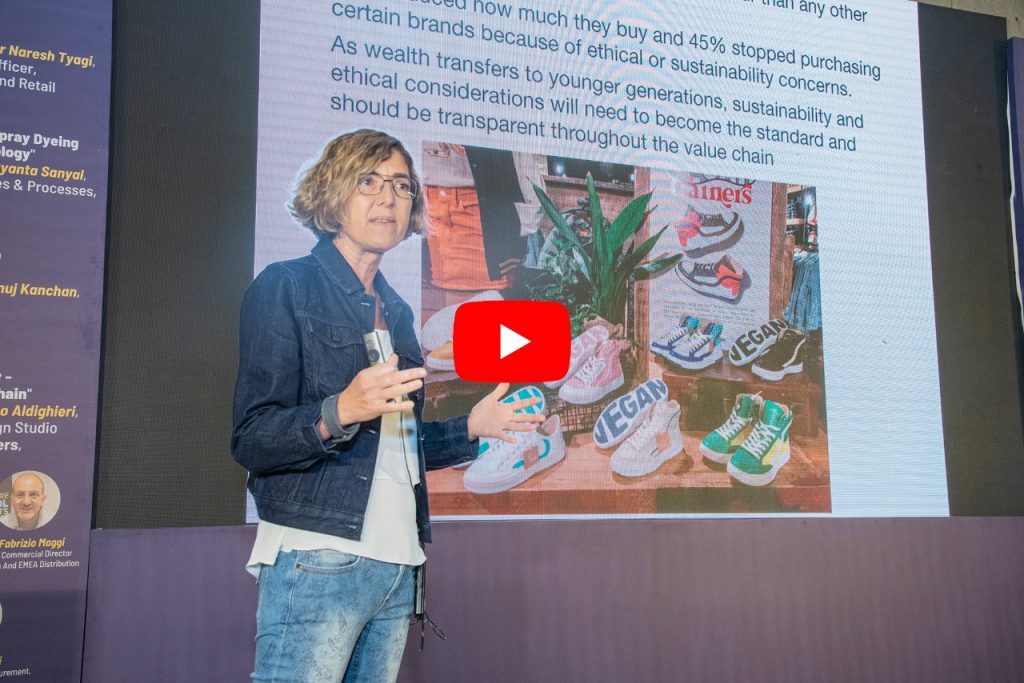 Sustainable Denim Spray Dyeing And Finishing Technology
A seminar by Mr. Jayanta Sanyal , Head Of Technical Sales & Processes , RotaSpray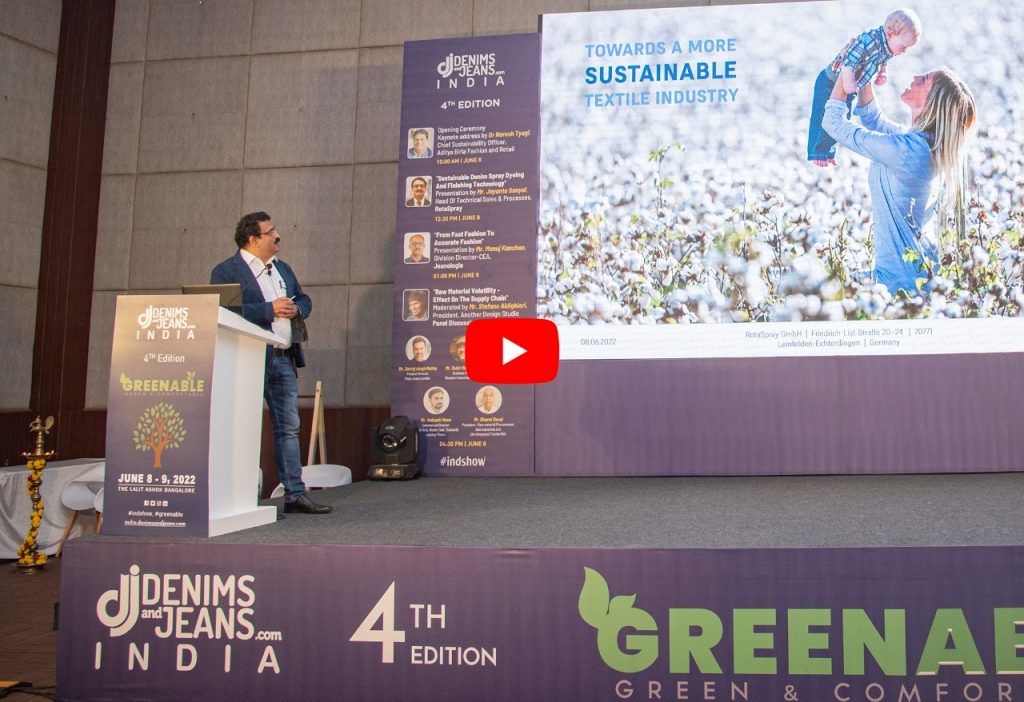 From Fast Fashion To Accurate Fashion
A seminar by Mr. Manuj Kanchan , Division Director-CEA , Jeanologia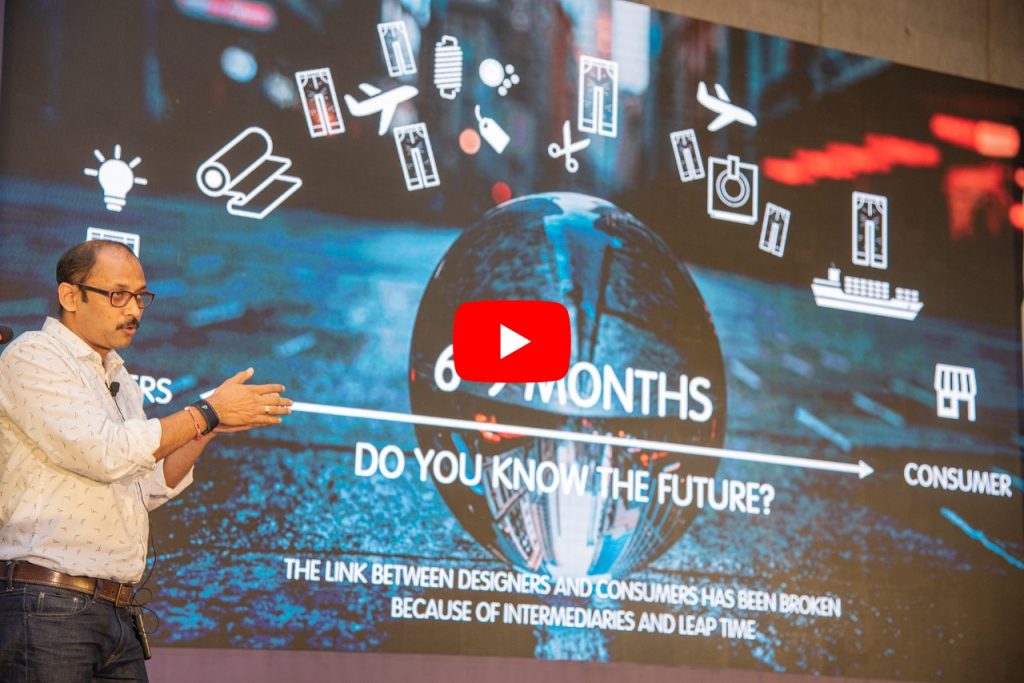 Trend Presentation AW 23-24
Presentation by Ms. Neha Celly From Denim design and research house Bluehemia and denim couture brand nece gene.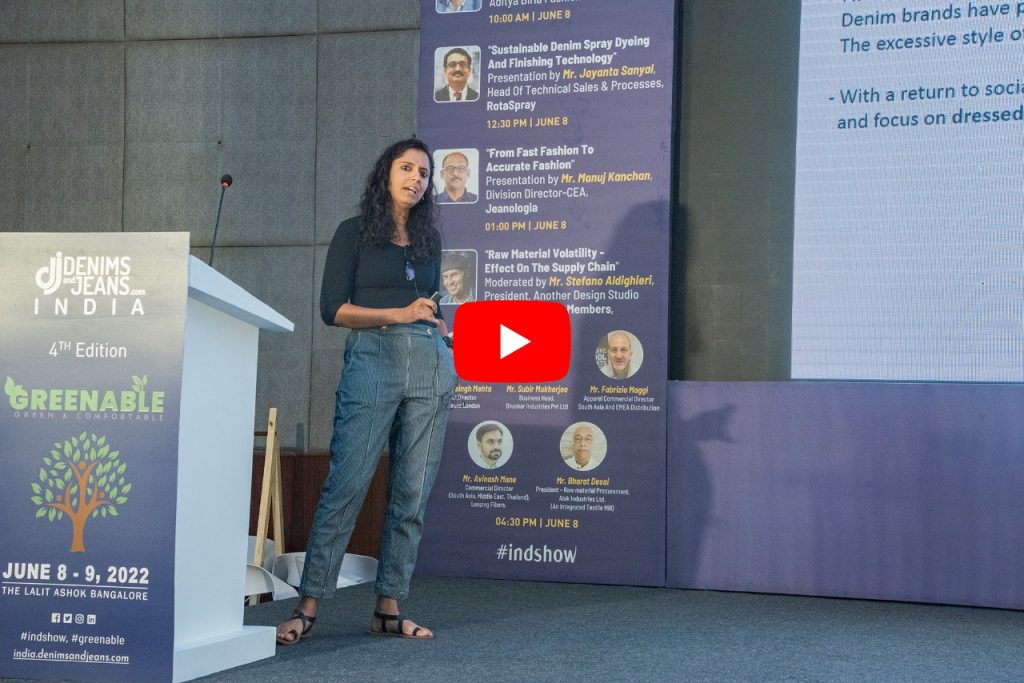 For more videos, subscribe to our Denimsandjeans youtube channel
Also, you can download some of the presentations from our speakers from THIS LINK ..
Denimsandjeans Initiatives
Complying with the GREENABLE theme , Denimsandjeans took up various initiatives during the show to promote the reduction in wastage by taking some small steps. . Saving over 2000 plastic bottles , the team encouraged the use of metallic bottles and some other ways to provide clean water without using bottles. . Moreover, a large number of plastic covers, papers were replaced by the handbands made from recycled fabrics . It was fun to do this while making our small contribution to the cause.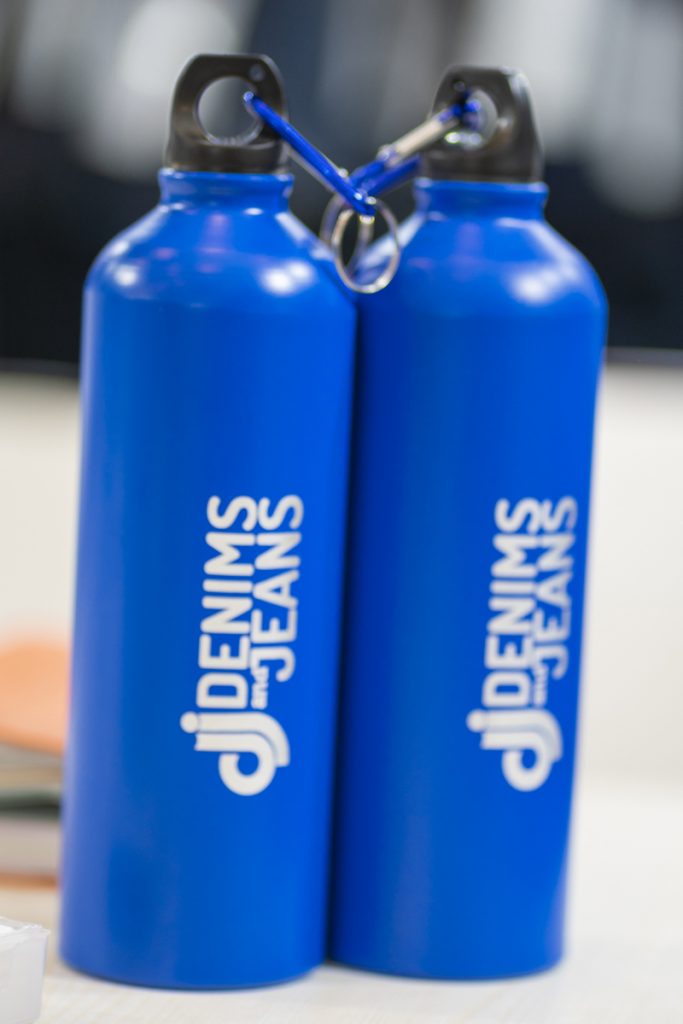 We enjoyed the show thoroughly and we again THANK OUR EXHIBITORS AND VISITORS who kept faith in us after the difficult covid period !
Do not miss to join us for our JAPAN SHOW on Nov 1-2