I recently had the chance to have a chat with my friend Daria Martelli from Italy regarding the current situation of the industry and specially with a focus on small and medium brands who were the main victims of covid in our industry. We also discussed the upcoming changes in the industry regulations and how sustainability and circularity will become more important in the near future and how it would impact the SMEs . The full interview that I had with Daria can be seen below and also shared are the Q&A that I had with her below. By the way, those who don't know her- she is a very experienced fashion designer who specializes in denim and casualwear. She has worked for over a decade for different brands including Pepe – where she was the Head of menswear design. She has been focusing on sustainability and circularity as key drivers of positive change for the supply chain.
We have all seen the major impact of Covid during last 1 and half years and specially on smaller retailers . While many of the larger retailers have bounced back, smaller brands are still finding it difficult to make a come back. Do you think this is a correct assessment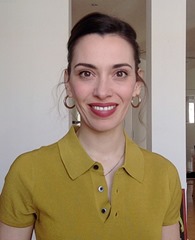 After more than one year of market which was nearly frozen due of Covid-19 we eventually can see that from consumer's side there is a sort of coming back to normality and the will to make some shopping.
The way how brands respond to this demand show us which kind of strategy they applied to survive and react to the unpredictable situation that Covid19 put them through.
According to the market's segmentation, size of the business and product type the strategies applied are very different.
Brands with a strong organization, well established in the market, with financial resources and/or belonging to a group often decide to tackle emerging problems related to social and environment issue. To do so they might have created sustainability and CSR department within their existing team and/or collaborated with external consultant agency which are specialized on support companies along this sort of transformations.
They also look on how to improve the relationship with their suppliers belonging to the supply chain in order to create the conditions for better production's processes and they have been analyzing the status of their business to identify areas of improvement.
Concerning brands belonging to groups such as Kering and LVMH they can count on the valuable advantage of being part of stakeholder's network within which share technologies, facilities, distribution's channels, financial resources and supply chain.
The situation for the medium and small retailers is different. Even though they are starting to restore their production, they have been facing a situation that is still very unstable, therefore taking any decision which involves economic investment is a risk that only very few are willing to put on their priority action's list for the near future.
SME's are often quite flexible in their organization and this feature allow them to create more agile processes of production, distribution and timing which are all steps which needs to be revised to meet the needs of market which is surely very different from what it was before the pandemic.
What are the most important aspects that SMEs need to focus on to secure their future
This crisis makes it mandatory for most of the industry to review their strategy and processes. Resilience is the word of the moment. SMEs should reshape their operating models to adapt to the faster pace of change and sustain those effective new working practices that have emerged from the crisis. Since adaptability will be key to all of this, brands should identify the threats to their businesses and prepare strategic responses across multiple scenarios to counter uncertainty and facilitate fast decision-making.
One aspect related to brand strategies is related to reduce the assortment of the inventory, as more products do not necessarily yield better financial results, this is something that has been highlighted even more during this pandemic.
The other area of action is related to external stakeholders such as the final consumer which awareness in regard of topic of sustainability are raising very quick.
Also SMEs will shortly have to commit with new international directives which are created by the European commission to tackle the urgent need of reduce the quantity of textile waste.
The end of life of a garment will be managed according regulations which will be applied by all european countries by the end of 2025 and all stakeholders will be involved and so brands and retailers.
Textiles are the fourth highest-pressure category for the use of primary raw materials and water. It is estimated that less than 1% of all textiles worldwide are recycled into new textiles. The fast fashion trend and the habits about how to consume and dispose fashion and accessories products by consumer make this linear economy system at the point of collapse. The European commission established The Waste Framework Directive to transform this problem in an opportunity. How to manage the end of use/life of a product is what make the major difference between a linear economy approach to a circular system.
The Waste Framework Directive (WFD) states that Member States shall set up separate collection for textiles by 1 January 2025. The Commission will provide guidance to achieve high levels of separate collection of textile waste and it is conducting a study on the technical, regulatory, economic and environmental effectiveness of textile fibres recycling, with a view to identify promising areas for future research and innovation projects, as well as related challenges and existing regulatory barriers and to inform policy options. To fund these project will be asked to supplier to pay an extra fee which is going to be invested in the establishment of consortium in several territory to organize the collection and manage waste. The same consortium activity is fund by an extra fee which will applied to final cost of the garment which will be covered by final consumer. The WFD also requires Member States to promote repair and re-use of textiles. The Commission will establish a common methodology to report on such re-use and consider setting specific preparing for re-use and recycling targets for textile waste by the end of 2024.The Circular Economy Action Plan identified textiles as a priority value chain and announced an EU strategy on textiles. It stated that the Sustainable Products Initiative, currently under development, will be applied among other areas to textiles. Any such measures will apply equally to products on the EU market, whether produced inside or outside the EU.
The SMEs have majorly used word of mouth and social media as the main communication channels for promoting their strengths. Do you think this is going to work in future as well. Especially if we see that the products of SMEs are , on an average, more sustainable or are able to covert themselves faster . The communication will play a huge role in their success
SMEs based the best of commitment to highlight their strength through social media which has been anyhow the main platform for all of the businesses.
Facebook, Instagram and WeChat reach billion of people every day but according to McKinsey survey the level of engagement of this social-media platforms appears to be waning in some markets. Average daily minutes are declining on some large platforms, and people don't spend a lot of time looking at ads on mobile feeds. As a result, brand content often fails to connect with target markets. Influencers are also seeing engagement rates fall, suggesting it is increasingly tough to excite and inspire audiences. The data suggests that it is time for brands to rethink their social media strategies and evaluate how to exploit platforms more effectively.
Story-telling is the new trend. This I believe is a big opportunity for SMEs. Through story telling they can talk about their value, their story, the heritage and relationship with their supplier. This is an incredible opportunity to engage more personally with the potential customer.
New KPI are gaining importance within consumer to measure the value of a brand, such their commitment in regards of topics of environment, social and governance. A garment which meets the last trend is not any longer enough for the consumer to buy it.
A way for a customer to understand the value and mission of a brand is to consult the No financial sustainability report. This is a document that any brands can decide to produce and make public on their website. It is not mandatory but more companies decide to go through this analysis of their practices to measure and understand what it the status of the business in regards of topic of sustainable and social ethic practices. It is a good opportunity for any company to set new goals of improvement.
For SMEs decide to publish this report is a chance to share their current status, future aim and the roadmap to achieve them with the consumer who could decide to support a brand's philosophy becoming a client.
Another way that brands can use to communicate their initiative is joining forces creating collaboration and project with other brands or stake holders of the supply chain. In this way, they can reach a bigger audience and reach potentially new consumers, synergy and collaboration can be very powerful and effective. Just to mention one is the collaboration between fiber specialist Lenzing, chemical company Officina+39 and creative consulting studio Meidea who have teamed up to develop The Circle Book, a lookbook meant to inspire and educate the next generation of designers in creating more responsible and lower-impact apparel.
This is an excellent example where the know-how of each part involved is share and put in common to inspire and gain visibility.
Data analytics on customers, sales, products etc is getting a very important tool for success of companies. Do you think its feasible for the SMEs to make use of them specially with their limited financial positions?
The digital transition was gaining importance over the last years and definitely the Covid made this shift quicker. It is a precious tool that can help all business to collect qualitative data useful to build new action plan and avoid waste of resources of any kind and time. SMEs sometimes are reluctant to this shift and maybe downsize the potential of data information can provide.
Tough, keeping in mind the unpredictable transformation the whole market has been experiencing due the Covid 19, it is important that the digital transition must be understood by SME's as a holistic approach to the whole business model and the starting point to define their vision and strategy. Applicable both to internal processes (production, distribution , inventory) and consumer attitude, expectations, optimize the online experience and redirect investment into opportunities that will outlast the pandemic.
There are a lot of startups working on technology and innovation which will provide any brand, present on digital platform, with precious information. For example, one area of research is the virtual fitting room. Nowadays the popularity of the online shopping created an increased percentage of return by consumer due problems with fit and size.
This has got big consequences both economical and environmental. If SMEs could amend and communicate their fit in an effective way thanks to the quality of collected data it would be a great advantage from a lot of point of view both financial and engagement with the market.
The investment required in term of cost can be seen by SMEs as not feasible but the return are worth. If a digital transformation is considered not makeble for a brand they could decide to join a marketplace which can provide within their services data analysis, but of course the information available are not enough to be applied to all the processes.
Even we will recovered 100% from the pandemic I guess the digital experience will remain and so businesses have to take it on board and some point.
Are their any SMEs from whom we can take inspiration in respect to how they adapted themselves in last one year and reinvented themselves and became successful.
Outalnd Denim is and Australian brand which to face the crisis during the pandemic decided to take some action on what concern their distribution strategy. They so decided to focus more on direct store and their website rather than whole sale in order to better manage margin and cost related to the assortment of the inventory.
Ginger and Smart brand adjust the delivery of their collection to a more natural calendar.
The founder of the brand says:"We're looking at making sure that the right stock is available for our customers when they actually want it. Traditionally in the industry, spring stock is delivered in the middle of winter and winter stuff gets delivered in the middle of summer. This incongruity is a tactic to encourage shoppers to buy for the coming season while they shop for the present season."
The mismatch between products in store and natural season have been highlighted also by big players of the fashion business over the last year such as Gucci, Giorgio Armani and Dries Van Noten. Ginger and Smart brand decided to get inspired by this concern to plan their strategy to tackle the crisis from this point of view.
New Balance the sportwear brand decided to apply on some products of their collection a new business model. Thanks to a collaboration with the fashion-tech innovation english agency Unmade they can offer a customized made-to-order product.
Other brands join emerging business model such as renting and leasing. Some of them offer this service on their store and website, others decide to lean on the expertise of dedicated platform specialized on this renting service. This can be a good choice as most of them are strongly connected with the territory and/or with a market segment.
Rent the runway for example is the platform for luxury product,
ByRotation instead is and English platform becoming very popular in London and more widely in the UK.
For any further conversations with Daria, she can be contacted at dariamartellidm@gmail.com