What an incredible Journey Ian Berry's Denim Clapping Hand's have been on and still going. I wrote about it a few weeks ago as it travelled through Britain as well as the world and he managed to get them from Land's End to John O'Groats, thus travelling the length of Britain with almost everywhere in between!
It's also cemented Ian's place as an artist, not a denim artist. Yes he may use our favourite material, but its more than that. With a celebrity following and Art buyers around the world year on year, he keeps growing. And don't take my word for it, David Hockney is a fan!
The Baltic, Newcastle
#iclapfor was growing and growing but then the world changed. Ian postponed projections in New York but in the UK it looks like it may have a new lease of life – and Ian is part of a very impressive line up.
You can now get his famed Clapping Hands as a badge with Pin Your Thanks – along with stars Keira Knightley, Ringo Starr, Joe Lycett, David James MBE, Dame Sarah Storey and Anoushka Shanka.
Ian getting the projections north to south is remarkable, add in Ipswich and Swansea, he went East to West too. Quite an incredible feat! It also went as far as Colombia, Mexico City and Australia and many more!
A permanent longer lasting tribute on doctor's surgery wall in London, just around the corner from Blackhorse Lane Ateliers now has it as a stunning mural, in collaboration with Wood Street Walls and Atma.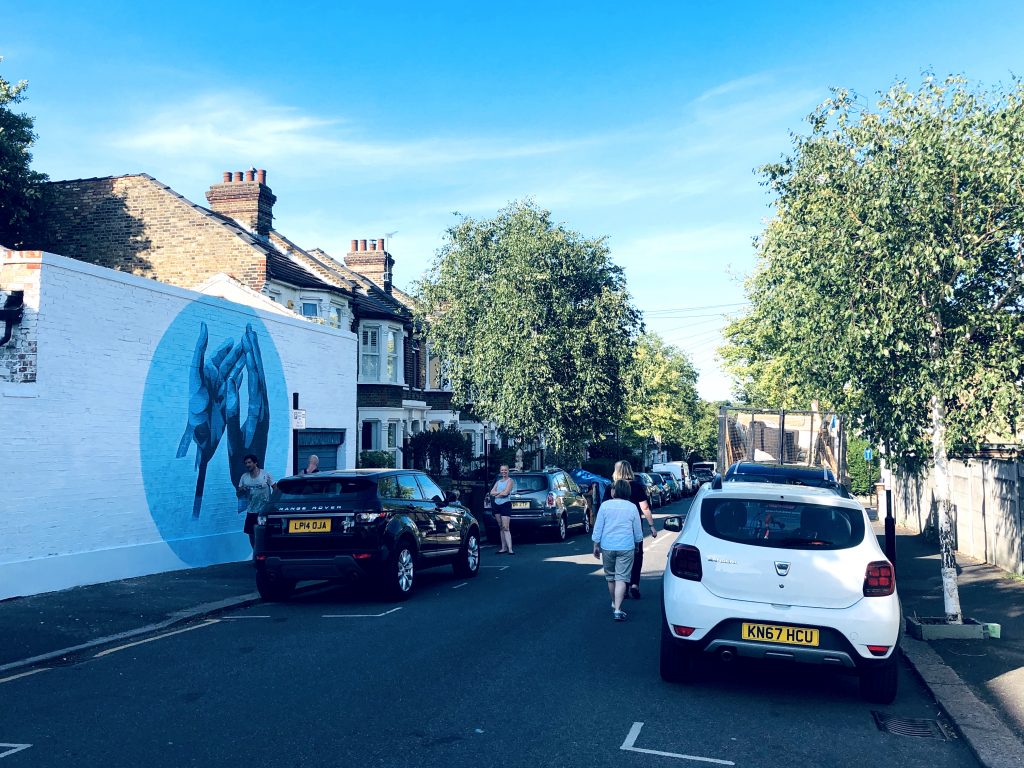 The hands are still being projected in a Batman-like beam onto buildings worldwide to say thank you to all those on the front line. And now we you can show your personal thanks to those that have supported us through this badge, with the 'People's Medal'. I hope many in the denim community support Ian, and the project. Of course, pins go well with denim.
The idea came from Ian's six-year-old son Elliott who cutely loved the clapping for the NHS and when Ian, made the distinctive blue hands from denim for a photo Elliott took of his hands, Elliott then even had the idea to project it onto buildings.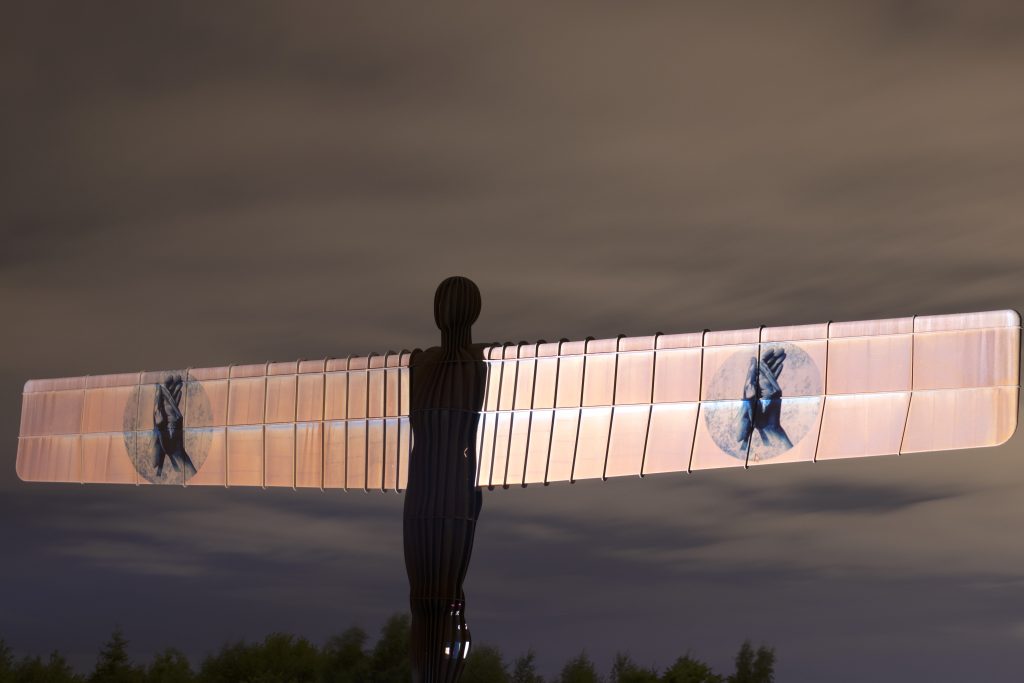 Since we last wrote the projections have been on such buildings as the BT Tower in Birmingham, in Greenwich and the Angel of the North in the North East – it has now gone global with projections in Brazil, Sweden, Italy and the USA and beyond. To launch Pin Your Thanks Ian's projection was put on London's South Bank at the Royal Festival Hall with the Clapping Hands morphing into his badge, then those of the star designers.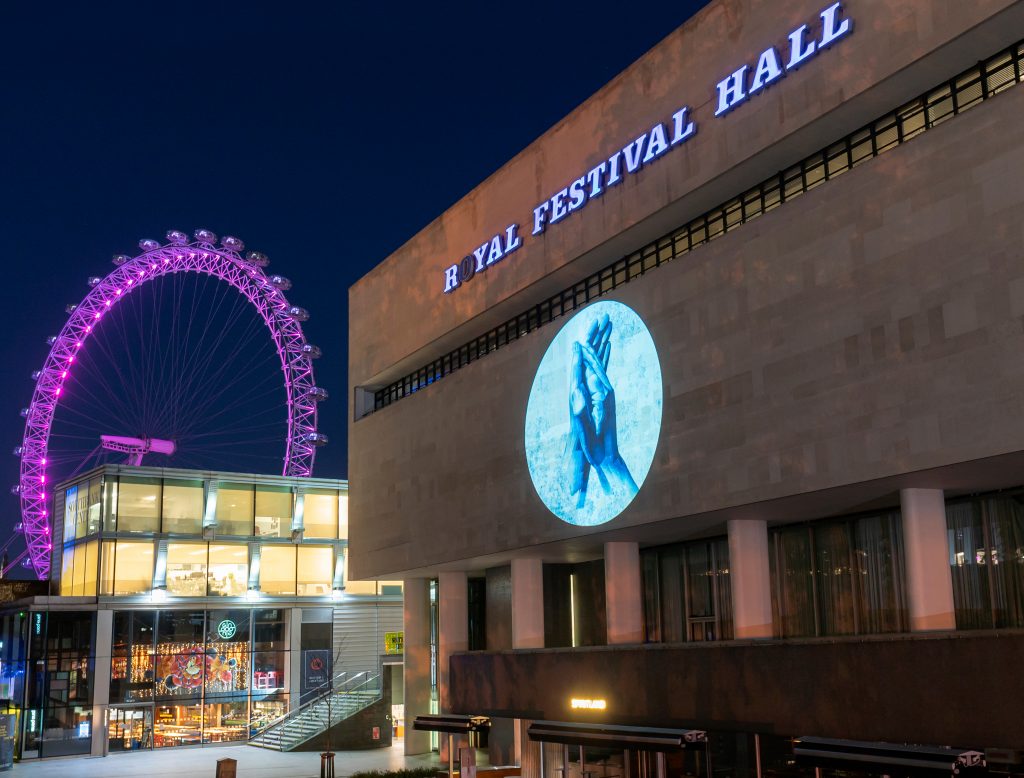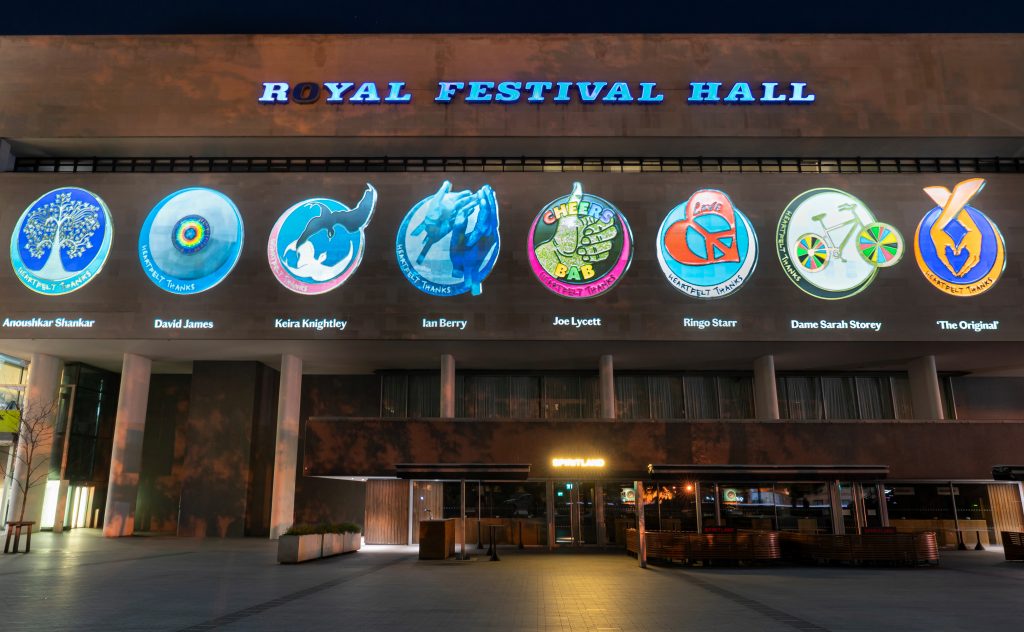 Ian's question 'who do you clap for?' using the hashtag #iclapfor were put on projections, the one on the Angel of the North went through all the different Front Line workers that had been suggested through this..
Pin Your Thanks is an along the same idea and a perfect fit, another way to show who you clap for, who you wish to show your heartfelt thanks to and a way for others to give their personal thanks.
Jenny Beavan OBE, double Academy Award-winning costume designer, of #PinYourThanks adds: "We were looking for exciting and innovative ways for people to express personal gratitude to their local heroes and Ian was invited on board before we even knew he was about to put out his Clapping Hands – and what a perfect fit it turned out to be. What a creative man he is.'
Ian 'sat on his hands' for a few weeks as he didn't want to seem like he was jumping on the band wagon.
'by trying not to get on the bandwagon, I actually missed the band wagon and when it was going really well it seemed it had to slow down, I'd started the period saying it wasn't my time, and trying to lay low, letting others have the platform – I think it should be Doctors and nurses and so many more that should be celebrated. Of course that was the plan with this, but still I feel strange that it is my name there. For me it's the doctors and nurses that should have the blue ticks on Instagram but we live in a different world, don't we – I truly hope this period has shown us what is important'' Said Ian.
'we live in the world where the court jester is king'.
Ian has raised lots of money for the NHS Charities Together and Doctors Without Borders and will continue to do so with Pin Your Thanks along with other initiatives coming and we are looking forward to seeing those.