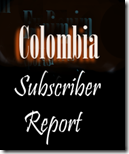 We are listing herebelow some buyers of denim fabrics from Colombia who have bought denim fabrics in end Dec 2011 from various denim mills around the world.  These buyers have bought denim from mills in Mexico , Turkey, US, Brazil, Taiwan and many other countries. Also given in this report are :
a) Name of buyers who bought denim fabrics from different mills.
b) The names of mills from where they bought the denims.
c) An idea of the products they bought and the prices at which they bought – this gives a fair idea of the quality of the buyer .
d) Contact details of these buyers.
This report is available to our subscribers of Special Reports
Rest of the report is visible to our paid subscribers. In case you wish to contact us for more info at , send email at mktg@balajiinternational.com . To see all protected reports titles,visit this page http://www.denimsandjeans.com/subscriber-only-reports-3