Mexico was once the largest denim apparel manufacturing centre worldwide till China took over. It still remains a very large centre with a huge production of  jeans and supplemented by some domestic denim fabric production.
Mexico has been importing denim fabrics for a long time for its domestic and export requirements.  It is important to analyze how and from where this market is getting its fabrics.
In this first report, we will look at the data for the period 2007-2011 and in the second report we will look at the data on imports of denim fabrics into India in 2012 and 2013 (latest available).
In the current report , we will look at
a) Quantities of denim fabrics imported into Mexico from 2007-2011 by country.
b) Values of denim fabrics imported into  Mexico from these countries for 2007-2011..
c) The top exporting countries that emerge from this data.
[private_special]
The imports of denim fabrics into Mexico have been mainly from the US for conversion into garments and re-export to US. So the US fabric has normally been imported duty free for this purpose.  The share of US fabric has been typically about 45- in the years from 2007 to 2011. This is only to be expected since Mexico is largely a base for US market.
The imports from China have been much lower due to duty preference to US but in 2011, China's exports were more than that of  US and took about 46% of the share of the import market in Mexico. The prices from China are difficult to understand as many of these prices are believed to be understated for evading duties.
Taiwan, Colombia and Pakistan, Hong Kong, India , Italy etc  have been the other suppliers to Mexico for denim fabrics after China. But the gap between China and these countries is so big that it cannot be compared. However, still they manage to take around 1-1.6% share of the market in 2011 and prices from most of them are much better.
In the graph below, we see the share of the Mexican denim fabric import market by country. It clearly shows how US and China dominate the same.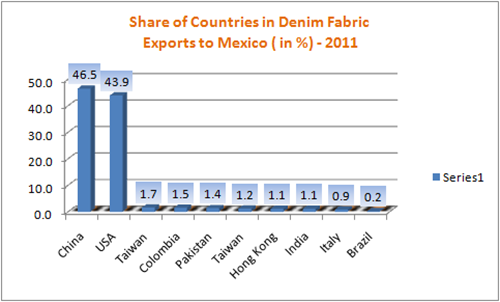 To get full information countrywise on the import figures from different countries into Mexico for 2007-2011 , pl use the following link to download  the  excel report on the market. Also do not forget to download the next report on 2012 and 2013 that we will bring out.
[/private_special]