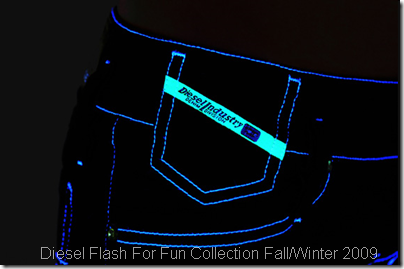 Did you have a look at the Diesel Flash for Fun Collection ?
Well, if you play hard in the day and are a party guy at night and do not take time to change in between, this collection can be interesting for you .
The collection features glow-in-the-dark jeans which look perfectly normal during the day and it is only under the UV lights that they glow. Diesel has been making a lot of shirts and T-shirts with glow-in-the-dark features. But this collection is slightly different as it reveals extremely bright details of stitching , graphics etc during the night. A special fluorescent coating designed to glow under UV lights is laid on some parts of the jeans eg stitches, back pockets etc and it helps those parts to glow . Hidden graphics like 'Dragons' are revealed on the backpockets during the night.
The concept behind this collection was headed by Creative Director, Wilbert Das.  Priced at around $120 Flash For Fun pieces are intended for nightlife lovers.
I think Diesel has timed this collection well  in these times of economic recession . These jeans double up as day and night(club) clothing – saving some money for the users. If this collection is successful, it will encourage some more brands to follow suit.