On Wednesday, February 15, 2012, , The Levi's® brand launched its first ever global collection during New York Fashion Week at SoHo's landmark Mercer 82 event space. During the event – a hybrid between custom-made vignettes featuring pinnacle products from the line and a runway show – the Levi's® brand showcased the key looks from its Fall/Winter 2012 collection.
Here is a nice video from Stylesight – leading online trend forecaster- who took an interview with Jonathan Cheung, Levi's VP Global Men's Merchandising; Jill Guenza, Levi's Women's Global Senior Design Director, and Miles Johnson, Levi's XX Design Director.
"Levi's® has always been about embracing the energy and events of our time. Today, fashion is more democratic and accessible than ever, making New York Fashion Week the perfect moment in time for the Levi's® brand to launch our first global collection," said Len Peltier, Global Vice President of Creative Direction.
The Levi's® Fall/Winter 2012 collection is based on a more refined and tailored look, for both men and women. The designs were inspired by the idea of craftsmanship, honesty and authenticity – honoring tradition while defying convention, redefining the norm and re-crafting and re-creating iconic Levi's® styles.
Fall/Winter 2012 Denim Collection
Steeped in the authenticity and craftsmanship that the brand is known for, the collection is built around classic and refined styles with sharp clean aesthetics, which have been tailored to perfection.
The key trend for men this season is the tapered look, for a great flattering fit that sits just below the waist, is slouchy on the top and has a slim tailored leg. The colors of indigo seem to have gotten lighter, brighter and shinier  . The stitching threads were normally non-contrasting and going along the same shades as the denim or even white. So the focus is "Formal and Crafted Wear" taking their denim collection  away from the distressed looks and washes that we have been seeing for years. Also could be seen bike messenger length pants ,
For women, the key look for the season is the Bootcut Skinny, which the Levi's® brand claims to have completely reinvented. As per Levi's , this look is
"..no longer your mother's bootcut denim, this season will see the launch of this new take on a classic – a sexy, modern skinny fit making you forever think differently about the bootcut."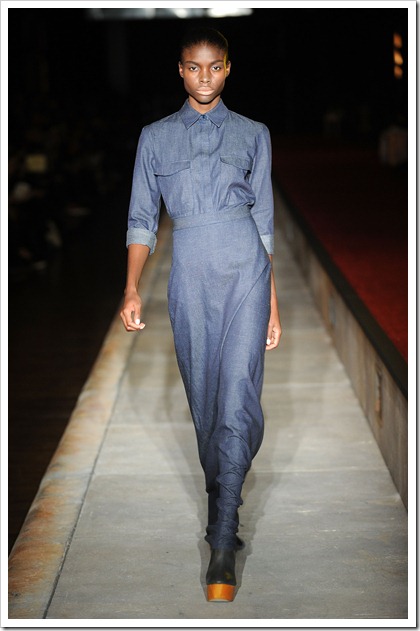 Here is a video from the runway ….
Here is a description of some key from  the show(denim and others) :
1. repurposed tailored sack coat
indigo-striped highway trucker shirt jacket
cinch back pantaloon…………….
2. tailored chambray workshirt
melton wool military jacket
508™ sta-prest™ khaki short…………..
3. bonded parka in rifle green-safari
1950s khaki twill sports coat…………….
513™ sta-prest™ slim in harvest pumpkin
4.electric blue plaid flannel workshirt
oversized engineered blue and yellow striped tee
repurposed vintage performance trucker jacket
511™ sta-prest™ cropped skinny in olive…………
5. made & crafted wide leg chino
made & crafted custom type 2 suede trucker jacket….
6. hooded commuter trucker jacket in olive twill
engineered striped cardigan with contrast buttons
commuter workshirt……………………………..
508™ commuter cropped taper in charcoal
7. commuter workshirt in white
heather grey sweatshirt
511™ sta-prest™ cropped pant…………
8.coated indigo tencel low-slung dungaree
crisp white french cuff button down…………..
9. coated indigo tencel pleated tap short
crisp white french cuff button down……………
10. coated minimal zip front trucker jacket in jet black
coated cotton workshirt………………………..
505® commuter straight cropped in carolina blue
11.coated indigo tencel pleated prairie skirt
crisp white french cuff button down…………
12. heather grey heritage tshirt
sta-prest™ trucker in braveheart twill
japanese indigo checked plaid jacket.
511™ sta-prest™ skinny electric blue pant
striped yellow and blue d ring belt
13. natural canvas trucker shirt
engineered 3-pocket work vest
engineered type 2 trucker jacket
cinch back engineered carpenter pants….
14.tuxedo shirt in indigo tencel
re-crafted tailored flare…………………
15. red & blue color-blocked ripstop vest
red & blue color-blocked hooded track jacket
black fishtail parka jacket……………….
508™ sta-prest™ taper in khaki
16. levis® curve id skinny bootcut with customized
tencel godets.coated indigo tencel dress shirt
cropped single button rinsed denim blazer……….
17. oversized workwear jumper with asymmetrical pockets………………………..
18. commuter workshirt in black poplin
black bomber in melton wool & canvas
extreme drop taper pant…………………
19. diamond stitched indigo bomber
dip-dyed indigo dress shirt.511™ skinny raw denim pant
black belt………………………….
20. gypsy print legging crisp white french button down
21. coated indigo tencel a-line duster skirt
wool herringbone blazer crisp white french cuff button down
22. lvc 1920s sunset henley in dark grey melee
lvc 1930s twill britches
lvc 1915 striped suspenders
lvc 1912 blanket wool mackinaw coat
23. lvc 1950s shorthorn checked flannel shirt
lvc 1920s chinos
24. lvc 1918 women's all-in-one freedomalls
25.lvc 1920s wool sack coat
lvc 1920s wool buckle back trousers
lvc 1950s shorthorn blanket striped flannel shirt
26. lvc 1960s 519 sta-prest™, burnt henna 812 corduroys
lvc 1930s button-neck sportswear sweater
lvc black and red woven leather belt
27. made & crafted yellow blanket lined sack coat
made & crafted striped print trucker jacket
lvc 1920s corduroy trousers
28. made & crafted ochre drill cotton linen chino
made & crafted cotton linen, bright blue, shawlcollared sack coat made & crafted wool herringbone checked workshirt
29. made & crafted tailored indigo sack coat…………..
made & crafted indigo flannel sailor trousers
made & crafted short shirt in golden yellow and mazarine blue
30. made & crafted wool checked trucker shirt
made & crafted rigid sack coat
made & crafted striped wool type 2 vest
made & crafted cinch back carpenter pants
31. made & crafted type 1 indigo wool jacket with striped weft made & crafted hi-rise cropped five pocket wool pants
32. made & crafted aztec lambswool v-neck
made & crafted suede type 2 jacket customized us military jacket lvc 1920s teal chino
33. u.s. navy shirt (vintage)
508™ sta-prest™ short in harvest gold
34. trucker shirt jacket in japanese indigo blue and white hemp vest .505® bedford cord
35. french awning striped hemp jacket double-faced engineered workshirt cropped selvedge carpenter jeans with leather -backed hammer loop
36. selvedge wool denim slim jeans diamond stitched herringbone sack coat diamond stitched wool waistcoat
grandfather tailored shirt 37. clean rigid button down with articulated pockets clean rigid high-waisted a-line skirt
38. soft-constructed two-button blazer modern chambray workshirt  562™ loose creased with tailored cuff
39.520™ overall in japanese selvedge twill, charcoal grey ,japanese selvedge twill two-button snap front tailored blazer,japanese selvedge twill tailored shirt with hidden placket

Sponsored link:
Reproducible Effects in Finishing of Denim