The ever growing popularity of denim helps in the growth of other related products which hitch hike their way to success  on the bandwagon of denim .
We had previously written about the Denim Abstraction Collection – which enabled a Japanese company to produce vintage looking jeans from fleece products.
There is now another pileon (no pun intended) on the denim bandwagon.
These are the Pajama Jeans …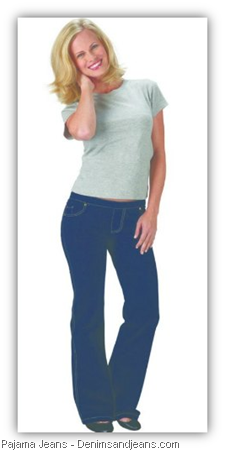 What are these and why they may be special  ?
Despite the name, these knickers have as much in common with denim blue  jeans as a blue bath towel. They're more  like drawstring waistband loungewear with faux five-pocket detailing including contrast stitching, back-pocket embroidery and rivets rendered in a stretchy knit that's a blend of cotton and Spandex (DormiSoft™ fabric) and has the same fleece-like backing you'd find in a pair of standard-issue sweatpants.
However, what is special is the consumer interest that this product is generating. The LA times reports that the Pajama Jeans may crack the 2 million piece mark in sales by the end of this year.  This is a huge figure for a product which is actually a pseudo denim ..
The price range at $39.95 (including a tee)  is quite easy compared to the denim prices , but not very cheap for a pair of sweats. 
Lesson For Denim Marketers
The popularity of  Jeggings , stretch and psuedo denim from fleece  and other similar products should leave no doubt in the minds of the denim makers that the consumers are :
Still very high on denim  and would like to use other products which imitate denim looks.
They want COMFORT.. Comfort is the key mantra.   And it is driving the whole industry !
There are still market segments which many may not have thought of . Eg , these Pajama jeans for women gives them a great flexibility to look great the whole day and complete all their chores  comfortably . And this is is at a reasonable price…  A cool combination to create a new market niche ..