Diesel has launched a new collection marked 'The Powder of Diesel'. The collection is inspired by the world of pigments in cosmetics – the blushes, eyeshadows, powders and more  (ladies would know better..). Diesel wants to give these shades to their denim collection.  With bright colors , light fabrics , jegging and other styles  , it might just turn out to be a great selection for the summers for the girls ! Diesel  took the  color denim  trend to the next level by adding a secret ingredient: powder.
"Don't just be cool – be Powderful"!!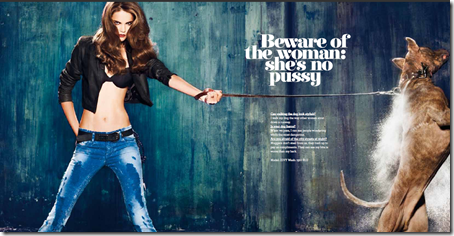 What is Diesel + Powder ??
Well , what happens  ladies when you get ready everyday using various cosmetics including powder.. If you are in  a hurry or have butter fingers, some of the powdery cosmetics get sprayed all over yourself.  The powder shines on  the jeans or any other dress that you might be wearing.  So ! , Diesel decided to do it on purpose  to blend cosmetic references with latest innovations in fabric cut and styling.  So you will find various colors of powders sprayed over these jeans and this should draw a lot of attention to you and your jeans !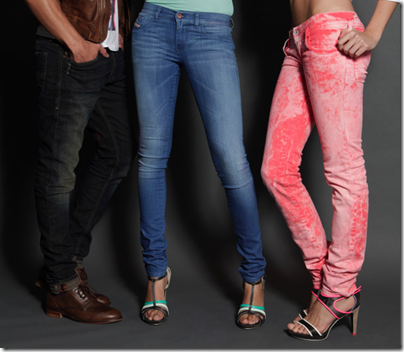 What are the washes done on the Diesel Powder collection ?
Washing is the probably the most crucial element in this collection. So it was in place to see what kind of washes are being done .Here are some of the cool washes for the Diesel powder collection :
1)8Y4 WASH :

The 8Y4 "Sugar Goddess" is one of the star washes of the collection. The dark indigo fabric contains XLA cotton, a Lycra fiber that has been modifi ed to make it especially resistant.  The denim undergoes several treatments – including dirty applications – before the all-important Powder of
Diesel pinkish effect is obtained by hand sponging with natural color pigments.
2) 65Z Wash

The 65Z "Glamarama" takes advantage of soft, superstretch lightweight denim fabric. A touch of "Powder" pink is added via manual localized sponging using natural pigments. A luminous effect is obtained by ironing
the denim in the final phase.
3) 8MZ Wash

The 8MZ "Splash of Talc" is another star wash, seen at its best advantage on the Matic fit. A 13 ounce base is softened with a number of complex manual treatments. A final press gives the fabric a luminous summer look. Localized sponging using oxidizing elements on pockets and hems adds further touches of light.
4) 8PT Wash

The 8MZ wash crops up again in a modified form in the 8PT "Dream
Stream" version, seen on the Nevy cut. It's a broken and destroyed
variation, using a manually applied color spot treatment.
5) 8 NM Wash

Last but not least in this section is the 8NM "Blue Me Away" wash. A
clouded effect is achieved thanks to a combination of an initial sandpaper
treatment and an all-over manual spray treatment. This effect is highlighted by a bleach treatment .
These were some of the cool washes from Diesel on their powder collection . We will cover some more cool washes from Diesel shortly . So keep watching !!