This is a guest post by Harry Mercer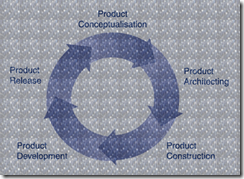 Product development is especially important in the denim market because of demands for novelty and performance, both on the fabric production side and from the garment processing side.
There are 2 aspects to product development of fabrics. Product development is usually thought of as creating a product for the market with significantly different colors, appearances (flat, slubs), hands (soft, raspy) or performance (stretch, permanent press).
The other aspect of product development, equally important, is product improvement, which includes reducing defects, improving performance (shrinkage, stretch, reducing costs).
The leading denim companies in the U.S. conducted extensive research into solving the mysteries of denim production, especially in dyeing and finishing, Outside the U.S., there are some denim companies in countries like Italy, Turkey and Japan that are well-known for their quality.
The leader in denim quality, Burlington, developed a reputation for quality such that active marketing was not necessary in some years. In fact, their denim was in such high demand because of its quality, that Burlington could not produce enough and resorted to rationing their fabric to their best customers. Of course, the prices that they received were much better simply because they could deliver the highest quality consistently.
While most of the denim factories in the U.S. were closed by the late 1990's, there are still 4 operations remaining, no large establishments are left, only 2 small and 2 medium operations.
The 2 small operations (Cone and Denim North America) are dedicated to high-fashion denim, while the 2 medium-sized companies rely primarily on producing large quantities of a few basic styles, but with high levels of quality.
One of the medium-sized operations, Mount Vernon, also produces significant quantities of non-denim fabrics which provides financial stability and flexibility in textile markets. The other, American Cotton Growers, also produces a line of fashion denims that are in strong demand.
Producing the highest-level quality denims may be the surest route to long-term success. The higher-fashion market is unpredictable and makes sudden changes that has had the effect of a financial earthquake on denim producers that struggle with specialty denim. Mixing basic and specialty denim in the same production operation can complicate manufacturing to the point where effective control is lost.
WHEN PRODUCT DEVELOPMENT CAUSES PROFIT  OR LOSSES
The product development function can also be a financial liability, if it lacks FOCUS and DISCIPLINE. The FOCUS of product development must be company profits; to maintain that focus, marketing managers must exercise DISCIPLINE by not trying to provide every fabric requested by customers.
Producing a new product involves additional costs which must be absorbed by manufacturing.
These costs include set-up costs in affected production departments; disruption of planned production; material costs for special fibers, yarns, dyes and chemicals; and the cost of carrying inventory when no buyers can be found for the new fabrics.
While the previously-mentioned expenses can be quantified, there can also be a significant loss as a result of deterioration in process control and quality assurance.
Producing denim fabrics is complex with many variables. When additional variables are introduced, complexity increases and additional variability results. Too often, denim marketing managers force manufacturing to make sudden changes in order to book an order that creates a net financial loss.
NOT MUCH REALLY NEW
There have been thousands of different denim fabrics produced and only a few hundred have experienced significant commercial success.
With the exception of minor variations, such as the use of unusual fibers like bamboo or application of special chemicals like polyurethanes, very little truly original denim has appeared in many years.
For the most part, the same denim fabrics are re-cycled in cycles of perhaps 5 or 10 years.They merely seem to be new because of their long absence from the market.An excellent example of this is "antique" or "authentic" denim as it is called. Around1980, the U.S. denim industry had nearly eliminated all shuttle-weaving in favor of rapier or projectile weaving. The denim that we were weaving on the shuttle looms was less than a meter wide, which  was no longer acceptable to the market. The fabric weight was 12.5 oz/square yard,- the yarn was ring spun, 7.5/1 Ne in the warp and 6.75/1 Ne in the weft. The reed had 6.5  dents per centimeter and the speed was very slow, around 100 rpm.
All of the shuttle looms were sent to the warehouse and no one expected to see them again.
By 1990, however, the fabric was back in demand for high denim fashion and has remained strong in the market for 20 years.
POTENTIAL FOR NEW FABRICS
The remarkable appeal of this "antique" denim is probably because it has a home-made or hand-woven character. The shuttle loom is the closest automatic weaving machine to handloom weaving with its large shed opening and low tensions.
For denim executives that are struggling in the current market with its increasing demands for lower prices, organizing an effort utilizing hand-loom weaving could offer a new source of revenue. There are millions of hand-loom weavers all over the world and denim operations, especially those with sheet Indigo machines, produce large quantities of waste yarn, as a result of dye machine stops or slow speeds and is not suitable for automatic weaving and( that is already dyed and sized, ready for weaving.
In this way, yarn waste could be used for a very high value-added product, which would also employ many people in developing countries and also contribute to "sustainability".
Further, by applying special hand-finishing techniques, a new fashion trend could result.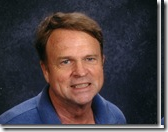 This is a guest post by Harry Mercer. Mr. Mercer has 30 years experience in the denim business including 3 prominent U.S. denim companies.He is an expert colorist for measurement and color matching as well as textile testing.