Tonell Srl , one of the most innovative technological solution providers in the denim industry, has come up with an interesting and innovative equipment to help stores , factories and other players post garment production process to combat infection problem in clothing during these covid times. The machine is a kind of OZONE CHAMBER named as SANICARE which comes in different sizes and shapes according to the usage. In a video interview with Sandeep Agarwal , Alice Tonello explains the concept of the new innovation and does a practical display of the same. Check out the full video here .
Especially for the clothing stores, this could be really helpful as it improves the shopping experience of the consumer, said Alice Tonello
Alice Tonello mentions that according to an external lab test report, The Ozone Chamber claims to kill the pathogens and the bacteria from 93% to 100% . However so far as the Corona Virus is concerned , the machine is not yet tested on the same as the Italian govt does not allow currently to make these tests on corona virus. However, Alice is confident that it should be able to work on the same and they will do the testing once govt. allows them to do so.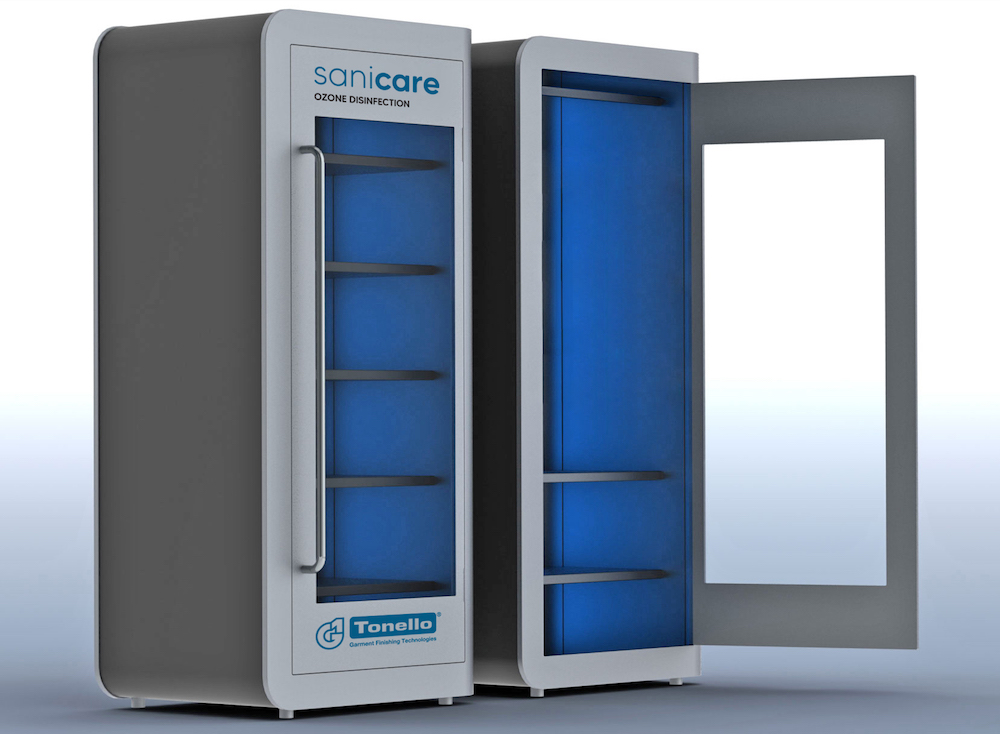 SANICARE is available in three different sizes – Small(S), Medium(M) and Large(L) and it offers two options – One is Garment Sanctification and the other is Room Sanctification.

So in case a user would like to sanitize their store, the same can be done by opening the doors of this machine for sometime (depends on size of the room ) and the room will be sanitized with the ozone process from the machine. It is important to understand that the sanitization process of the room should be performed when there are no consumers in the store and preferably during night hours.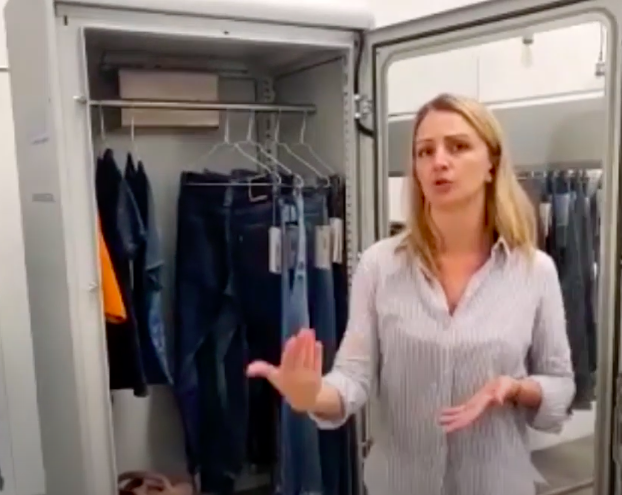 So far as the garment disinfection is concerned, the machine showcased by Tonello during the demonstration can accommodate 7-10 garments , with some shoes and bags inside the disinfection chamber and it will take few minutes to disinfect them all .
Once the user puts the garments inside, the door needs to be closed and the option of Garment Sanctification needs to be selected. On selection , blue light inside the chamber confirms the initiation of process and normally the machine takes about 20 minutes to sanitize all the products inside the chamber.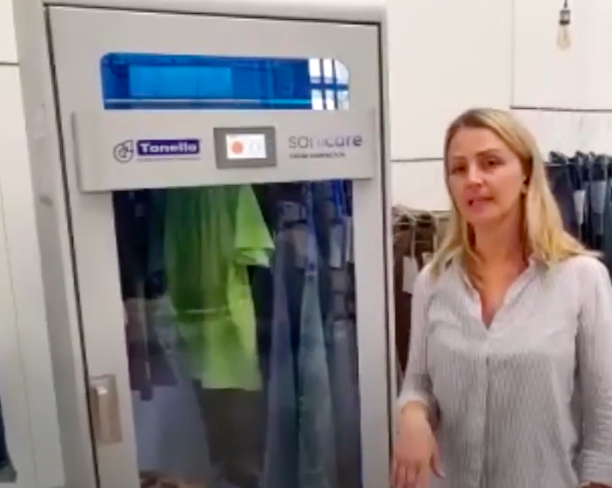 SANICARE is available not only for the stores but also for the factories. The users can order the machine according to the usage size i.e, Small, Medium and Large.
This is quite interesting and I congratulate you for creating such innovative products . I think we need more of such innovations at this critical time – Sandeep Agarwal , Founder Denimsandjeans.com
---
Alice Tonello can be contacted on her email a.tonello@tonello.com . Besides , Tonello is now on our Digital Sourcing Platform – DE BRANDS, you can now connect with the company at the app . To download , visit :
IOS Link -https://lnkd.in/gBRexsX
Android Link – https://lnkd.in/g2bT6C9
Buyer registration link – https://lnkd.in/gNdAj3v