Further to our two previous posts on the SS'15 denim (part 1 and part 2) trends from  the Denim by PV , this is the third and the last one. As mentioned before, the interest in denim looked much higher at the show and also the visitations to the show were much higher than in May  . We all look forward to its first edition at Barcelona next year.
Artistic Fabric Mills- Pakistan
AFM focused on super soft and super stretch fabrics for women – creating these fabrics with multiple combinations of fibers. Hasan Javed, Director , explaining the various super soft fabrics and other fabrics from AFM stable, says –
"Super soft, and super smooth hand feel is still very strong for the Spring/Summer season. We achieve this through different techniques. The most obvious one being the use of Tencel® and Modal® fibers from Lenzing in the warp. In addition to this, our new spinning expansion includes combers which allows us to combine thin combed warps with different wefts. New weft technology that we like to call "PLTC" combines four different fibers for a superior handle and excellent recovery at a more economical price. Combining constructions and using certain special warps allow us to use cotton wefts that provide linen looks. Moving away from the soft hand feel side, we have also introduced a new concept called "Mélange à trios". This injects something novel into our PFD family; a Multi-fiber warp for double color or melange effect."
Besides, they also  introduced fiber dyeing , Coolmax, transparent coatings, glitters etc.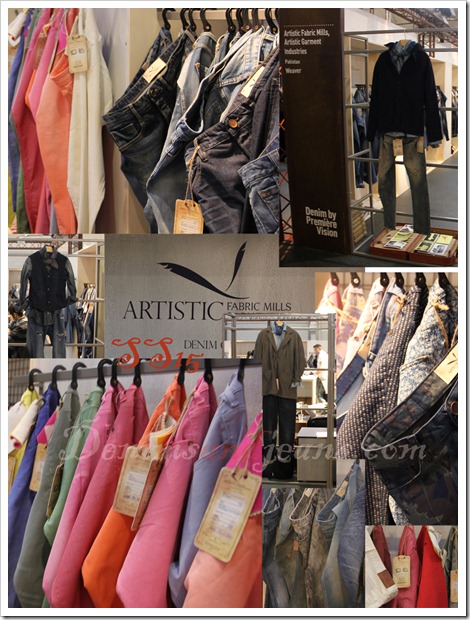 Crescent – Pakistan
Crescent came up with the waterless washing of denim garments through usage of chemicals which , according to Idrish Munshi , enables them to completely avoid the usage of stone and use only 1 litre of water per garmen to achieve the stone wash effect. They also came up with the 'Jeans of Steel' – made up of super strong dyneema fibers . The jeans, first created by a denim mill as per Crescent , are over 25% more stronger than the regular 100% cotton denim and much more suitable for motorcycle wear and other outer wear applications.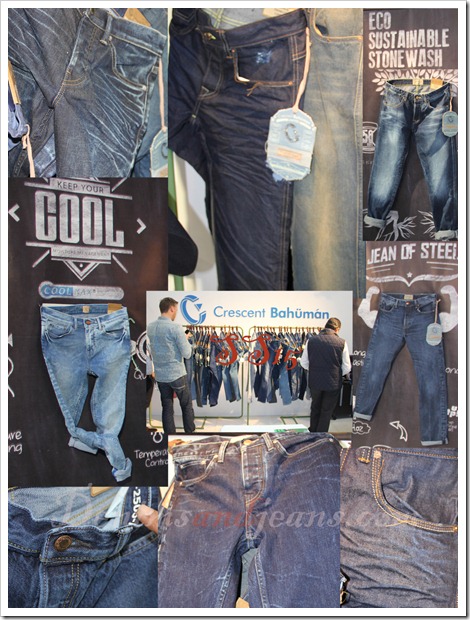 Artistic Milliner – Pakistan
AM introduced  Selvedge denims for the women , besides their other products. Omer Ahmed, Director , says –
"We have 100% cotton, but what we have really worked on is to try to bring the contemporary technology to the selvedge area. For instance, selvedge is primarily for male fashion, but not so much for women. We have tried to bring the same for women – specially in stretch. We have taken the purist approach to these denim – to celebrate the purity of fabrics which has been there for over 100 years. We are trying to commercialize selvedge and make it more affordable. "
They also presented their performance range including Coolmax fabrics (for moisture management) , thermo cool , anti microbial , low friction fabrics etc. Artistic Milliners is also coming up with their Leeds certified factory at Pakistan shortly.
US  Apparels – Pakistan
US apparel focused on some key concepts . Pure Indigo light or dark for a summer with  contrast. Green cast for fashion and vintage…  Grey to recall the great time of rock,&roll. Alternative fibers like modal, tencel, viscose, natural fibers for soft hand feel. Hemp and recycled yarn for sustainability. Print fashion image by laser and washed by ozone for water less. A trip through the memory starting from 80's when the Indigo was more red up to the stage of Summer 15 . Eco and green still on front line  for a lifestyle contemporary  and live.