After holding five successful and consecutives denim shows in Bangladesh, Denimsandjeans eyes the potential of Vietnamese Apparel and Textile Industry. This exhibition will bring some of the most reputed local and international mills and supply chain partners together at one platform keeping Denim and Sportswear segment in the focus.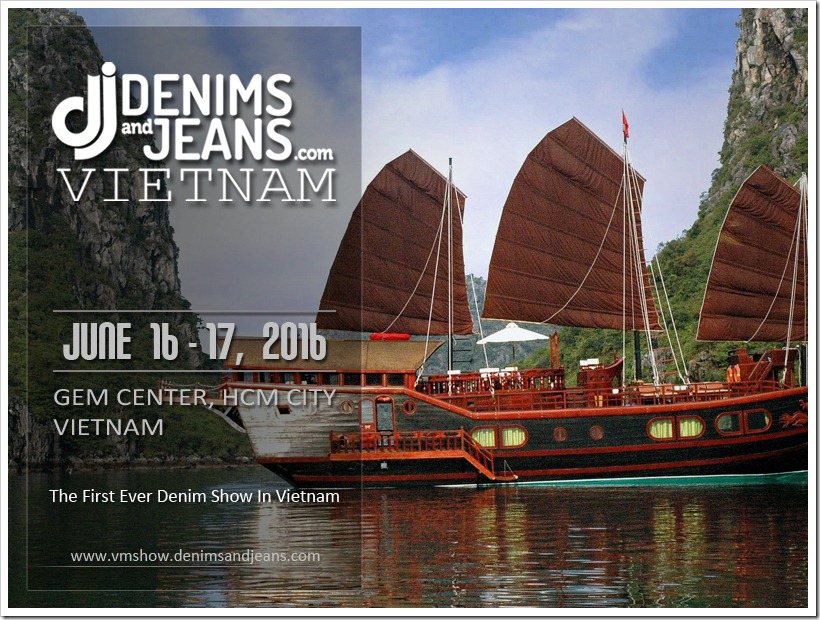 Increasing approximately at 19 per cent compared to 2013, Vietnam's textile and garment exports have crossed US$ 24 billion in 2015 says the largest textile group in Vietnam – Vietnam National Textile and Garment Group (Vinatex) . Denim is a growing segment of apparel sourced from Vietnam and is likely to witness significant growth in coming years. The Vietnamese textile industry, with more than 3,800 companies, is the country's leading export sector. The country ranks fifth worldwide in textile and apparel exports and has a labor force in that sector of more than 2 million people, of whom 1.3 million are working directly in the industry. Many textile and garment companies in the region have already begun to move production to Vietnam. Major U.S. retailers such as Sara Lee, JC Penney, Express, the Gap, Macy's, Nordstrom's, Mast Industries and American Eagle source a sizeable portion of their imports from Vietnam.
According to reports, the focus of Vietnam is not only US as Vietnam is also negotiating free trade agreements (FTAs) with several other countries including the EU. The duties on exports to EU from Vietnam are likely to reduce to zero over the next few years. The exact details of the duty structures would be available soon as the FTA with the EU is inked. Trans-Pacific Partnership (TPP) agreement, the most awaited bilateral trade instrument which is expected to be signed somewhere next year has already charged the market of speculations. Experts predict that the TPP would likely raise Vietnam's garment and textile exports to the US to US$55 billion by 2025.
This agreement with US is very close to finalization and it is under their top most priority in order to bring the garment and apparel industry of Vietnam on top. One of the tough competitors, China is lagging behind because of its expensive labor cost and in meanwhile this agreement with US will be an icing on cake for Vietnam as it unfolds new opportunities for Vietnam.
China presently accounts for a 37 percent share in the US textile and apparel market, while Vietnam only has an 8 percent share. If the TPP deal is inked, it would help Vietnam to manage to take away 10 percent points share from China, as Vietnamese textiles and apparels would then enjoy greater benefits than products from China, which does not form a part of the TPP agreement. This is likely to give huge push to the industry.
Denim and sportswear is an important part of the whole apparel industry in US , EU and worldwide. With increased apparel activity in Vietnam, this sub sector is likely to witness decent growth.
To focus on the sportswear industry, Denimsandjeans.com brings out its maiden show in Vietnam on 16th and 17th June at HCMC and shall bring some of the most reputed local fabric and apparel manufacturers, and international mills, chemical and accessory suppliers in the supply chain together at one place. The event shall aim to be a premium sourcing location for a large number of international buyers coming to Vietnam to look for apparel sourcing.
The show shall be held at Gem Centre – a beautiful venue with an amazing  wooden architecture and completely aligned with the theme of denim. Denimsandjeans.com hopes the event shall serve as a platform for the sportswear supply chain industry in this region.