Invista sponsored the recently held Kingins show and  will be sponsoring the upcoming next few shows in LA  , Hong Kong and Shanghai . They also displayed some of their cool denim products at the NY show .
Lycra name being synonymous with stretch , most of the products were stretch related though some of them were also non- stretch and were broadly divided into four fabric themes . I spoke to Kristin Altimari and she explained all the denim themes that Invista is focusing on .
Super stretch denim Theme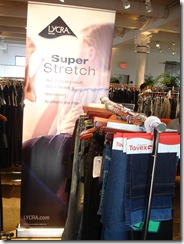 Super stretch are those fabrics with more than 30 percent stretch –are called super stretch . These  are easily one of the hottest trends on today's denim landscape. The consumer's desire for comfort and fit, paired with a fashion trend that favors slim, body curving silhouettes, have helped give birth to this whole new category of denim. Super stretch fabrics can range from very lightweight "jegging" styles, to more traditional 10 to 12 oz denims. But making high quality super stretch fabrics and garments poses unique design challenges for mills and brands alike.
Typically, as the level of stretch in a fabric is increased , you also increase the potential for higher shrinkage and/or higher growth. Think of the three parameters—stretch, shrinkage, and growth—as the three points of a triangle, with stretch at the top. As you move stretch to a higher point, the base of the triangle (shrinkage and growth) tends to change as well.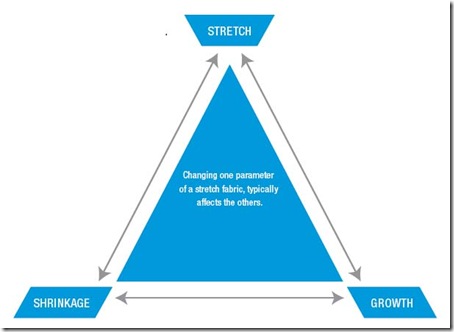 The end result can be a fabric with poor dimensional stability.
INVISTA has developed quality guidelines and best practices for creating super stretch fabrics. The use of LYCRA® fiber and LYCRA® T400® fiber together and in recommended proportions can result in  achieving the optimum balance of stretch, recovery and shrinkage.
Super Comfort Denim Theme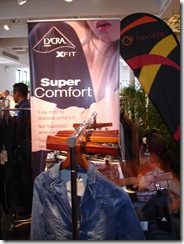 The super comfort category takes comfort and fit to the next dimension. Though introduced in 2006, INVISTA's XFIT LYCRA® fabric technology has been advanced further to present a  new super stretch versions of XFIT LYCRA® fabrics take that concept even further, bringing comfort and all around movement to even the sleekest of silhouettes . These fabrics combine the best attributes of Lycra fiber and Lycra T400 fiber – providing super comfort and freedom of movement in all directions.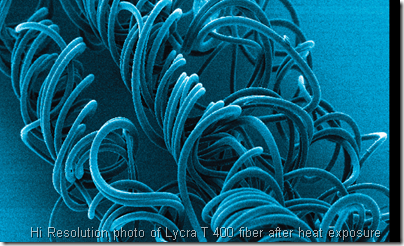 Super Recovery Denim Theme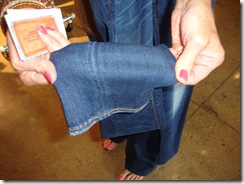 Another hot category is fabrics with super recovery. These fabrics often appear similar to super stretch fabrics because of their significant "snapback." Although stretch levels are more consistent with those of standard stretch fabrics (e.g. 20 to 25 percent stretch), these fabrics seem "more stretchy" because they have more powerful recovery. The enhanced power comes from LYCRA® T400® fiber which has a permanent, coil-like structure, so it always wants to return to its original shape. New yarns such as the textured LYCRA® T400® fiber provide excellent recovery, as well as a soft hand . I stretched some of these fabrics to see the recovery and they just snapped back to their original shape in a jiffy.
Super Durability Theme – Cordura Denim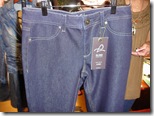 The CORDURA Denim fabric collection combines the authentic look and feel of 100% cotton denim with long lasting durability. According to Cindy McNaull, CORDURA brand marketing director,
"These fabrics have up to four times the abrasion resistance of comparable 100% cotton fabrics, making them ideal candidates for rugged applications such as skateboarding and workwear…"
These fabrics have a nylon mix and use a technology that has been used in the military clothes for decades . The result is a super lasting denim fabric for "Rough and  Tough Wear"
Invista has paired the T 400 brand name with the Lycra fiber brand name to make it easier for the customers downstream to easily associate the T 400 brand with the Lycra brand.  Though Lycra and its properties are well known, T 400 is sometimes not so completely understood. Here are some typical questions which will help understand T 400 better :
What is Lycra T 400 fiber ?
LYCRA® T400® fiber is a special type of bicomponent fiber in which two different polymers are joined together within each filament. The differential shrinkage between these two polymers provides a smooth, helical crimp.
Additional crimp is developed during the dyeing and finishing process when the fiber is exposed to heat. The result is fabrics and garments with  great stretch and recovery properties .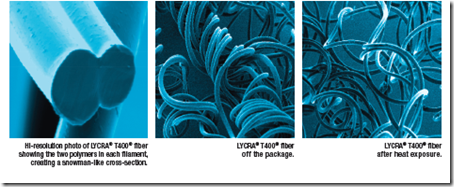 How is Lycra T 400 fiber used ?
LYCRA T400 fiber can be knit or woven in its bare state into garments. For certain applications where cotton is used, core-spun LYCRA T400 yarns may be preferred.
What is the content of T 400 as compared to Lycra elastane fiber ?
Weight for weight, LYCRA  T400 fiber provides stretch and recovery to textured yarns but less than LYCRA elastane. Thus, to achieve a given level of stretch and recovery in fabrics, LYCRA® T400 fiber content will normally be greater than LYCRA® elastane content .The following table shows typical fiber contents of garments with LYCRA  elastane and garments with LYCRA T400 fiber.
| | | |
| --- | --- | --- |
| Garment | Typical Lycra Elastane content | Typical Lycra T 400 fiber content |
| Jeans / Pants | 2 to 4% | 10-25% |
| Woven shirts | 2 to 6% | 10- 25% |
| Knit Shirts | 5 to 10% | 15- 25 % |
| Swimwear | 18 to 22% | 45 – 50 % |
| Underwear | 2 to 5 % | 15 – 20% |
For any further information contact Kristin at this email address ..