Recognizing the urgent need for Transparency across the denim supply chain , backed by a credible Traceability mechanism, Arvind denim recently joined hands with TEXTILE GENESIS™  – a pioneering start up in "Digital track & trace" space. Arvind is probably the most well known textile group and most diversified as well. Its denim division , which is one of the largest globally and caters to most of the top retailers and brands , has always been ahead of the curve while adopting new technologies and solutions which can add value to their and their partners' businesses. Sustainability has  been a mission for the company and it has undertaken various initiatives for water, energy and chemical conservations, including tieups with global brands like Gap for making them more effective.
Arvind X Textile Genesis
The new tie-up with Textile Genesis will enable the company to create digital "Fibercoins™" for their sustainable collections and which allow  brand and retailers full value chain traceability and visibility along with  ESG (environmental, social and governance) credentials of the Supply Chain Partners from fiber-origin to retail. The Textile Genesis platform has won innovation awards & recognition in the industry from H&M Foundation, Accenture and Fashion for Good.
Aamir Akhtar , CEO of Arvind Denim mentions about the push from customers :
"There is a clear feedback from consumers that they are looking for transparency in supply chains. They are wary of buying products made from raw materials that originate in conflict zones. This is the reason we have decided to partner  with Textile Genesis to offer block chain based traceability in our denims."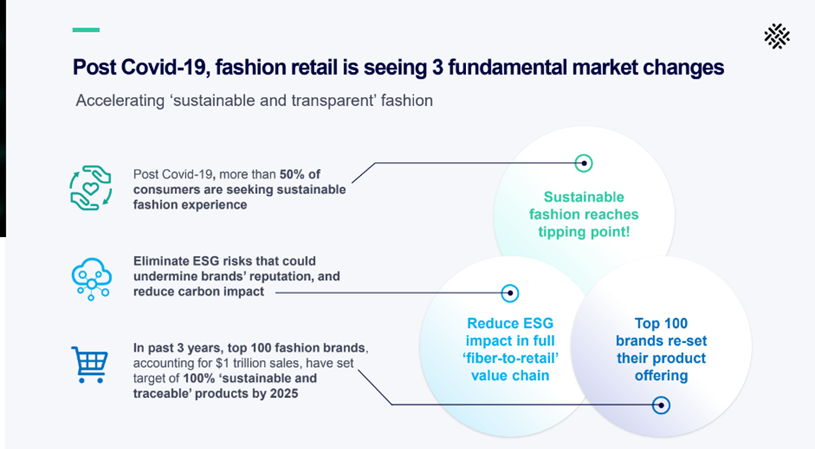 Why Textile Genesis
Textile Genesis is an award winning startup which creates traceability for all sustainable fibers – natural, man-made and recycled .
Cotton fibres – 15-20% of global cotton supply is covered by them with leading recycled cotton producers on board.
Cellulosic fibres – 50% of viscose and 80% of lyocell tracked by TG. Long term commitments with Lenzing.
Top 10 recycled polyester players on TG platform
Long term partnership with #1 wool & cashmere producer – Schneider group
How it works
The fibercoins issued at various stages of manufacturing will be visible to the brands and retails across the value chain, enabling them to trace how and from where the materials are being used.
"As this is a block chain based solution , Fibrecoins will be issued at the origin – for eg ginneries for cotton; production plants for MMF etc. these Fiber coins will get transferred right thru the supply chain and will be visible virtually to all brands as well their customers " – says Aamir Akhtar
End to end traceability of  Arvind's product offerings will be visible on TG platform including all stages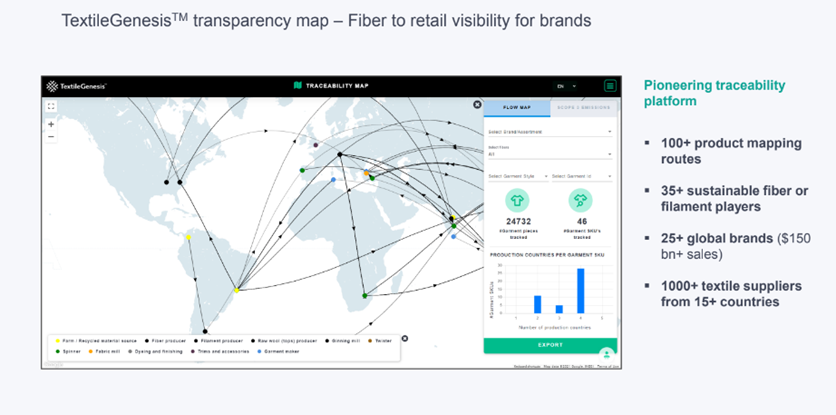 Addition of any sustainability , transparency and traceability solutions , the costs are bound to increase . On being asked if they would be able to pass on the same to the buyers, Aamir Akhtar  mentioned that if the buyers find value in the new initiative, they will surely be open to pay for it.
We were also wondering if Arvind would limit this traceability to only their sustainable denims or extend it to other products . Aamir was sure that it is going to be taken forward :
"This initiative would be expanded to the products from other divisions of Arvind Limited. Even in its current form, this traceability is not limited to raw materials. It includes traceability of other inputs like recycled water, green energy, Higg Score etc"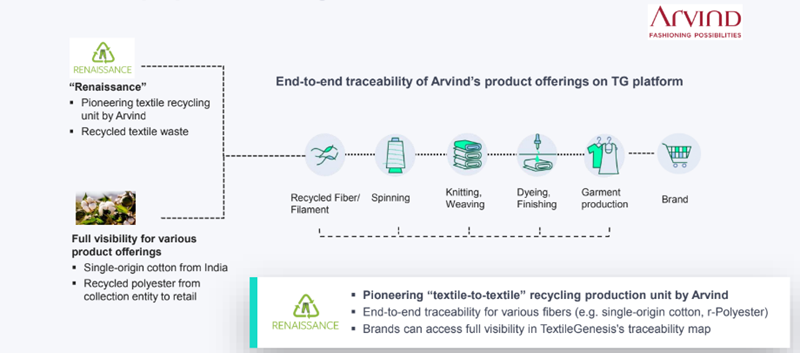 On the whole, a great initiative and a need of the times. As we get more and more transparent and allow easy traceability , the brands will be able to give better information to their customers enabling them to take informed purchase decisions , giving a great boost to sustainability.