Jeans Redesign project by Make Fashion Ciruclar initiative of Ellen Macarthur Foundation provides a launch pad to ensure all clothing is made from safe and renewable materials, and all clothing items are used more and made to be made again. Using jeans as a starting point, Make Fashion Circular aims to initiate actions that contribute to the reduction of waste and pollution, and support the protection of natural resources by establishing minimum requirements which are set out in the form of Guidelines. They have brought together over 80 experts in jeans production from across academia, brands, retailers, manufacturing, collectors, sorters, and NGOs to define collectively what good looks like for the future of jeans. From this shared vision a set of guidelines has emerged that establish ambitious steps for jeans manufacturing and production. The guidelines provide minimum requirements for jeans on durability, material heath, recyclability, and traceability. Out of these four aspects, we focus on Recyclability in this article .
Recyclability
Recyclability focuses on re-use and re-cycling of components. For this :
Jeans should be made with a minimum of 98% cellulose based fibres by weight : This subsection applies to all organisations (brands, retailers, garment manufacturers, and fabric mills)
Metal rivets should be designed out , or reduced to a minimum : This subsection only applies to brands, retailers, and garment manufacturers
Any additional material added to the jeans , should be easy to disassemble : This subsection applies to all organisations (brands, retailers, garment manufacturers, and fabric mills)
All the participants have to voluntarily declare their adherence to these 3 points in writing .
However, there is one more Optional Guideline in RECYCLABILITY which is not mandatory and only those participants who are voluntarily wanting to declare may do so . This is regarding their usage of Pre/ Post Consumer Recycled content and their commitments to use them . Usage of recycled fibers and materials not only ensures that we have less wastage but also reduced pressure on mother earth to produce more . It is one of the most important aspect of sustainability .
We went deeper into this optional requirement from the Jeans Redesign September 2020 report to see what brands, manufacturers and fabric mills are committing themselves to for using recycled components. Naturally , we did not expect participants to obligate themselves to ambitious goals as using recycled materials is dependent on so many factors. Brands are the driving force for this activity and manufacturers and mills follow. However, there are visionary companies who wish to take this on their own accord and move forward . Larger the company, more complex are the operations are for them and understandably more difficult to commit. However, it would be a good idea to check out which brands, manufacturers and mills have taken the step forward on their own . We also focused on MINIMUM commitments and not MAXIMUM. Some of the participants displayed their % wise goals of maximum usage of recycled content which does not really make any sense as minimum commitment could still be zero. Eg Guess committed to a maximum of 30% Recycled content besides many others who mentioned their commitments in similar way. We ignored those companies in the list below :
Brands
Out of 28 brands who showed in this report as participants, expectedly there were no large retailers like H&M, Inditex, Gap etc. Only smaller brands like Boyish Jeans , Mud Jeans, HNST etc were there among the 5 brands that committed themselves to certain targets. Boyish jeans made a huge obligation of using 43% Pre or Post consumer recycled content which is very high by any standard. Mud jeans also stood apart with their 23% minimum recycled content usage declaration. HNST at 21% and Organic Basics at 21% and 10% were also frontrunners in this regard.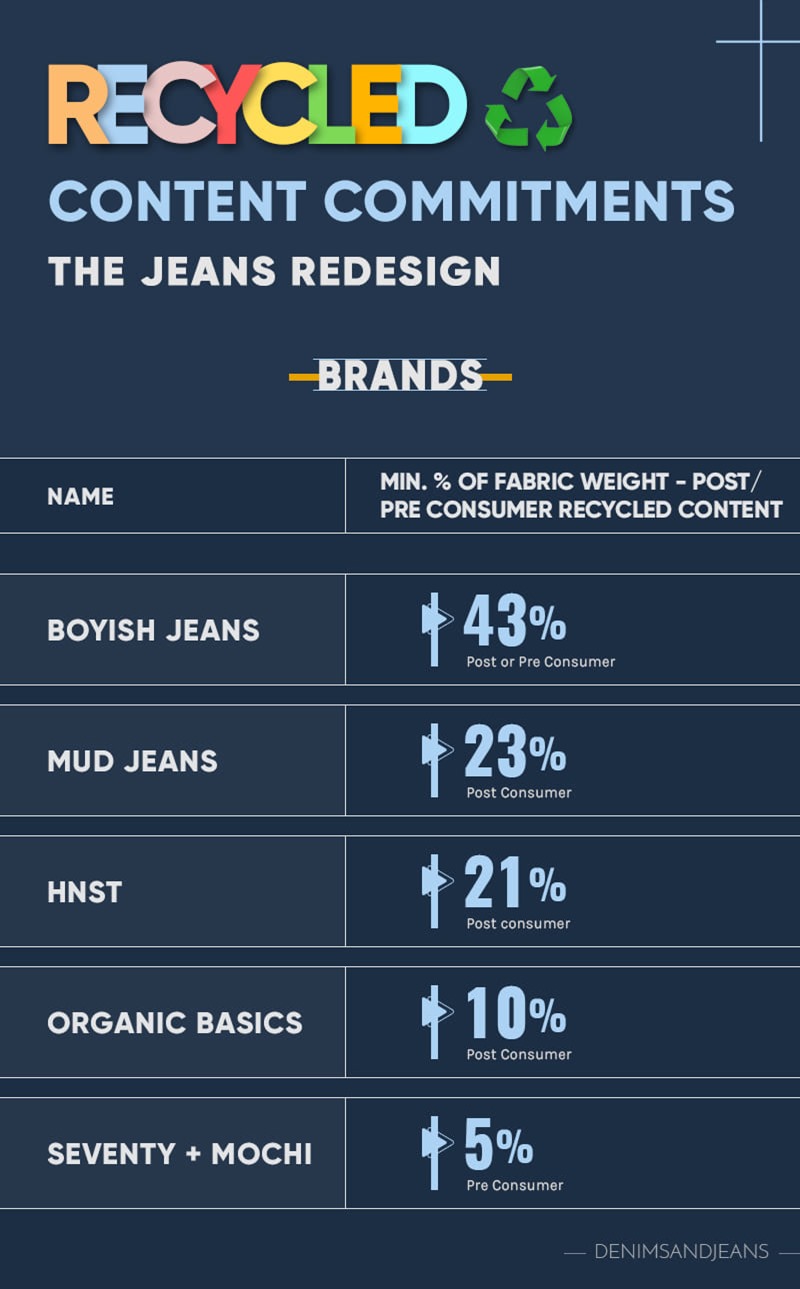 Garment Manufacturers
Garment manufacturing is a totally different ball game as the companies are dependent on the orders from the brands and it is not easy for them to make commitments on recycled content in fabrics. The fabrics are normally nominated by the brands and the manufacturer simply complies with the order. However, there are companies who have been working with visionary brands and have themselves realized the importance of using recycled fibers. Based on their own vision and their brands' requirements , some of the large groups have committed themselves to minimum usage of recycled content in the fabrics that they use. Hirdaramani group of Sri Lanka stands out with a voluntarily declaration of using minimum 10% recycled content in the fabrics they use. Similarly Arvind denim from India, AGI denim , Soorty and DCC from Pakistan, Kipas from Turkey and others have obligated themselves to use minimum 5% recycled fibers.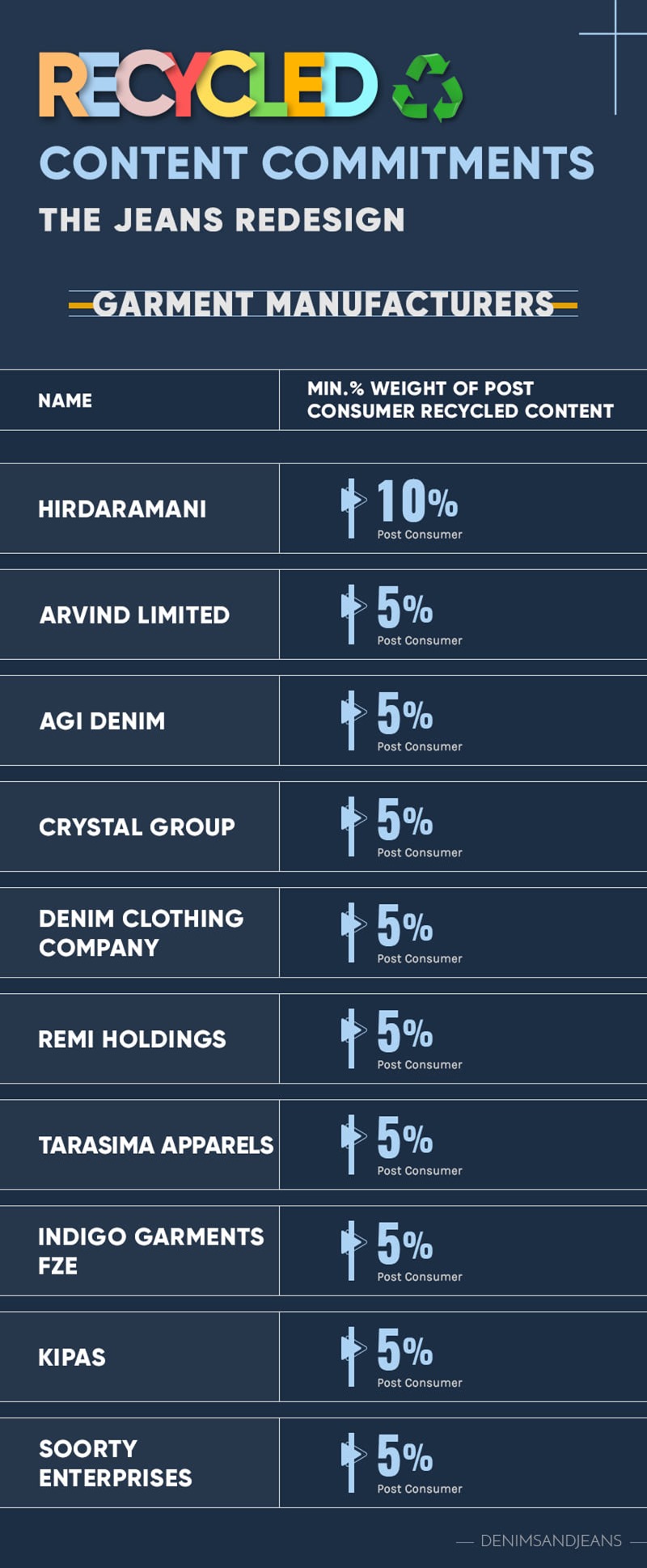 Fabric Mills
Out of the 22 fabric mills who are members in the aforesaid Ellen Macarthur report, it is encouraging to see that 10 mills have shared their commitments on recycled fibers. Out of these mills, DNM Textile from Egypt stood at the top mentioning that would be using at least 20% post consumer recycled content in their fabrics. House of Gold mentions that they are already using 10% pre consumer content and would look for a higher target of 50% pre consumer recycled content in all the fabrics that they will produce. We have 8 other companies from China, Pakistan and India who have given a target of using 5% Post Consumer content in their fabrics .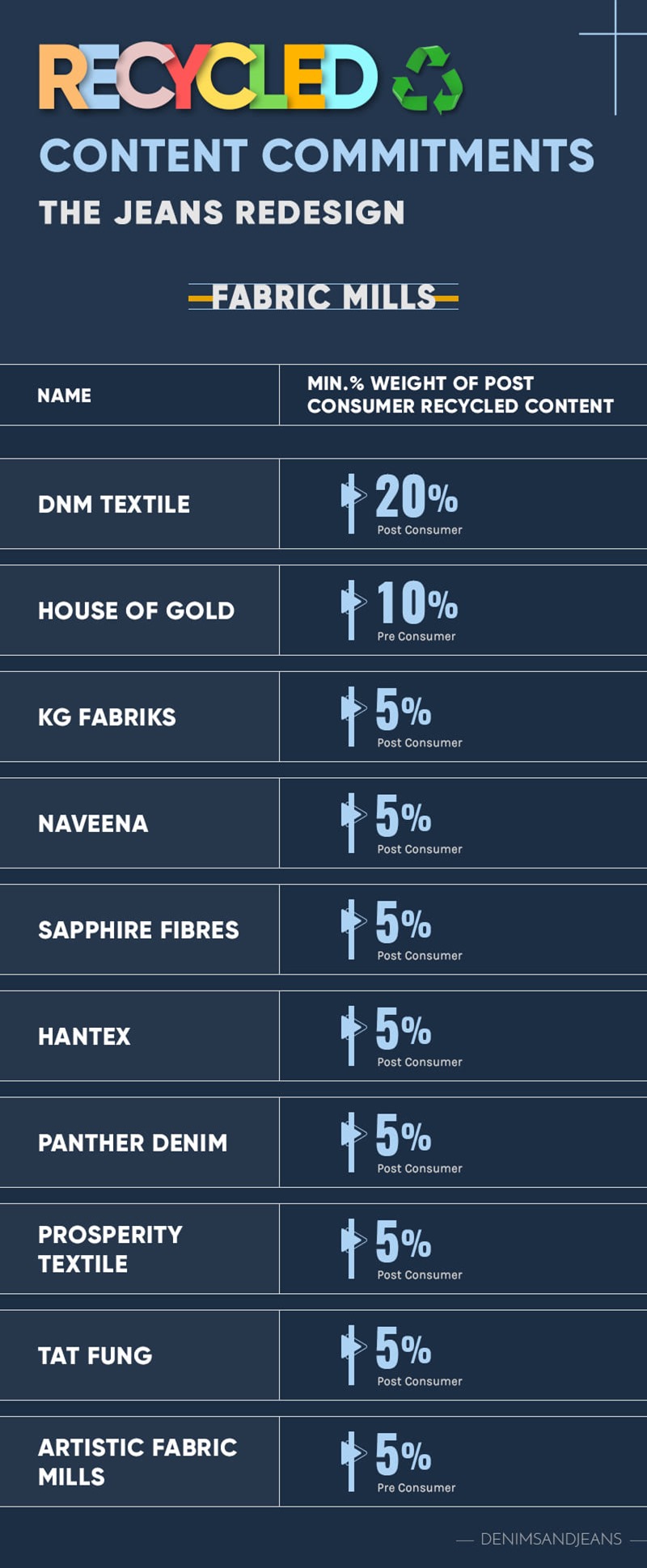 Jeans Redesign neither conducts any audit of the declared figures nor does it take any warranty to the accuracy of the reported data. Hence all information mentioned is self reported and self audited by participants. Inspite of this , it is heartening to note that the major corporates are coming forward to make voluntary commitments . These declarations made at the highest executive level does prompts a whole company to move in the direction of their accomplishment and sets in motion the peer pressure for others . We hope that we shall be , in near future, looking at more deeper resolves from major retailers who are the prime movers in the supply chain and the impact of their commitments will be felt across the industry.
Check out the full Sept'20 report by ELLEN MACARTHUR FOUNDATION from which the above article has been created.