Continuing our series of articles on sustainability efforts by our exhibitors, we are bringing the third in the series with the first two reports being already published and can be found here and here . In the 3rd report , we are covering Naveena Denim Mill from Pakistan showcasing their efforts towards the same .
Naveena Denim Mill , Pakistan (NDM)
The company stresses their efforts towards sustainability in their own words
"NDM has been making good efforts for safeguarding Environment, Natural Resources through Implementation of Sustainable Research Based Product Development and using Global accredited Compliance . The company believes Sustainability as an important factor of production to make sure that the world will continue to have, the water, materials, and resources to protect human health and  environment. NDM has collaborated with Dystar & Archroma for sustainable dyes and Jeanologia for sustainable finishes which are certified by ISO.The processes involved reduces the amount of carbon dioxide and other harmful gases emitted into the air."
They list out some of their sustainable inputs they use in their products :
Repreve- A fiber made from recycled materials. Reduces energy consumption and conserves petroleum-based resources by offsetting the need to produce virgin synthetic fibers.

Lenzing Modal®– A modal fiber from Lenzing, is naturally soft on the skin and ecological. The fiber is produced, using Edelweiss technology. Edelweiss stands for a "symbiotic" production process – pulp, the raw material, is produced at the same site as the Modal fiber itself. Thus production can be done while going easy on energy and other resources.

BCI or Better Cotton Initiative–  A multi-stakeholder initiative – from producer to retailer – who have decided to act together to reduce the damaging environmental and social consequences of cotton production and make the sector's future more secure.

Waste Recycling– NDM uses ETP (Effluent Treatment Plant) in dying processes which allows wasted water to be recycled and reused for dying, sizing, finishing and washing.Special recycled cotton yarn is used to manufacture fabric at NDM which is basically in the raw form.
Horizon : The Sustainable Fabric Production By NDM
Horizon is claimed to be an innovative and cutting-edge combination of eco-friendly dyeing and finishing processes . HORIZON combines Naveena's existing Ecolean + Aqualter processes for dyeing and H2NO for finishing, reducing the event load while saving water, time and energy. As per Naveena, the process uses 81% less water, 40% less energy and %50 less steam compared to conventional process, it improves EIM score by 40%. It also uses less water dyeing for indigo colors with no salt formation.
HORIZON claims to guarantee no back-staining and improved crocking.  The result is 95% sulphate reduction, 82% reduction in chemical oxygen demand and 95% total suspended solids.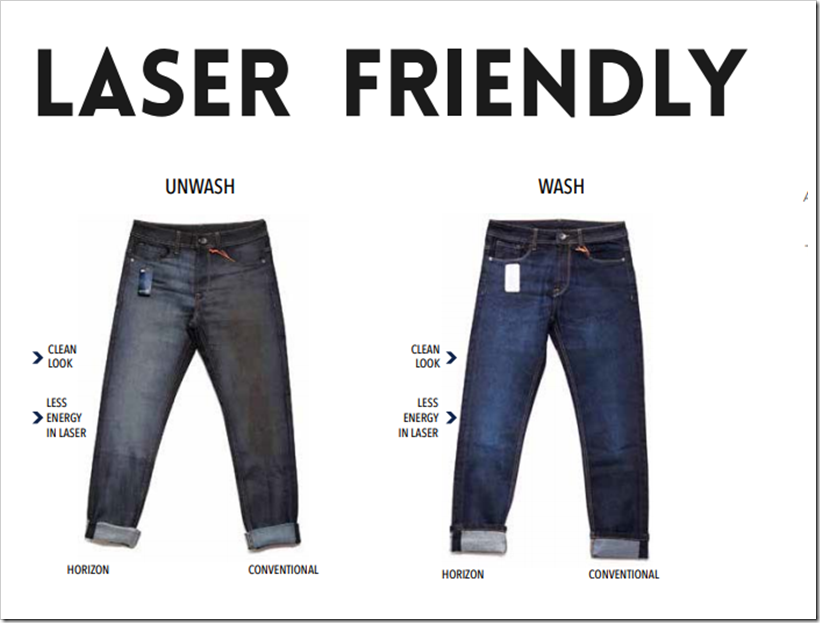 Naveena describes the H2NO system :
"Designed in collaboration with Jeanologia, H2NO uses an eco-friendly technology that reproduces ozone gas conditions. The technology is a ground-breaking innovation for denim supply chain, since it uses ozone and requires no steam, chemical or water in the process. The technology conserves up to 90% water and energy. Using this new process, the mill saves 12 liters of water per jeans and saves 10 to 12 tonnes of chemicals annually. The technology improves the mill's E.I.M. score by more than 40%. The result is cleaner fabric that requires fewer washes and that ultimately reduces brands' costs. An advanced dyeing process designed to save our most valuable resource, "water", Aqualter uses dramatically less water, energy and steam compared to conventional dyeing process. It uses up to 15% less energy, up to 90% less water and up to 80% less cotton waste while producing the same indigo effects."
The company shares the following results of their sustainable system vs the conventional dyeing system.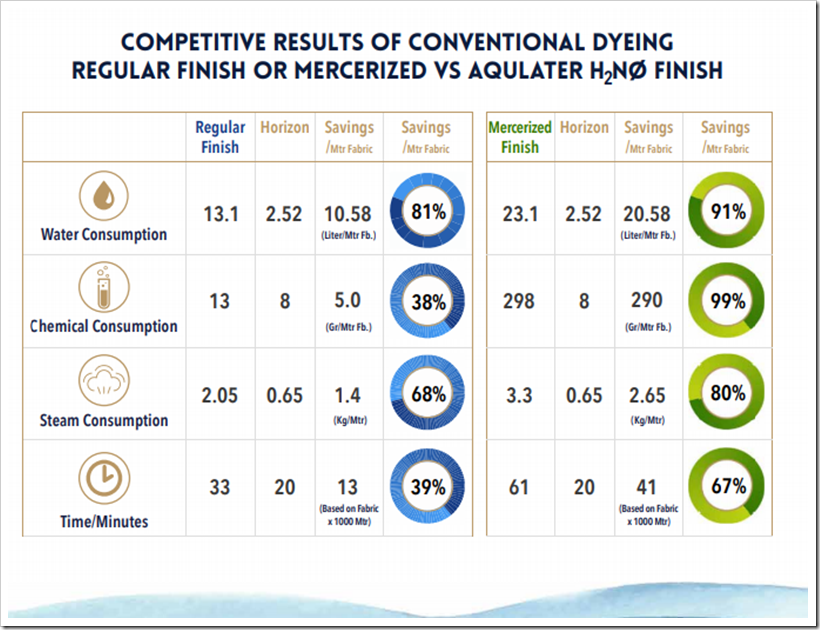 The next article in this series would be published soon !