We are thrilled to announce that XDD will be participating in the 5th edition of Denimsandjeans Vietnam event, set to take place at Riverside Palace in Ho chi Minh City, Vietnam, on March 1-2, 2023.
This milestone marks the company's first attendance at the Denimsandjeans event. The two-day event promises to offer insight into new trends, best practices, and Xdd's commitment towards developing technologies that promote sustainability. We spoke to the Director of XDD Vietnam Mr Man Ng to know more about the company's operations and vision .
XDD textiles has recently set up a denim mill in Vietnam . Our readers would like to know more about XDD and its background, growth etc.
XDD TEXTILE is a spinning and denim mill based in Vietnam. Also, all of our cotton is purchase from U.S. with different certifications. Eg; Cotton Trust Protocol. Sustainability is one of our strength, because of our RO system's potential to achieve 50%, we have an overall water recycling rate of 80% this year, and we expect to reach 100% by 2025. Our fabric quality may give you a simple solution to get the vintage or marble look, coming with a great colors cast, which is our key competitive advantage over other mills. The foreword states that we work closely with Lenzing and combine different types of materials to make better products, such as blending or adding recycled cotton, employing PCW materials, such as EcoVero.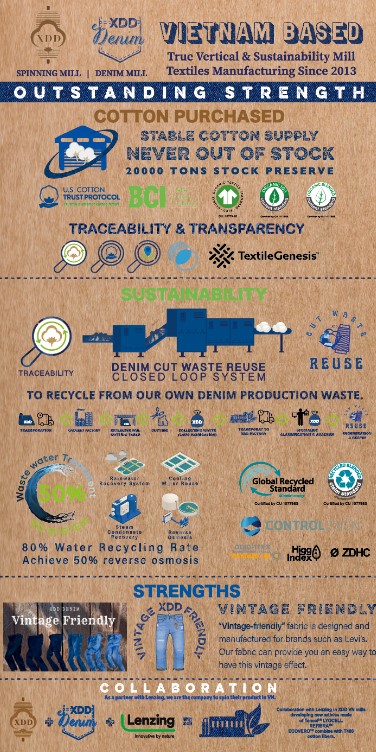 With the denim mill in Vietnam , how is the company able to serve its global customer base? Why do you think Vietnam is becoming increasingly important?
With the denim mill in Vietnam, the company is better placed to serve its global base of customers due to the recently concluded European Union-Vietnam Free Trade Agreement. This agreement is a new generation FTA between Viet Nam and 28 European Union member states, providing a wide range of opportunities for companies from both sides.
Eliminating 99% of all tariffs
Reducing regulatory barriers and overlapping red tape
Ensuring protection of geographical indications
Opening up services and public procurement markets
Making sure the agreed rules are enforceable
The agreement removes tariffs and other barriers that have hindered trade in the past, making it easier for companies to do business in either region. This agreement also includes improved access for service providers and investors as well as provisions on intellectual property rights, which makes it easier for innovative companies to protect their inventions.
Vietnam is becoming increasingly important due to its strategic geographic location and its rapidly developing economy. With the EU-Vietnam FTA in place, it makes sense for companies to set up production plants there due to cheaper labor costs and access to a wider consumer base. The country has also become an attractive destination for foreign investors due to its low taxes, relaxed regulations.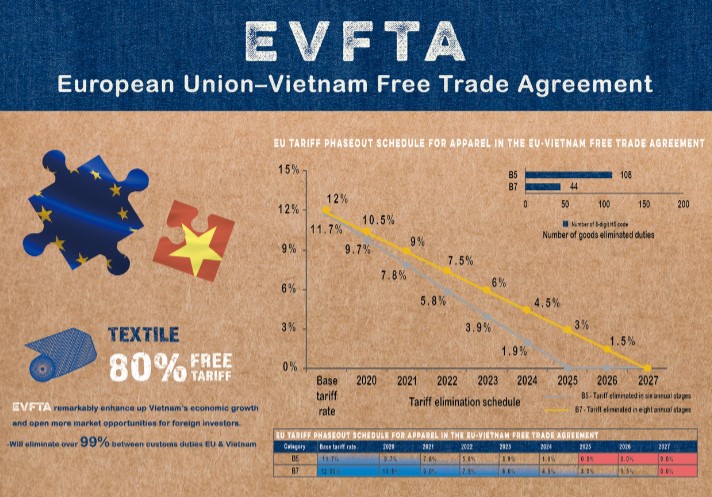 What key products and collections you would be showcasing to visiting buyers during the Denimsandjeans Vietnam event on March 1-2?
Denimsandjeans Vietnam show is a well-known event for showcasing key products and collections. We are glad to announce that during this event, we will be placing the spotlight on these categories and providing our visitors with a huge variety of options to choose from. In our efforts to promote sustainability and eco-friendly products, we will be displaying eco-friendly collections made exclusively for women alongside other unique vintage products. Furthermore, our "Green Denim" collection will give buyers access to an interesting array of denim consists of Closed loop collection and Ecology Denim. We hope that these collections will capture the attention of visitors and give them an opportunity to select the best among what is on offer.
Authentic
Vintage Friendly Collection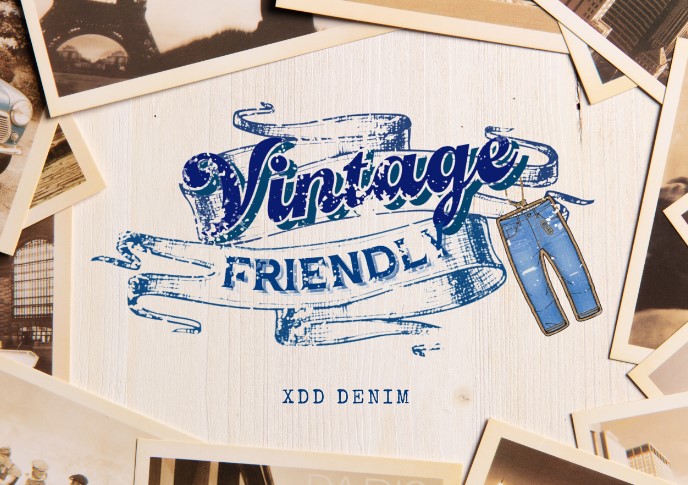 Exclusive Women's E Collections:
One Size Fit
One Size Fit– 2 nd Skin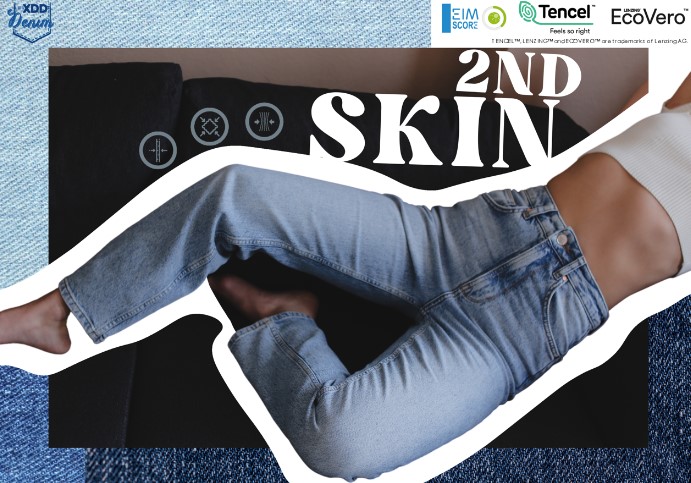 Green Denim
Closed Loop Collection
Ecology Denim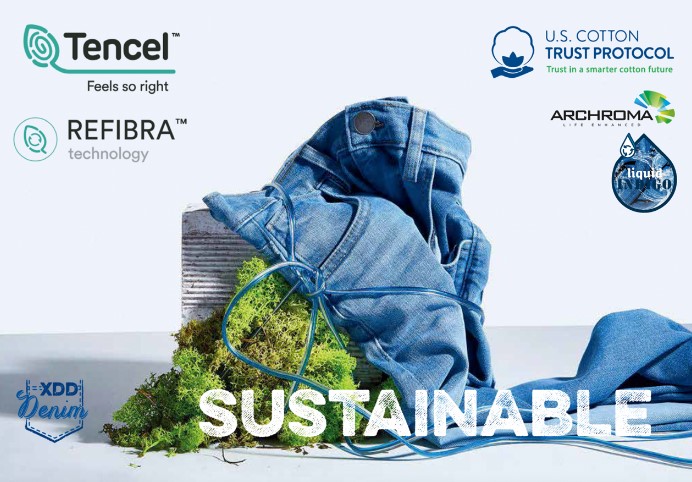 More Options
Black Denim
Naturals
Core Items
Vietnam already has stringent laws related to sustainable processes. Has XDD gone further to use technologies which helps to become a preferred partner of the brands?
XDD REUSE TAKES ON COTTON TRAGEABILITY IN DENIM PRODUCTION
Although circularity has gained popularity in the denim industry recently, traceability is crucial for identifying and addressing the underlying environmental issues that manufacturing might cause. Cotton is the primary raw material used to create the well-known fabric in the denim industry, and it is the subject of all discussion. When XDD Textile introduced its XDD REUSE tracing system, it sought to address a significant concern in the denim industry: how might traceability be enhanced in the cotton production and recycling processes?

Pre-consumer trash is gathered from the mill's affiliated clothing manufacturer by XDD Textile, which then regenerates and spins it into cotton that is as good as new. This recycled cotton may be traced because it comes from the cuttable waste from XDD's own fabric. In this "Cut Waste Reuse" technique, XDD can recycle cotton from the garment manufacturing process using 10 to 15 percent of the cut waste. The recent development of such percentages to 20 percent and beyond illustrate the industry's appetite for additional recycled cotton, even if several firms have already used 5 percent recycled cotton to continue with sustainable fabric production activities. Recycled cotton provides significant benefits, in that it can prevent additional textile waste and require far fewer resources than conventional or organic cotton.
The waste is often classified into 2 categories:
Pre-consumer waste, which includes scraps created by yarn and fabric byproducts
Post-consumer waste, which also includes garments from previously recycled finished goods.
The raw material for the XDD REUSE collection , which is made from pre-consumer waste, comes from the partner garment factory of DD, which regularly uses fabrics from the manufacturer In addition to using trash to make fresh fabric, XDD REUSE also makes use of the company's Closed Loop System to further confirm the quality of the denim and make it possible to track the origin of the cotton. The textile mill can collect and regenerate the cotton using XDD's circular Closed Loop System, which also increases the plant's capacity to produce 100 tones of recycled cotton each month. As Vietnam bans the import of garbage, the system is driven by the XDD wastewater recycling process to reuse and recycle waste.

XDD Textile itself operates as a vertical enterprise, starting from the purchase of cotton, all the way through the yarn spinning and denim production and recycling processes. The company attributes this vertical model to its ability to offer a traceable cotton supply. XDD has built a recycling process designed to divert more products from landfills, which would help alleviate the estimated 25 billion pounds in annual textile waste produced, according to the Council for Textile Recycling.
The company's established tracing process for the XDD REUSE collection can be
viewed here:

With the above process in place, XDD aims to guarantee and ensure that all denim production at its factories remain of the highest quality. XDD says it is the first mill in Vietnam that has started to use cuttable fabric waste for recycled cotton, which is now certified by Control Union, Recycled
Claim Standard (RCS) and Global Recycle Standard (GRS).
Visit our website for Denimsandjeans Vietnam to register to visit the show and check out the collection of XDD !.
For more information , you can contact XDD Team  man@xdddenim.com