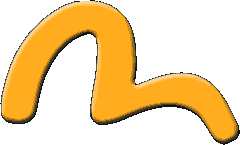 J Diamandis worked for Evisu – the famed Japanese brand – for some years as its international  creative director. Besides denim designing, he is also involved in denim education at various internationally reputed design schools including Parsons in New York and RCA in London where he recently ran a project on reducing environmental impact during denim production. Here is a Q&A session I had with him on his work with Evisu and after. a
Q. When and how Evisu brand started? 
A. Tailor, Hidehiko Yamane, founded Evisu in Osaka, Japan in 1991. Disappointed with the mass produced jeans of the time Yamane set out to produce his own using (it was always widely rumored) vintage 1950's denim weaving and garment sewing machinery from the USA whilst paying painstaking attention to traditional construction techniques and details. What followed captured the imagination of the detail obsessed Japanese fashion crowd and is was not long before interest spread globally. Yamane had created a cult brand.
Q. How does Evisu stand out from other Japanese Denim brands?
A. There are many other fantastic Japanese Denim Brands  that were born of a similar purist denim lover's philosophy. Evisu managed to stand out due to a great story, a very recognizable logo, a very characterful founder/leader (Yamane) and a great collection of other clothing items that work well along with the denim such as sweats, tee's, shirts etc.
Q. You were the International Creative director in Evisu. How long did you work there?
A.  I was with Evisu from 2003 to 2007, over 4 years
Q. How was your experience of working with Evisu?
A.  I had a very fun and very challenging experience. I joined at a time when the brand was already experiencing terrible counterfeit problems which were affecting sales and so on. A lot of my efforts therefore were focused on building back up the brand image and integrity and re-hauling without changing the brand's essence and spirit. I am glad to say we achieved this successfully under my tenure receiving great press and increased sales.
Q. How did you help Evisu to grow in international markets?
A. Two key reasons I would say the first was the focus on brand image and integrity and re-hauling the brand without changing its essence and spirit. Secondly and quite interesting was that we had a global design team. Instead of having one design team under one roof we spread ourselves somewhat through Asia, Europe and the UK (our key markets) this meant that important local needs/ trends were met which was especially lucrative in large and important markets such as Italy and UK. I oversaw this process ensuring that brand identity and integrity were upheld across all markets. The brand grew tremendously in this period and we attracted a lot of collaborative partners (such as Puma) and opened some great stores.
Q. Would you like to mention any interesting experiences that you had at Evisu?
A. Most of my interesting experiences at Evisu involved traveling to Japan and being in the company of our enigmatic founder Yamane-San and his fantastic staff. Its probably better I spare you the details.
Q. Who is the typical customer for Evisu?
A. The Evisu customer varies greatly from country to country but the one thing that typifies an Evisu customer regardless is an appreciation of a quality product that lasts a long time and not a seasonal throwaway fashion item. In Osaka we had our own Evisu Repair Shop full of customers old Evisu jeans in for repair and patching. The old jeans looked fantastic with an amazing variety of patina's unique to the wearer. My first collection for Evisu was inspired by this store and our findings there.
Q. Which are the best selling jeans for Evisu?
A.  In my 4 years the best seller was always the unwashed basic with a cream logo. I always loved and pushed for the completely plain without-logo option but they were always a hard sell
Q. Most Japanese denim brands do not believe in volume games and prefer to be niche players. Is this the philosophy of Evisu as well?
A. Certainly it was. Although as we grew our investors saw opportunity and we were pushed to be more commercial. As a designer moving from niche to mainstream is a tough transition unless you own the business!!
Q. How is Japanese way of making jeans different from that of Europe or other parts of the world that you may have seen?
I have worked with Italian and Japanese denim textile and sewing factories for many years and I find the approach similar. The factory philosophy is a craftsman style of approach as oppose to a business, commercial approach (in my experience). They seem to add the passion, craftsmanship and love into the garment or textile. As a designer this makes your job a lot easier and enjoyable. The Japanese and the Italians  are also the best textiles makers in the world but the Japanese absolutely rule on denim. Nobody makes denim like the Japanese, especially selvedge. They have been indigo dying for thousands of years so what do you expect! I had many great experiences working in these countries and found a similarity.
Q. After Evisu, are you still connected with Denim?
A. Yes I have continued to design denim as parts of wider collections but do not consider myself purely a denim designer as I enjoy all areas of design and have worked on most other categories including accessories. I am involved in education and have designed a denim-course that will run on Monday evenings at Parsons School through Spring in New York. I also guest lecture at the RCA in London, we recently ran a denim/sustainability project there.
Q. What denim trends do you see the strongest in this year?
A. I am not really a trend follower I leave that for the PR and marketing experts. In fashion generally trends are omnipresent depending on what kind of person you are and what sort of fashion and music you like.
Q. What is your advice to denim lovers?
A.  My advice is do not buy your jeans pre washed and vintage looking. Buy them unwashed and raw and let them wear down naturally with wear. Indigo is such a beautiful and unique dye that wears and washes away gradually like no other. It's such a waste to have it blasted out. Customers should also be aware that the laundering and treating of denim has a negative impact on our environment, this is being addressed by the industry quite dramatically right now.
Natural Wear Evisu Jeans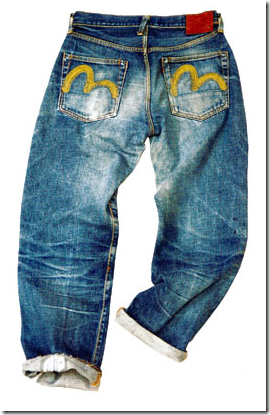 Evisu Heritage