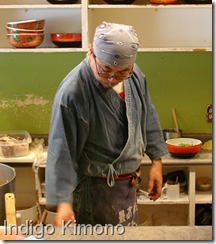 Telegraph UK has come out with an interesting report on Kaihara Denim Mills and Japanese denim . Japanese denim always draws rave reviews about its quality and methods of production which makes it stand apart from other mills around the world. Japanese denim has always been fascinating the denim world due to its great quality, selvedge weaves (on old shuttle looms) and passion for perfection  that goes as a very important ingredient . But the  report from Telegraph comes out with some interesting facts about Kaihara and Japanese Denim Brand 'Uniqlo'  which also produces its premium denim range at the same location.
Kaihara denim mill was started in 1893 to manufacture Indigo Kimonos. For those who are not aware – Kimono is a Japanese traditional garment worn by women, men and children.
Kaihara uses a large quantity of  Pima cotton from US as it is one of the best cottons in the world. This would come as a surprise for many other denim mills as Pima cotton is hardly used for denim  due to its high cost. However, if a top of the line product has to be made, the ingredients have to go in accordingly !.
Rope dyeing technology is used in the manufacture of denim. 
Uniqlo jeans are also manufactured in Bangladesh and China to keep the costs down. So what happens is that the jeans made from the best denim mill are available at reasonable prices (eg starting from $39.50 in US !)  . So where on the one hand , most premium denim brands are available at prices of &100 and above, Uniqlo manages to bring out jeans made from a great denim fabric at a very reasonable price – making it affordable for masses.
The constant barrage of information on Japanese denim has increased the awareness amongst consumers about the importance of fabrics in the jeans. This has also partly helped a brand like Uniqlo to sell its jeans . The report mentions that Sam Lobban, the menswear buyer at Selfridges, attributes this to an increased awareness among savvy buyers of authentic fabrications.
"What really makes Japanese selvedge so superior is the depth of colour – the specialist washing techniques take to selvedge denim better to give a more 3D and rich colour.' Just as important as the finish is the shape of the jean. 'Selvedge denim tends to be on a more "regular" fit,'"Lobban says.
Something About Uniqlo
It would be in place to say something more about this important Japanese retailer . Uniqlo is a  blend of the words "unique" and "clothing" – and 3-4 years ago , it would've meant nothing to anyone but the exceptionally well-travelled. The Japanese chain launched itself into the UK in November 2007 by opening two huge new stores in one day (it was actually a relaunch; it tried first in 2001 but scaled back). Since then, its popularity in Britain has exploded. In the midst of the worst recession in Britain since the Second World War, UK sales since Christmas have been up 140 per cent on the same period last year Worldwide, the store says it sells 400 million items a year.
Its New York store in SOHO (the only store in US)  is their largest store anywhere in the world with a huge  89000 sq feet of space and an unbelievable  rent of $20 million a a year .
Uniqlo already has a prescence in the Chinese market with about 47 stores and has just entered the Russian market. It is eyeing Indian market and is sure to make an entry within an year or two . With the kind of quality of jeans it has, it is surely going to give the existing players (including Levi's) a run for their money.
Working with over 100 factories throughout Asia, UNIQLO is distinctive in that it combines the quality and craftsmanship that is synonymous with Japanese culture with the ability to manufacture in high volume, thereby offering consumers affordable everyday products with exceptional attention to every detail. For this reason, UNIQLO's can offer its customers denim from the same denim fabric mill used by many high-end denim brands at a substantial savings. And if you are looking for some customer reviews on Uniqlo, here are some.
It would be interesting to see the prices of some other Japanese denim brands when we are talking about Uniqlo. These prices were posted in our previous post on Blue in Green Soho – Japanese Denim Shop
Denime – $298-$325
Eternal – $255
Evisu Japan – $240-$385
Fullcount & Co. – $275-$330
Momotaro Jeans – $250-$315
Oni Denim – $185-$585
Paul Smith Japan – $325
Pure Blue Japan – $169-$559
Samurai Jeans – $275-$665
Skull Jeans – $240-$350
Somet – $210-$295
Studio D'Artisan – $265-$620
Sugar Cane & Co. – $265-$370
Sunrise Japan – $348-$358
The Real McCoy's – $248-$368
Warehouse Co. – $245-$275