Price has always been an important criteria for buyers of jeans . However, the success of premium denim jeans has shown that when purchasing denim , buyers are looking for many other things. A report by Cotton Inc on US consumers last year shows that fit is the most important criteria for the purchase of jeans.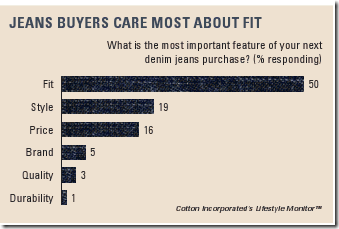 50% of the buyers make a denim purchasing decision based on the FIT OF THE JEANS..
Price has been a factor for jeans purchase only for 16% of the respondents. Against this , on an average , 84% of consumers purchase other apparel products based on Price..
Other interesting facts about  US Denim consumers As Per Report :
78% of consumers love wearing denim (should be higher !)
62% of consumers bought denim because they needed to replace old ones and 28% wanted to get something new !
96% of consumers own denim .
On an average US consumers own about 7 pairs of jeans – This is about 6% of their wardrobe.. This translates into about 105 garments owned by an average US consumer (wow!).
Women are more likely to care about fit 55 % vs 41% in case of men.
Download the full report here or check out more denim reports here.