G-Star Raw recently revolutionized the fashion landscape by becoming the first fashion label to take Artificial Intelligence (AI) generated designs from the screen and into their Couture collection. This collection is a testament to AI's potential in fashion, given that it was previously only capable of generating hypothetical designs or designs intended for individual use.
By merging AI capabilities with couture, G-Star Raw has allowed us to witness what is possible when these two elements are combined. This company believes that their move will help others to understand how social media can be used as a platform for AI-generated fashion, as well as inspiring budding designers and creators who may lack time or materials.
G-Star AI Denim Cape is an endgame with the help of Midjourney, an artificial intelligence app.
According to the brand, with their label core design team, the brand created 12 unique concepts as a result of this innovation. The designs are an exemplary blend of cutting-edge technology and timeless appeal. These results show that technology can enhance creativity in unexpected ways. This collaboration not only showcases the potential of technology in creating art but also highlights its current limitations when used for designing denimwear.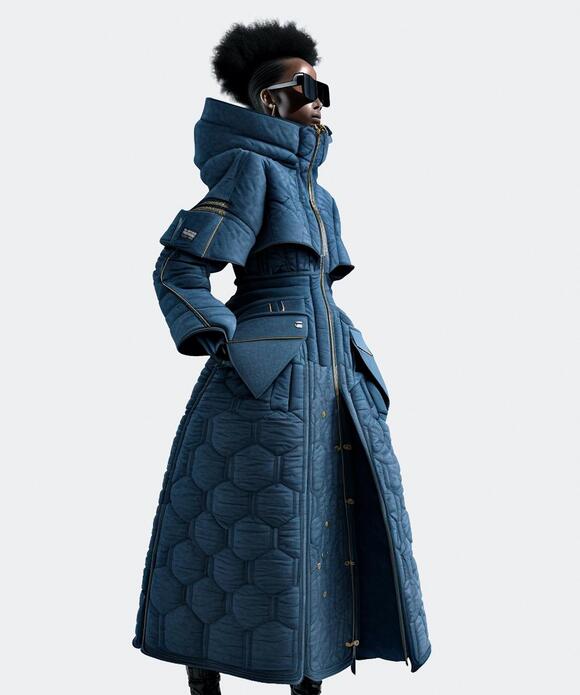 G-Star Atelier has taken an AI generated concept and made it a reality through the use of premium raw denim and stunning 3D details. Every detail of the design has been carefully crafted, as evidenced by a unique G-shape on each arm and adjustable waistband.
An extra touch has been added in the form of detailed stitching patterns on the chest with a very soft branding. This design is sure to stand out from the crowd with its unique details in both virtual and physical worlds.
This bizzare cape will be displayed at the G-Star Raw Antwerp store and shows off the artistry and denim expertise of the company.
It stands as a testament to G-Star's commitment to creating innovative, high-quality products that demonstrate their commitment to both tradition and modernity.
Denimsandjeans India – don't forget to visit our next edition on April 26-27 . Register now