Indenium, a pioneering design school in India, envisions a sustainable future with responsible practices rooted in the rich heritage of the country. Combining India, Indigo, and Denim, the school seeks to empower native brands and designers to redefine global fashion by setting an example of responsible design. Run by Sukhraj Singh – a biker, writer , musician and denim designer with two decades of experience – has dedicated most of his career to the love of denim. He founded Indenium School of Responsible Design in 2020, with his initiative in academics to bridge the gap between design education and the clothing industry, while inculcating a responsible and sustainable design attitude. With a hybrid learning approach and field visits to artisanal studios and industry hubs across India, students gain valuable insights and hands-on experience. Indenium prepares individuals in Responsible Design, Product Development, and Creative Direction, nurturing them to create their own brands and contribute to a more sustainable future. Indenim students also participated in our Denimsandjeans India show in April'23 and brought out an amazing collection of sustainable clothing besides bringing some live workshops on Indigo dyeing which were widely appreciated . An old friend, we were happy to speak to him about his school and what he aims to achieve with his school.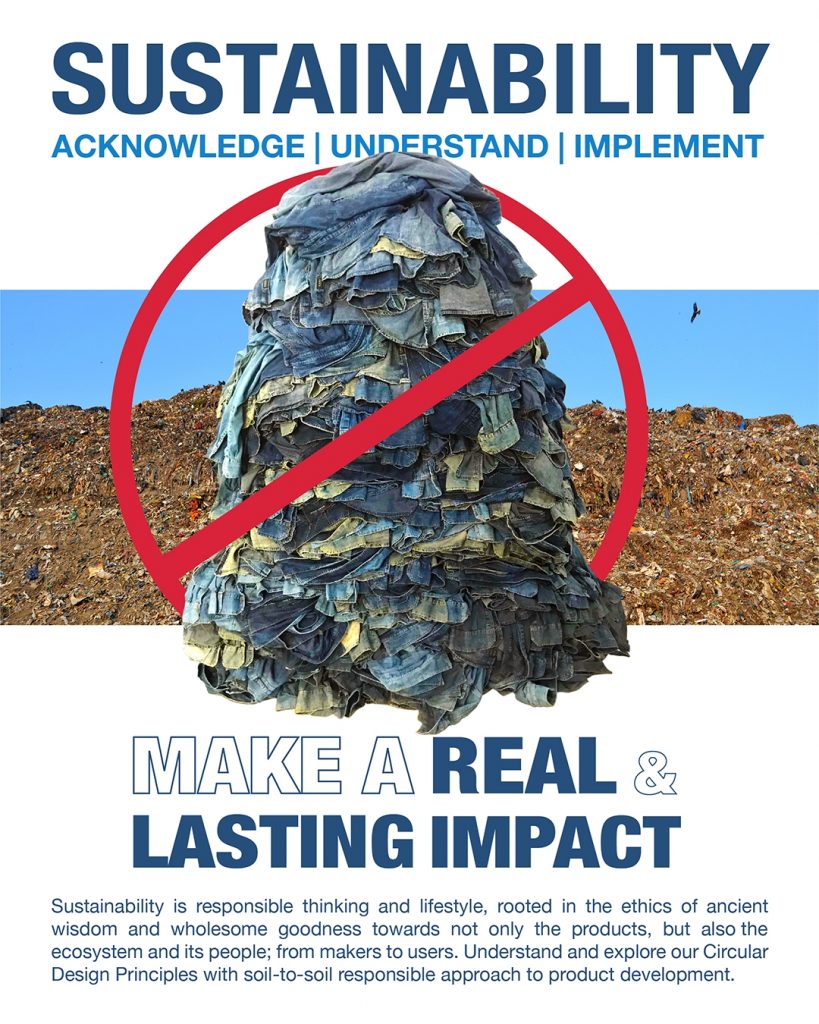 What's the vision of the school?
Firstly, the western philosophy on fashion has proven to be toxic to the people and
planet and is on the way to becoming obsolete as awareness spreads in the masses on
the hazards of fast fashion. Secondly, as the second largest producer of textiles and
apparel, our people and natural resources are abused and exhausted in the process. We
believe India is not cheap labor, but has the creative answers to the problems of the
world. Right from its inception, Indenium is India, Indigo and Denim coming together to create
a scope for native brands and designers to redefine the approach to global fashion by
example. The school being the first design school rooted in responsible (read
sustainable) design, the only indigo school in the world and the first denim school in
Asia, envisions a sustainable future with responsible practices inspired by the rich
heritage past of India.
The school also is bridging the gap between vast industrial operations and stages in
denim manufacturing that are isolated throughout the chain, enabling our students to
gain knowledge and perspective to intervene from the raw ingredients and across all
stages of product development to better identify the challenges and offer design-led
solutions.
Tell us more about the 1 year denim course that you offer
The course is a deep dive in understanding sustainability through a soil-to-soil
curriculum, which encompasses design and product development from alternative
natural fibers, indigo farming, extraction, dyeing, spinning, weaving, knitting, apparel
construction, washes, brand building, user experience to the death of the product in a
landfill. Learning exposure and experience is provided on both sides of handmade as
well as industrial processes.
We understand you have a number of modules. How are they distributed to make maximum impact.
The 1000 hrs course is a hybrid experience with 600 hrs of online learning through
interactive and guided practical sessions, and 400 hrs of field visits to artisanal studios
and industry in HP, Ladakh, Uttarakhand, Rajasthan, Gujarat, Karnataka and Tamil Nadu.
We believe that best learning is practical learning which is facilitated through field visits,
and that best thoughtful personalization of translating that knowledge happens in our
personal space, at home. We also send indigo seeds, vat making kits, yarns and fabrics
to the students' homes and guide them online to develop dyeing understanding while
experimenting with materials of their interest. This helps the learning teams to identify
their signature based on their strengths. We also have some students who move to Dharamshala, HP for the course duration to engage with our fiber-to-product studio set-up if its not available in their cities/towns.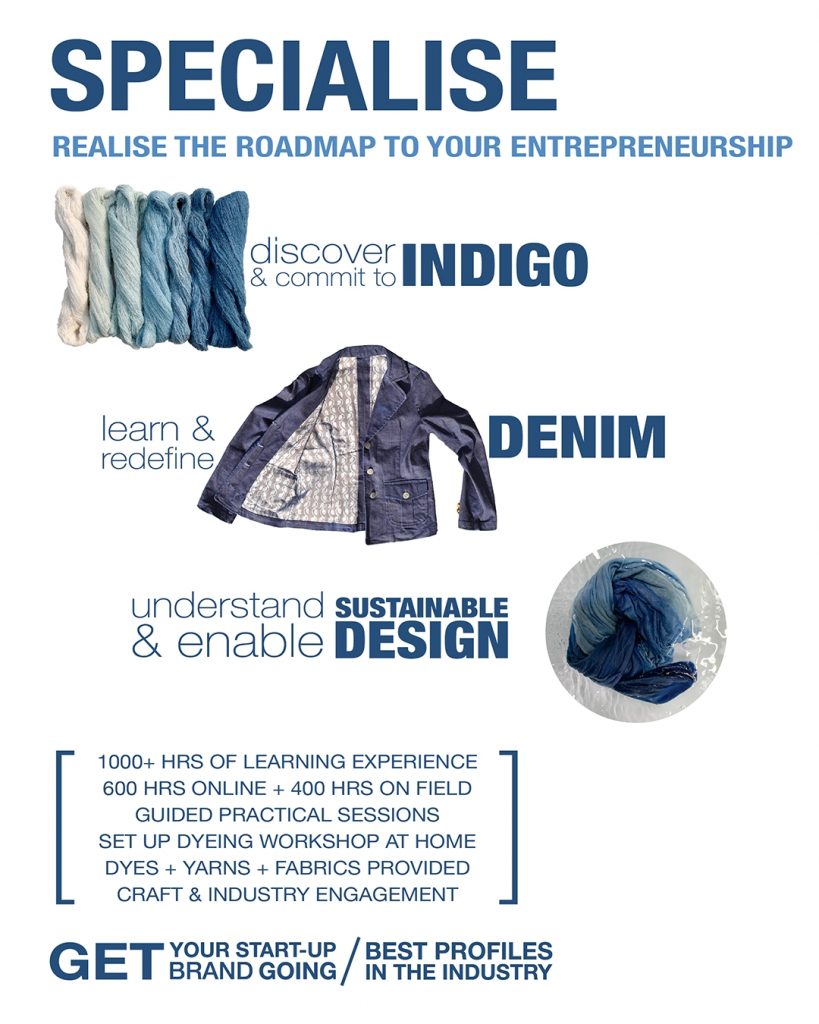 What can students expect to learn by the time they complete the course ?
The course prepares an individual in three strong domains of Responsible Design,
Product Development and Creative Direction. We help students to identify,
conceptualize and create their brands in their individual signature approach and USP,
while launching them through school's platform Advent, an industry showcase at
Denimsandjeans, Bangalore and an artisanal centered exhibition at LLDC Shrujan, Bhuj.
The school is launching its own premium webstore to provide Indenium designers with a
marketplace to highlight the entrepreneurs, freeing them from the startup challenges of
MOQs and sharing profit with e-comm stores/MBOs. Those who seek some experience before starting their entrepreneurial journeys, we engage them in professional profiles with our associated organizations.
What has been the experience like with past three batches since the pandemic?
Indenium was birthed on 15 Aug 2020, clearly signifying the intent and mission. The first two batches endured the lockdowns in the three waves of the pandemic, and were resilient on creating unique ideas with indigo and denim. Abha Aggarwal founded Rom- Rom as country's first lingerie and intimate wear brand giving women products made from natural fibers and dyes. Sanjana developed an amazing garment dyeing technique with natural indigo and ice and was offered a creative role at Arvind Indigo Museum. Ujwal is working on his startup Lokansh as a seed-to-product concept and has developed innovative handloom denim fabrics with hemp and indigenous cotton from his profound understanding of indigo dyeing. Disha has based her brand Ek Aasman on ancient Indian wisdom of Ayurvastram offering wellness through her products. We've seen multiple breakthrough ideas emerging in these tough times as our designers have exhibited deep awareness in their approach. The present batch has designers exploring vegan leather, natural dyes and upcycling concepts with craft communities and technology.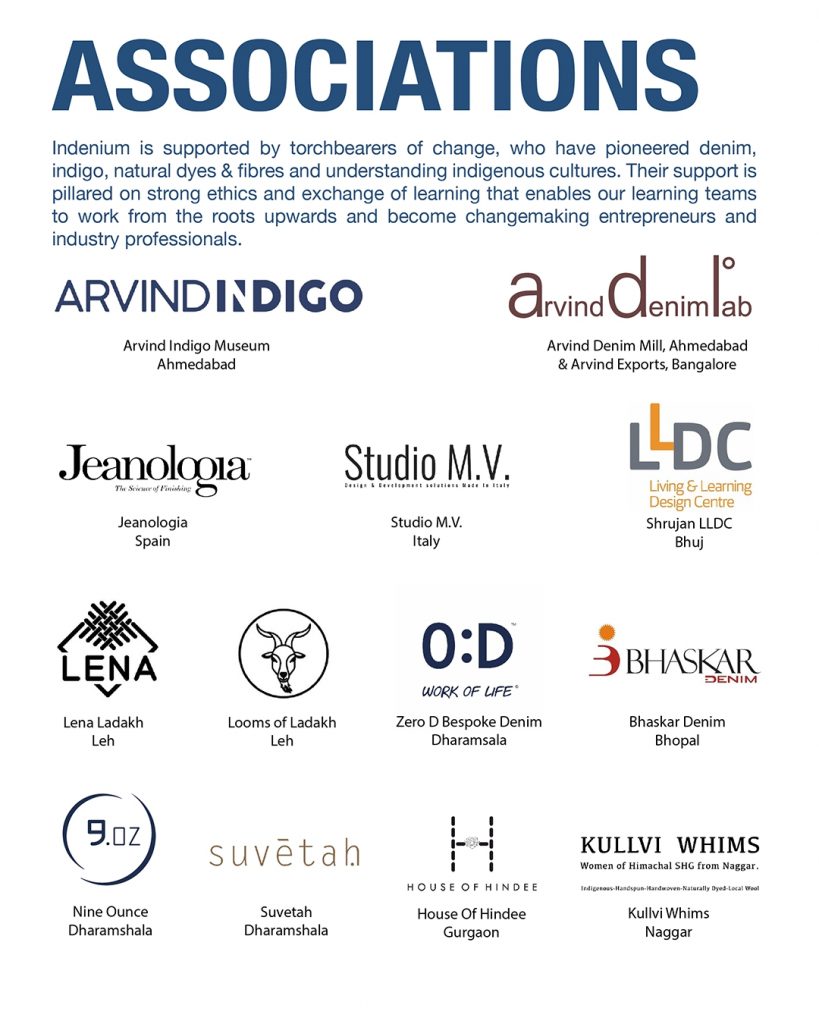 It's a very exciting atmosphere and time to witness the possibilities that can emerge from young minds if the right guidance and exposure is provided. I have always believed that denim is an inspirational benchmark and the most elaborate in textile and apparel processes that those who can work with denim, they naturally find it easy to work with all product categories as well.
And who can join ?
Our mission is to enable learning for all without any prerequisites of qualifications or backgrounds. Anyone who has passion for denim and/or wants to establish themselves in design entrepreneurship to contribute to a sustainable future is welcome. One can simply visit our website and fill the admissions application and we will promptly contact them. We are starting the new batch on 4 Aug and seats are limited to 15. There is an industry scholarship of INR1 lakh (USD 1200 approx) for those either already working in or aspiring to enter the denim industry. The same also applies to the next generation of denim business owners. We are looking for driven individuals who want to be the first of changemakers in responsible design movement, as there's no other way of the future.
Contact Sukhraj Singh for further queries at sukhraj@indenium.in
---
Check out Special Denim Export and Import Data Reports to Glean Insights on Global Markets
Top Vietnamese Denim Companies Using Pakistani Fabrics In 2023
Top Turkish Denim Companies Buying Pakistani Fabrics In 2023