It's always difficult to find the right jeans whose measures meet their branding. Consumers, designers, and suppliers have all been working together to re-imagine denim from the rivets up, owing to the growing awareness of the need for sustainable fashion. Below, we have enumerated some denim brands that design jeans with eco-wise and sustainable efforts to aid you with the best possible buy this year.
1. LEVI'S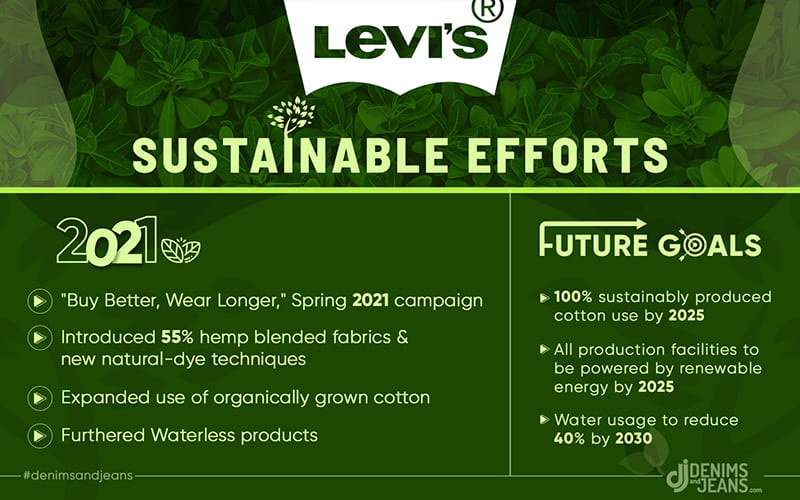 Levi Strauss & Co. is a global leader in jeanswear and one of the world's top brand-name apparel companies. This year, the brand launched its "Buy Better, Wear Longer," Spring 2021 campaign, which raises awareness about shared responsibility and the environmental implications of apparel production and consumption. The introduction of 55% hemp blended fabrics, new natural-dye techniques, the expanded use of organically grown cotton, and the recyclability of every Wellthread garment was inculcated by the brand. Levi's Wellthread used a technique by which ultrasonic waves are used to apply the dye to the fibre. The brand also used Water< Less techniques which have saved more than 3.5 billion litres of water since they were introduced nearly a decade ago. A few of the company's central goals for the future are to use 100 per cent of sustainably produced cotton by 2025, its supply chain will have reduced greenhouse gas emissions by 40% and by 2030, water usage in the industry in water-stressed areas will be reduced by half.
2. NUDIE JEANS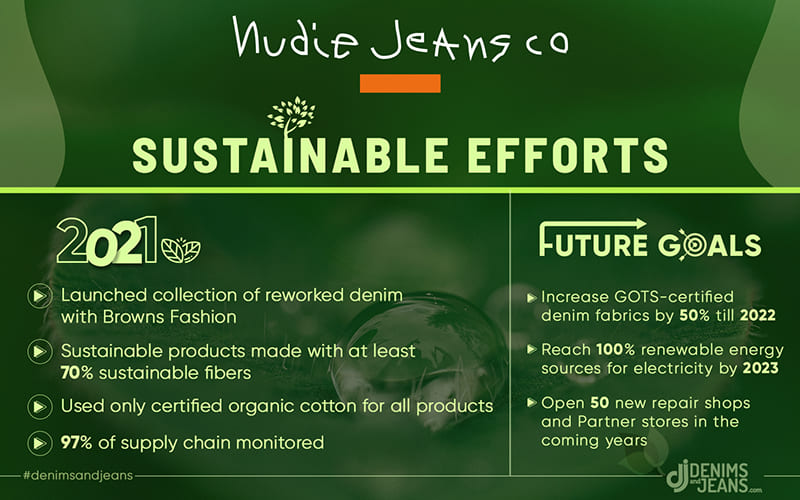 This Swedish denim company delivers and preserves a tradition true to the fabric's history and attributes by thinking in terms of wear, tear, and repair rather than fast fashion. Teaming up with London-based retailer Browns Fashion, Nudie Jeans has created a collection of 16 denim pieces, all reworked from pre-existing denim. The brand has already repaired 45900 jeans for free and has produced 98.6% Sustainable products. 2021 was the third full year in which it used only certified organic cotton for all the cotton products.
Moreover, according to its Sustainable Material Tool the brand defines a garment or accessory as sustainable when it contains at least 70% sustainable fibres. The brand aims to increase number GOTS-certified denim fabrics to reach 50% of all denim fabrics by 2022 and reach 100% renewable energy sources for electricity used in all Nudie Jeans operated facilities by changing energy subscription or investing in Renewable Energy Certificates by 2023. Nudie Jeans also plans to open 50 new permanent Repair spots, including Repair Shops, Partner stores and Repair partners in the coming years.
3. PANGAIA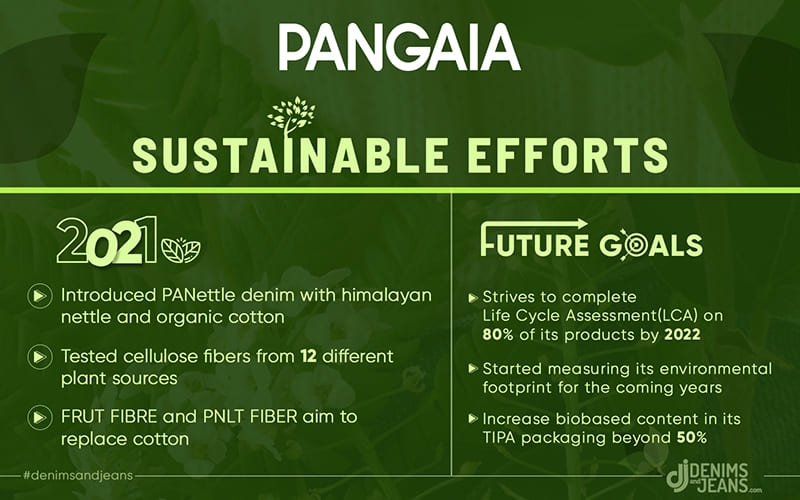 Pangaia is a direct-to-consumer materials science company bringing breakthrough textile innovations and patents into the world through everyday lifestyle products. This year, the brand introduced its sustainable denim PANettle, a mix of naturally regenerating wild Himalayan nettle, organic cotton, and PPRMINT for longer-lasting freshness. To diversify its material sources and lessen reliance on traditional cotton, the company employs wild Himalayan nettle. The denim produced is coloured with state-of-the-art water and dye-saving technologies, and the thread is made entirely of biobased cellulose. Non-galvanized, recyclable stainless-steel buttons are also used in denim. The brand created FRUT FIBER and PLNT FIBER to replace cotton in their product line. The two cellulose fibre blends were successfully produced and supplied by Pangaia from fruit and plant raw material sources.
4. RE/DONE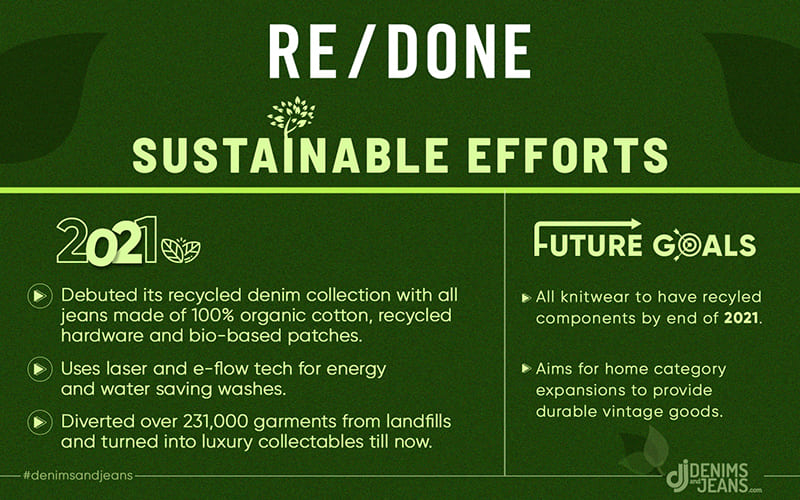 Redone is known for reconstructing Levi's vintage jeans into modern fits, giving a sense of uniqueness and rareness to each consumer. The brand debuted its first collection designed in line with the Ellen MacArthur Foundation's Jeans Redesign project guidelines. All jeans are made of responsibly sourced 100 per cent organic cotton, recycled hardware, and bio-based patches, and include a hangtag with a QR code that provides consumers with a full traceability report documenting the lifecycle of each product. Items are shipped using recycled, oxo-biodegradable poly bags. The manufacturer also uses laser and e-flow technologies for energy- and water-saving washes and uses a three-stage purification system to reduce water waste. Since its launch, Re/Done reports that it has diverted more than 231,000 garments from landfills.
5. EVERLANE
A millennial-favourite DTC clothing brand, Everlane announced a very ambitious sustainability goal: to eliminate virgin plastic from its supply chain, packaging, offices and stores by 2021. By now, it has successfully removed 90% of all virgin plastics from its supply chain. Following through on its commitment to exclusively using certified-organic cotton by 2023, the denim brand debuted what it calls its cleanest denim to date. All items in the Clean range feature 98.5 per cent GOTS-certified organic cotton and 1.5 per cent Roica. Each piece is produced with microplastic-free dyes and recycled trim. It also debuted its Fall/Winter 2021 ad campaign entitled "Get into Denim" to adorn the brand's collection of organic denim. Everlane is now looking for early-stage entrepreneurs to join the Next Collective, a fellowship program that will provide participants with $20,000 and access to industry leaders in sustainability, fashion, design, business and innovation.
6. MADEWELL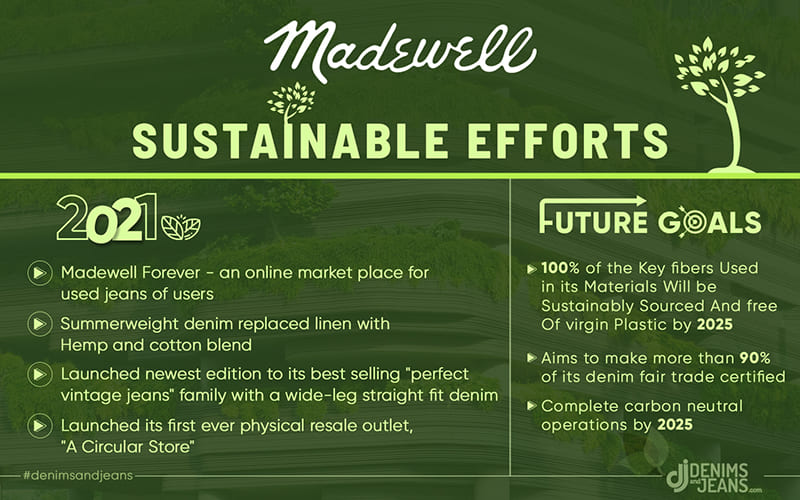 Madewell, which is known for its denim, is an apparel retailer that promotes creativity, diversity, and self-expression. This year, the brand introduced a new part of its website called "Madewell Forever," which helps customers find a new home for their well-loved jeans, whether they're clearing out their wardrobe and seeking a new home for them or they're in the market for a new pair of denim.
Madewell Forever had around 3,000 pairs of secondhand Madewell jeans in a wide range of fits and styles, most of which ranged from $35 to $50. Furthermore, its spring 2021 collection called Summerweight Denim was designed to replace linen as one's go-to choice for summer bottoms. The fabric is made from a blend of hemp and cotton which is wrinkle-free, moisture-wicking, breathable, and lightweight. The brand aims to source 100% sustainable and virgin-plastic-free fibres for all materials by 2025. It also aims to make more than 90% of its denim fair trade certified. By 2025, the brand strives to do carbon neutral operations entirely.
7. REFORMATION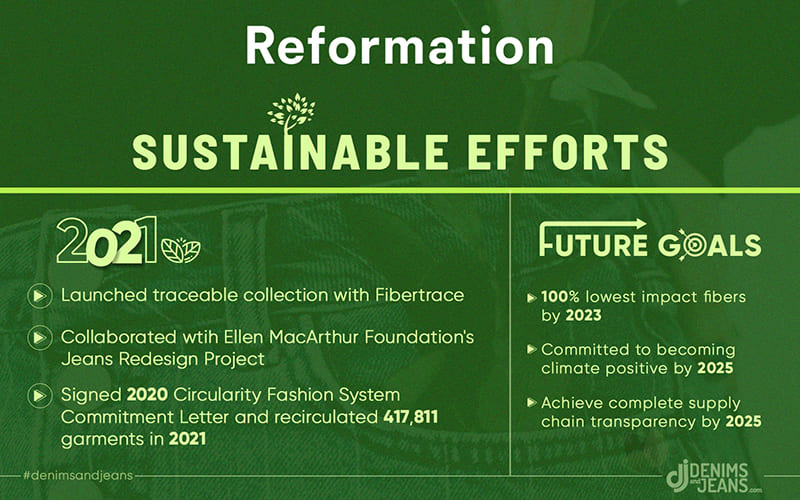 The cult favourite label, Reformation has been dabbling in denim, through vintage capsules and designer collaborations. Reformation launched their denim collection in collaboration with FibreTrace, which labels fabrics with a unique pigment that can be tracked and validated throughout the garment supply chain. This effort is in line with Reformation's goal of complete supply chain transparency by 2025. This year, the brand also signed the 2020 Circularity Fashion System Commitment Letter, with the goal of recirculating 500,000 garments in the next five years and have already been able to reuse or recycle 417,811 garments in 2021 itself. Reformation also teamed up with the Ellen MacArthur Foundation's Jeans Redesign program to achieve its commitment to transforming the way jeans are produced.
8. OUTLAND DENIM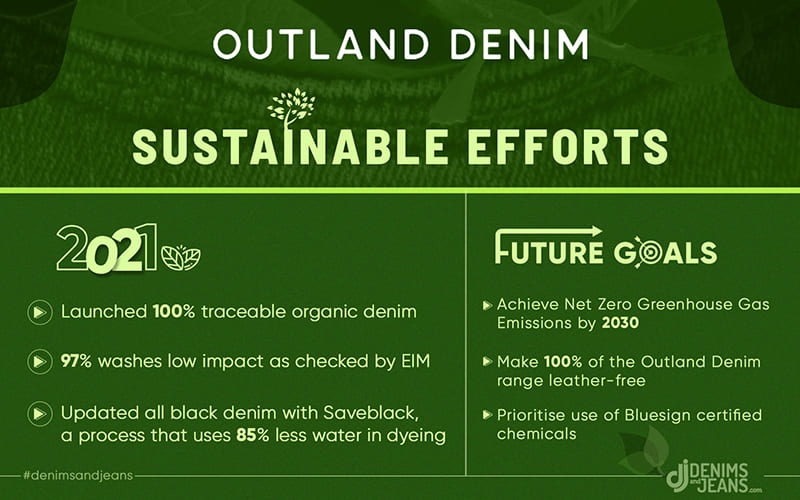 This Australian denim company gained popularity after Meghan, Duchess of Sussex, wore a pair on her royal tour in Australia in 2018. Measured through third-party Environmental Impact Measurement criteria, 97 per cent of Outland Denim's washes are categorized as "low impact." This year, Outland Denim expanded its rigid jeans options, collaborated with fellow Aussie brand Spell on a line of vintage-inspired denim staples, introduced ready-to-wear and celebrated a milestone in its traceability journey, marking 100 per cent traceability of its organic cotton denim. It also updated all-black denim to denim dyed using Saveblack, a process that uses 85 per cent less water compared to conventional dyeing. The company stated that it is targeting net-zero emissions by 2030 through practices, policies and by offsetting those emissions that cannot be reduced. It also commits to make 100% of the Outland Denim range leather-free and prioritise use of Bluesign certified chemicals.
9. MUD JEANS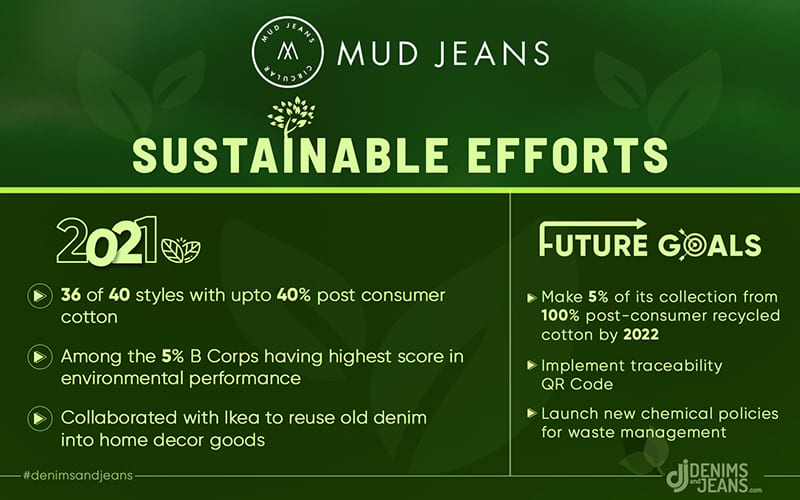 A sustainable and fair trade certified denim brand based in the Netherlands, Mud Jeans has a business model to sell or rent jeans, at the end of their life and then make old jeans into new ones. It has a design process based on circular production, with the use of materials that are easy to repurpose and recycle.  36 of Mud Jeans' 40 plus styles are made up of 40% post-consumer recycled cotton which is twice the industry average.
Out of 4000 certified B Corporations worldwide, MUD Jeans is among the 5% B Corps with the highest score in environmental performance. The Dutch fashion brand has also collaborated with Swedish home decor brand Ikea to give textiles a second lease of life, specifically, denim. Its sustainability goals include making 5% of its collection from 100% post-consumer recycled cotton by 2022, implementing traceability QR Code and launching new chemical policies for waste management.
10. FRAME
American fashion brand Frame launched Bio-Degradable jeans in partnership with Candiani made from 100 percent cotton that is 100 percent biodegradable. For its fall/winter 2021, Frame revamped its menswear line with trendy cuts for timeless pairs of washed black and indigo jeans. This year it also launched its circular denim collection under EMF Jeans Redesign Project that included denim pieces made of 100% cotton and post-consumer material.
For FRAME Winter 2021, 63% of the FRAME denim line is projected to be responsibly produced according to its Responsible Wash and Responsible Fabric Initiatives.  40% of the fibers in its Spring and Summer 2021 Collections are made with either recycled or water-saving cellulose fibers. Its future goals include: 75% of FRAME Denim is set to be sustainable by the end of 2022, 90% of FRAME denim is set to be sustainable by the end of 2025. The brand will launch ReFrame in the coming years.