Wrangler's Spring 2022 men's and women's collections are all about enjoying the nature around us and embracing life's journey. In commemoration of the brand's 75th anniversary, this collection fixates on the brand's Western heritage and joy of the outdoors. Initially, the now Kontoor Brands-owned brand started as Blue Bell, a workwear company, the Wrangler name was adopted in 1947 as a Western jeans line.
During a press event, the company revealed how it is dipping into its origins with a Spring '22 women's collection packed with classic Western prints and Americana elements. The women's range includes denim shirting, Southwestern-printed apparel, and jeans in a variety of faded washes that resemble an old pair of jeans worn constantly out on the farm.
This assortment is an addition to the "For the Ride of Life" advertising campaign for the fall/winter 2021 season, which honors ordinary people who seek new adventures with enthusiasm and optimism. The campaign, styled by Hollywood's sought-after Heidi Bivens, is influenced by the resilience needed to see challenges as opportunities and leave nothing on the table and acts as a stepping stone for a greater level of western-inspired culture and fashion which is more significant globally than it has ever been.
 A SNEAK-PEAK OF WHAT THE COLLECTION OFFERS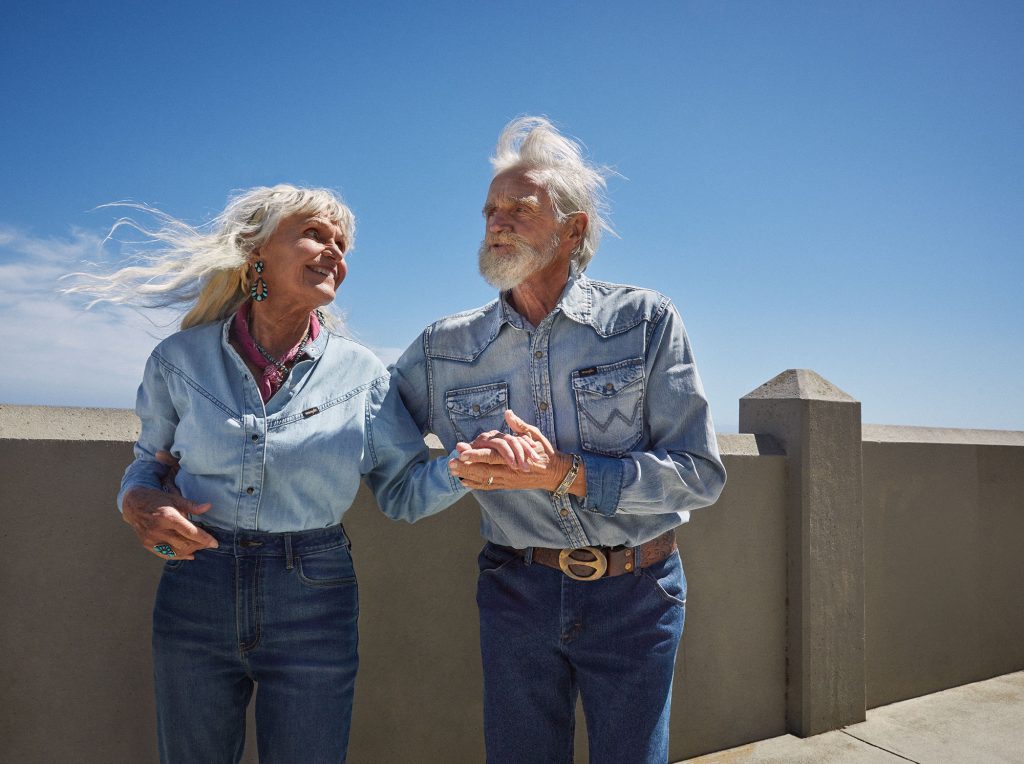 Rich, earthy hues like mineral pink and aloe green exemplify the collection and blend in with natural themes. While the majority of the colors are inspired by nature, the collection also incorporates striping, rainbow, and psychedelic patterns, which are becoming popular worldwide as post-pandemic customers explore their style and color limits. The Barrell, a tapered wide leg, and the Rock, a cropped kick flare, are two new styles for spring in Wrangler's Heritage line, which already comprises six pairs of vintage women's denim silhouettes. Frayed high-rise "festival shorts," carpenter shorts, and relaxed-fit shorts in a variety of colors emerge in the spring collection.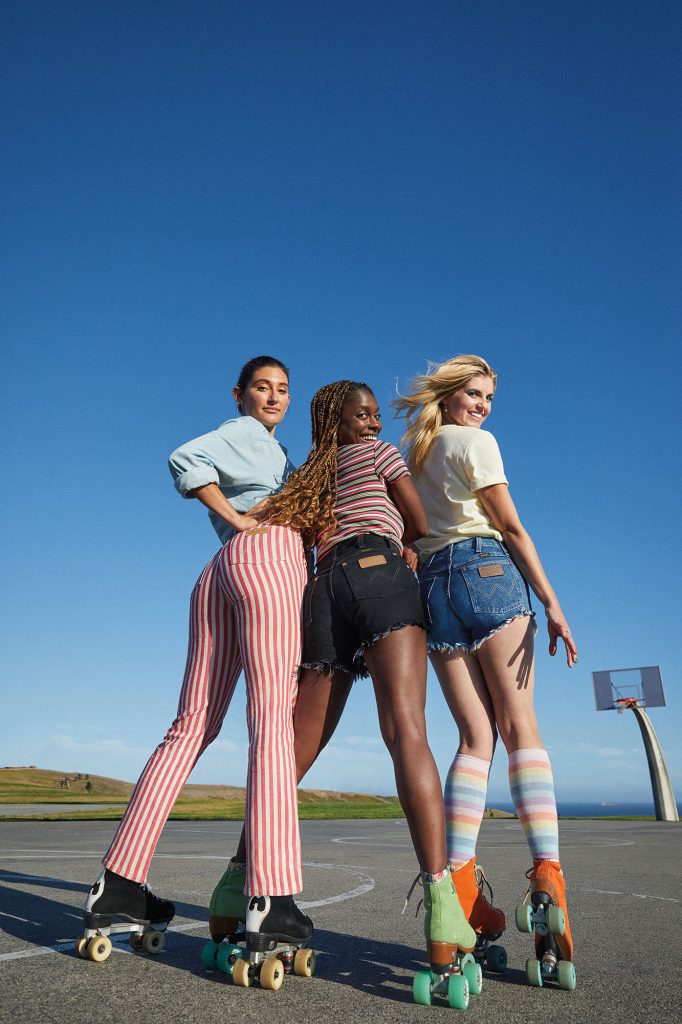 The brand is also branching out into maternity wear with just a single pair of jeans. A medium indigo wash and a straight leg with an elastic waistband that supports a growing tummy define this design. Wrangler has also extended its All-Terrain Gear (ATG) outdoor performance range to include women. Joggers and leggings with water-repellent, moisture-wicking, and SPF qualities are spring staples. It also introduces a skort and a short-sleeved dress with fairly similar functionality and convenient pockets. Hike shorts round out the women's ATG collection, which also includes linen and corduroy variants, both of which have compressive fabric for enhanced utility. This collection is created to help women move comfortably throughout the day. Since the ATG range for men was a major hit, the women's rollout is natural and appreciated.
In a quarterly report, the brand revealed plans to double down on the outdoor segment, adding two new distributors in the space: Academy Sports + Outdoors, an American sporting goods store network, and Intersport, a Swiss sports goods retailer. It has just introduced the Wrangler Angler collection, which strives to be the go-to gear choice for men and women who like fishing.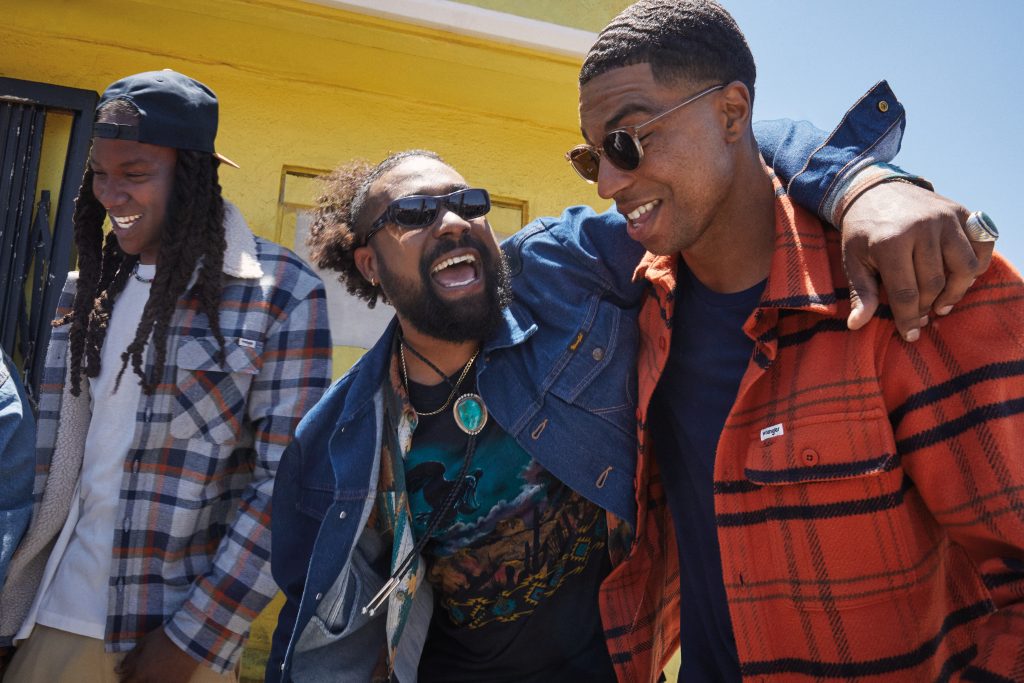 Men's Western designs feature prominently as well, displayed by a statement resort shirt in a desert cowboy-style showcasing cactus and horses. Western denim shirting and graphic T-shirts have similar silhouettes all over. A selection of cargo shorts in neutral hues like copper, asphalt, and wood, as well as camouflage pattern, highlight the outdoor time.
To adapt to the shift towards more experimental fashion, the men's collection, like the women's line, features quirky washes and patterns. An acid-wash denim jacket, like a, similarly washed cropped denim short, stems back to the '90s.
The collection also features an extension of its Retro Green Jean line, which was released earlier this year and contains hemp, pre-consumer recycled cotton, and recycled hardware as a sustainable update to its bestselling denim. The brand's environmental message is reinforced by ads based on cowboy legacy, as seen through its "cowboy spirit" ad campaign, which premiered earlier this autumn.
THE " FOR THE RIDE OF LIFE" CAMPAIGN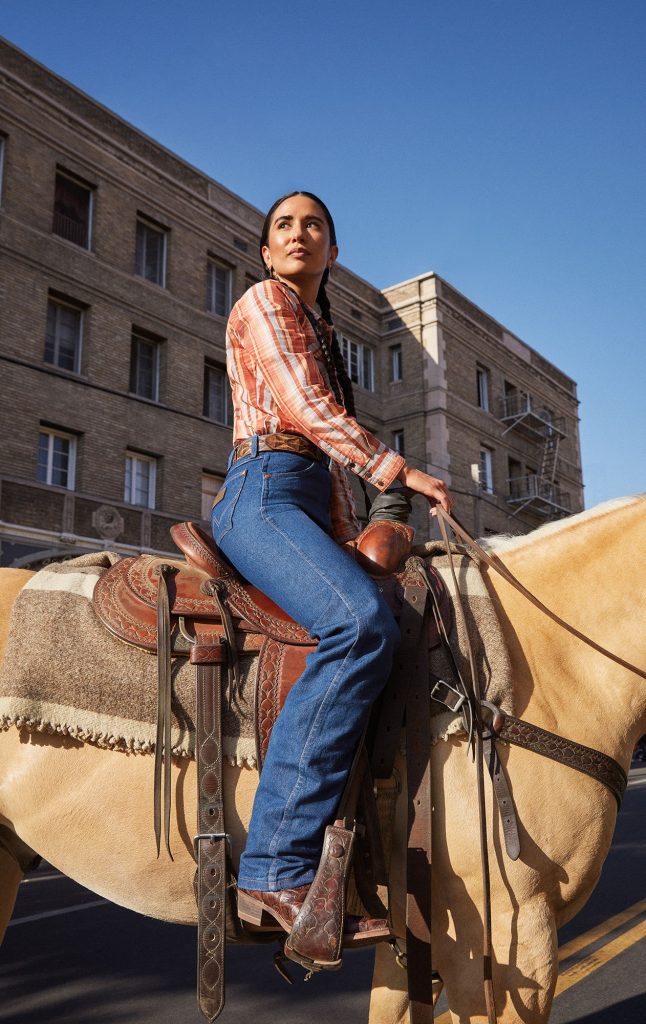 'For the Ride of Life,' according to the US-based jeans manufacturer, is led by an uplifting commercial film narrated by rising country music artist and long-time friend of the brand, Orville Peck. The film depicts a broad range of real people pursuing their hobbies, including a rap crew, a roller girl gang, an eSports player, a skateboarder, and a cowgirl, as well as young families and an older couple embarking on a new life together. The outcome is a celebration of individuals who live their livelihoods with optimism, joy, and courage, no matter where their journey takes them.
"Heritage brands like Wrangler with an authentic story behind them are an important and riveting part of history and continue to shape the world around us today. Wrangler style has always been associated with action and energy. Iconic images fill my mind: a rodeo girl working with her horse, a musician on an arena stage at a sold-out show, a cowpoke steering cattle on a desert plain. The brand has a western mystique that feels authentic, and to capture the genuine essence of this campaign, I accentuated the natural style and aesthetic of real, everyday people." said international fashion stylist and editor, Heidi Bivens, who styled the campaign.
The campaign exemplifies Wrangler's ongoing evolution as a brand, blending a commitment to western history with strategic expansion that remains loyal to its roots. Wrangler has widened its focus in recent years to accommodate a larger group of consumers, spurred by category expansions in outdoor and female, as well as regional development with the debut of the Wrangler brand in China. With its 75th anniversary in 2022, the Wrangler brand will undertake a year-long celebration recognizing its longstanding presence in music, fashion, and rodeo while also honoring western culture's tenacity, optimism, and triumph.