Denim has always been greedily targeted by manufacturers/producers of fibres other than cotton simply for the reason that it is the highest selling clothing item in the world. There have been experiments to make denim from wool,silk,tencel and other fibres and each of them has had limited amount of success. We now have a new fibre seeking to enter the world of denim – The Alpaca Fiber .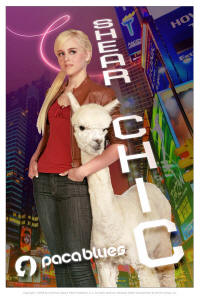 The fiber comes from a camelid (whatever it means!) reared at and  is used for making knitted and woven items, much as sheep's wool is. These items include blankets, sweaters, hats, gloves, scarves, a wide variety of textiles and ponchos in South America, and sweaters, socks, coats and bedding in other parts of the world. The fiber comes in more than 52 natural colors.
The American Alpaca Federation has taken up the task of promoting this fibre and launched the denims made from Alpaca fibre at 'Denim by Premier Vision'. The denim was made in cooperation with the the denim group GFM Telas Parras The reviews have been encouraging and the federation seems to have evinced interest from a number of buyers including retailers like Gap.
The denim fabric made from Alpaca Fiber has some unique qualities and is very soft and has warmth,strenght  and is wrinkle free. While similar to sheep's wool in that it is a natural fiber, it is warmer, not prickly, and has no  lanolin which makes it hypoallergenic and wrinkle free. However, it is somewhat weaker and coarser than most wool fibers making it stand out while dying. Dyeing may thus be an issue with this fibre. But there is no doubt that the hand feel of denim made from this fibre would be superior to that made from wool or tencel.
But like all other natural (animal based ) fibres, the major limitaion comes with the cost .Alpaca fibers fall in the same league as the the fibre tops cost in the range of USD 10-USD 24 per kg and even with a usage of 20% mix, it would add substantial cost to the fabric and garment . It remains to be seen whether the eco friendliness, handfeel and performance of the fabric made from this fiber can outweigh the costs or not.
Some reference links – Alpaca Federation, Alpaca farmers,About the animal