Bread and Butter happened on July 6th – 8th    and , though belated, here  is a cool denim report from the show here. Stylesight – the leading trend agency worldwide -  have kindly shared this report with us . The report can be seen in this presentation below
Or check out the excerpts below :
Cool Items
Here are some cool items in denim noticed with various denim brands.
Grafter Shirt – Cool Item
The railroad jacket has saturated the Men's market, and new weights update the item for S/S 12. 8-11 oz weight denims and chambrays / Shirts with squared-off hems and large pockets / Shawl collars offer a maritime spin / Bright red-cast indigos are reminiscent of Chinese chore coats .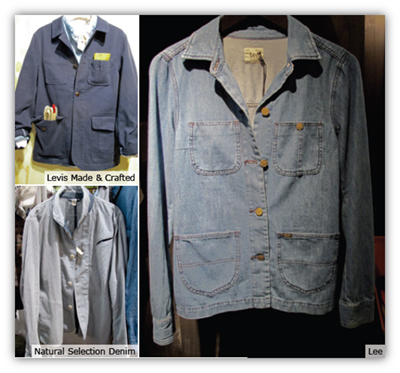 Gang Jackets – Cool Item
Channel your inner rebel with these customized Westerns. Gang, rebel and biker-inspired / Studded back patches and felt appliqués / Skulls, monsters and horse heads / Torn-off back patches reveal dark indigo beneath.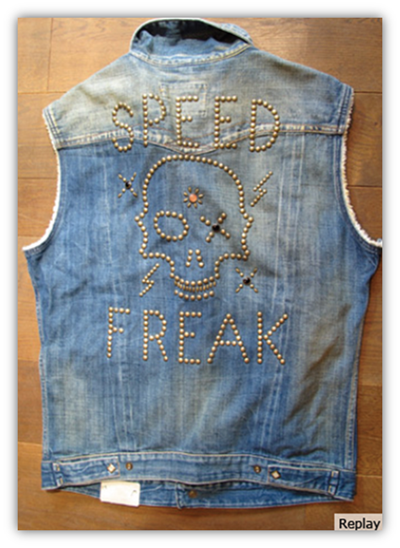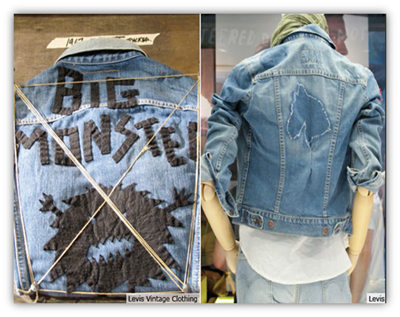 Lightweight Leisure Pants – Cool Item
The looser, casual pant continues to trend for both guys and girls. Lightweight fabrications like TENCEL® mixes and jersey denims / Strong active direction with elasticized waistbands and hems / Loose and relaxed cargo styling / Dropped or elongated flies and seats / Roomy through hips with tapered hems.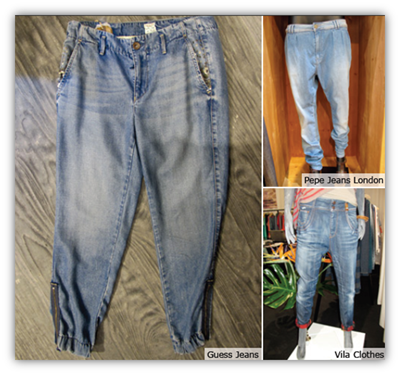 Flared Sailor Pants – Cool Item
The flare gets a nautical makeover, taking it into Summer 2012.Wide-leg flares in saturated indigos / Sailor pant-inspired stitch-down front pockets / Clean or glossy finishes / Slash trouser pockets and tie-waist details.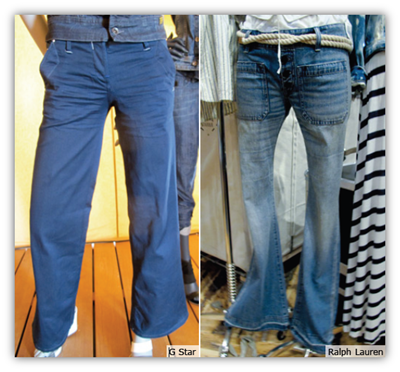 Guys Smart N Lose !
Lightweight denims and chambrays / Coated and water-proof surfaces / Longer jackets with drawstring waists /  Half- placket popover tops / Nautical detailing such as lace-up necks and contrast white drawstrings / Saturated deep and bright indigos.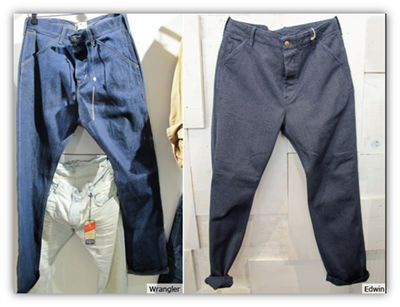 Prepster Shorts – Cool Item
Guy's shorts smarten up with refined, mid-thigh inseams and trouser styling. Lightweight and relaxed Summer item / Straight cut and worn neat on the hips / Stitch-through front pockets or trouser slashes / Satorialist, tab-front fly / The selvedge chambray trouser-short is a key item for S/S 12.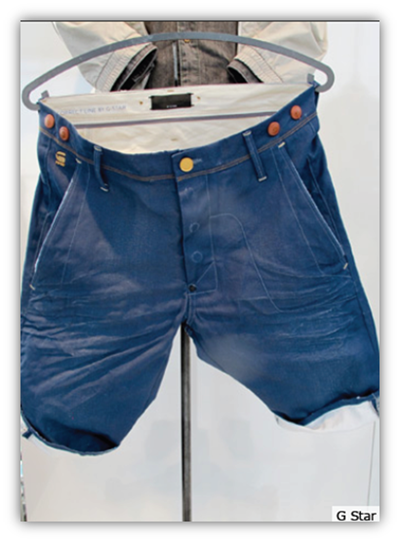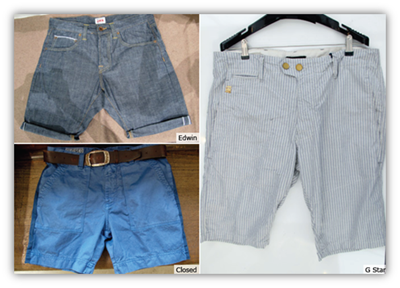 Styling Trends
Sartorial Worker
Button-down collars and bow ties / The railroad jacket is given a tailored update / 40s Land Girl references / Fitted chore coats / Neckerchiefs complete this 40s look.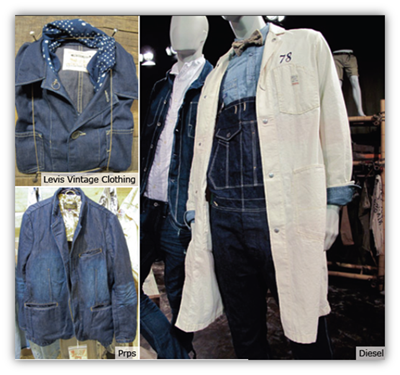 Tokyo Prairie – Styling Trend
The prairie trend drives new, long silhouettes into the Women's market.The full-length prairie skirt emerges as a new item / Exposed button flies and slash or patch pockets / Full, A-line culotte shapes / Draped dresses with prairie styling / Zip-front skirts at Tiger of Sweden are a modern take .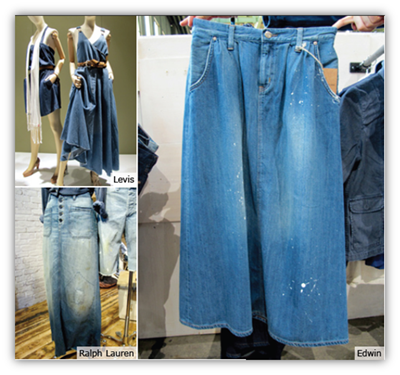 Naval Styling  – Styling Trend
Naval influences drive the workwear trend forward for next Summer.Key items include the sailor pant with stitch-through front pockets and the double breasted peacoat / Fisherman sailor, button-front details / Indigo and white color palette / Railroad or hickory stripes / Lace-up front openings / Anchor motifs on buttons and coin pockets.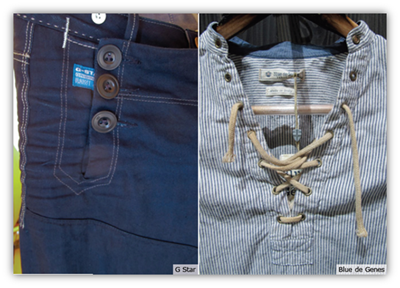 Fabric Trends
Azure Indigo – Fabric Trend
Royal blue has hit the saturation point for S/S 12.  Fashion-forward shade is reminiscent of Chinese worker jackets / Glossy and raw in vibrant tones / Lightweight fabrics are key for this Summer fashion shade / Over-dyeing accentuates vibrancy / Yarn-dyed warps and weft.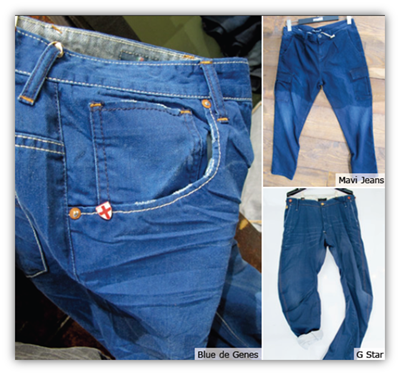 Salt N Pepper Constructions
The return to durable worker fabrications leads to salt n pepper constructions. Twisted threads include indigo and ecru, grey, brown and white / Marled and flecked effects / Salt n pepper wefts for a more subtle texture reverse / Shirting weights / Rigid workwear looks / Traditional twisted yarn techniques for added strength..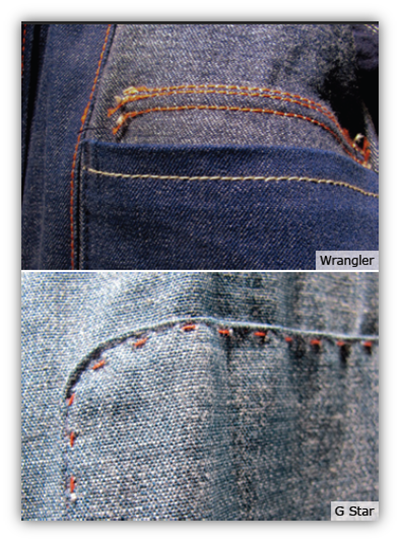 Fabric Trend : Indigo Pattern
Trending for a few seasons, railroad stripes are joined with dots and micro repeats for S/S 12.Railroad, ticking and hickory stripes / Wabash spots and "Stifel" inspired prints / Modernized bandanna and neckerchief prints in indigo and ecru / Multi-layered and colored stripes at Levi's Made and Crafted.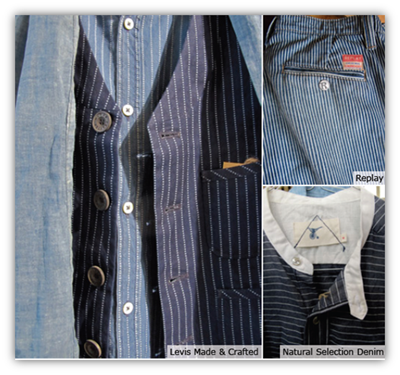 Neppy Chambray  – Fabric Trend
The overwhelming trend for chambray in the marketplace leads to textured fabric updates.  Slubby and neppy yarns offer rustic character to basic weaves / Sky-blue indigo shades / Basic chambray shirts are re-invented / Quilted surfaces at Lee add to surface texture.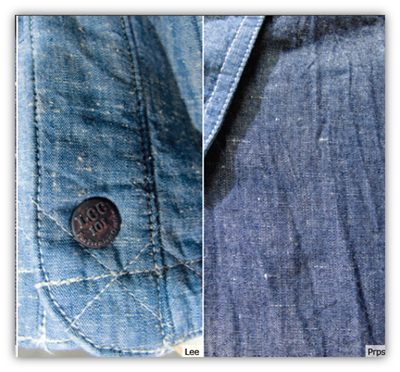 Print and Pattern Trends

Print and Pattern : Grain Stack Stamps
Classic rubber stamped workwear branding is joined by Americana slogans and updates.  Solid black on indigo or ecru / Branded symbols and logos / Nautical and workwear references / Destroyed and worn finishes / Cornelli and chain stitches / Mechanic's coverall looks. Solid black on indigo or ecru / Branded symbols and logos / Nautical and workwear references / Destroyed and worn finishes / Cornelli and chain stitches / Mechanic's coverall looks.
Design Details
Ladies Utility – Design details
Clean, minimal styling drives new Women's tops and dresses.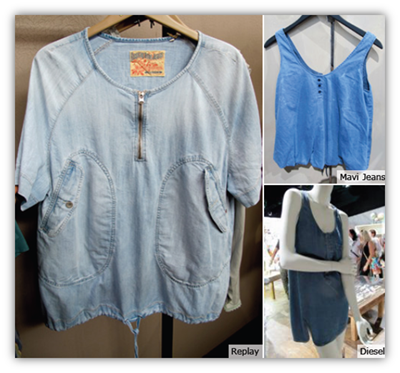 Graphic Patch – Design Details
Last season's patch-and-repair looks are stylized and re-worked for Summer 2012. Multi-patched tonal indigos / Graphic and geometric placements / Clean seam detailing / Contrast pockets, collars, internal linings and front plackets.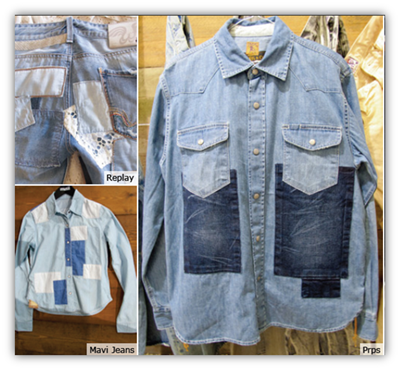 Wash and Color
Clinical Ecru – Wash and Color Trend
Ecru takes prominence as the Summer shade of choice for denim. Clinical lab coats and Western jackets look fresh in the color / Unrefined and unbleached cottons / New Summer white alternative / Predominantly for Menswear.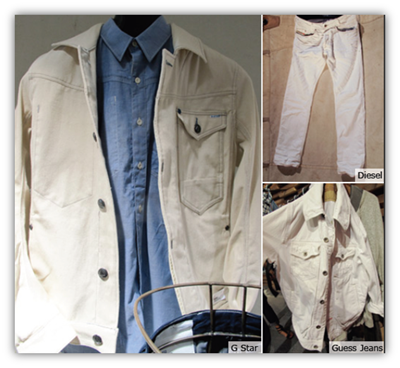 Color Ranges  -Wash + Color Trend
Recent color palettes are given a quirky update for next season. Classic primary colors / Off-beat or muted tones / Burgundy and salmon hues both at Lee and Tiger of Sweden / Sun-bleached mustards, acid washed brown and burnt orange / Saturated hues.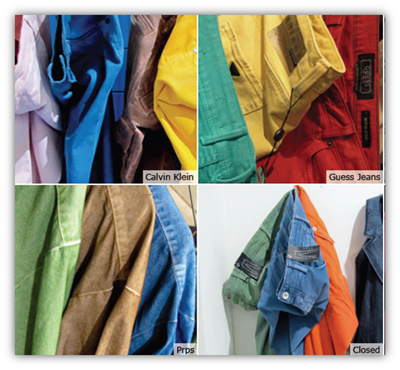 About Stylesight:  Stylesight  is a leading provider of trend content, tools and technology for creative professionals in the fashion and style industries.  Visit their website by clicking here