Here are some typical denim grey fabric constructions
Weave: twill 3/1 Z
3/1 Denim Fabric Constructions
| | | | | | | |
| --- | --- | --- | --- | --- | --- | --- |
| Warp(ends/cm) | Weft(ends/cm) | Warp | Tex | Weft | Tex | Weave |
| 24 | 16 | 7 | 84 | 6 | 98 | 3/1 |
| 25 | 16 | 7 | 84 | 6 | 98 |   |
| 24 | 16 | 7 | 84 | 5.5 | 107 |   |
| 20.8 | 15.5 | 7.4 | 80 | 6 | 98 |   |
| 27 | 19 | 7.5 | 78 | 6.7 | 88 |   |
| 24 | 17 | 7 | 84 | 6 | 98 |   |
| 23 | 15 | 11 | 8.5 | 11.8 | 50 |   |
| 23 | 16.5 | 7 | 84 | 7 | 84 |   |
| 24.6 | 16.5 | 6 | 98 | 7 | 84 |   |
| 30 | 18 | 8.6 | 71 | 7 | 84 |   |
| 25 | 26 | 7 | 84 | 5.5 | 107 |   |
| 26 | 21 | 11.8 | 50 | 11.8 | 50 |   |
| 22.8 | 16.5 | 6.7 | 88 | 6.7 | 88 |   |
| 25 | 18 | 7 | 84 | 7 | 84 |   |
| 27 | 18 | 7 | 84 | 5.5 | 107 |   |
|   |   |   |   |   |   |   |
Chambray Fabrics – Weave :Plain or 2/1
| | | | | | | |
| --- | --- | --- | --- | --- | --- | --- |
| Warp | Weft | Warp | Tex | Weft | Tex | Weave |
| 24 | 20 | 24 | 25 | 24 | 25 | 1/1 |
| 27 | 16 | 24 | 25 | 24 | 25 | 1/1 |
| 21 | 12 | 12 | 49 | 12 | 49 | 1/1 |
| 23 | 16 | 12 | 49 | 14 | 42 | 1/1 |
| 25 | 15 | 9 | 66 | 7 | 84 | 1/2 |
| 23.3 | 16 | 16 | 37 | 12 | 50 | 1/2 |
| 25 | 16 | 16 | 37 | 16 | 37 | 1/2 |
| 25 | 15 | 9 | 66 | 12 | 50 | 1/1 |
| 23 | 19 | 20 | 30 | 20 | 30 | 1/1 |
Denim with stripes
Combination twill 3/1, plain 1/1 whipcord. Possibilities to achieve different fabric appearance.
   Stripes twill 2/1 + ½             Stripes twill 2/1 + plain
   Whipcord narrow strips       Whipcord weave strips
Fancy fabric woven on dobby
(fig. 3 + 5 woven on tappets) by inserting Lurex or count. Viscose filament in weft
Fig. 1                                                 Fig. 2
Fig. 3 Reversal drafting           Fig. 4 Fancy drafting
Fig. 5 Broken drafting                Fig. 6
Effects are achieved with multicolor WM and warp beam in high pos.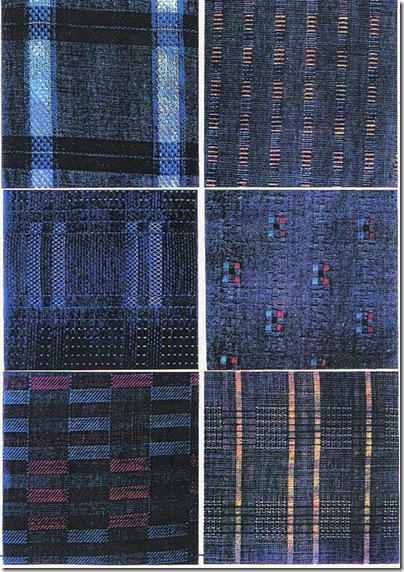 About the author: Adnan is a textile engineer and working with a reputed denim garment company in Pakistan.He is looking after new denim developments.