The Second Edition of Denimsandjeans arrives to HCMC in 2 days ! With over 48 companies , the show shall be bigger than the last edition and bring A number of important seminars and programmes come up at the show . First of all the opening ceremony will see some of the most important VIPs in the Vietnam textile and apparel industry share the stage for the inauguration. Chaiman of VITAS, MD of Vinatex, Deptt of Industry and Trade , Vietrade etc shall be present at the opening ceremony.
Mission Blue – Create Denim For The Future With Care For People And The Planet | June 7, 2pm
G-Star , alongwith Saitex and Bluesign organize this panel discussion on  bringing into focus the huge sustainability efforts by the brand alongwith their supply chain partners. The session will have presentations from the three companies and will be moderated by Bill Watson – the Managing Director of Coats, Vietnam.
Denim is Dead – Long Live Denim | June 7, 3pm
Renowned denim connoiseur and global expert , ex Creative Director of 7 for all Mankind and Levi's brings out an interesting look at the direction of denim since its creation ; specially how it is moving in last few years and what can be expected in coming years.
Vietnam Textile And Apparel Association will hold their members' meeting at the show on 8th June at 8 am bringing focus to the denim industry .
Denim Producers' Guide to Success In Foreign Markets | June 8, 10 am
Ms Dilek from Turkey, a renowned consultant in denim, will make a presentation about how the producers in Vietnam should target the EU and US markets – making the right kind of collections, approaching the buyers etc. She will also bring some of the latest looks currently running in EU markets. The presentation will be held on 8th June at 10am
Vietnam's FTAs with Europe and other regions – An Analysis Of Impact on Textile and Apparel | June 8 10.30 am
Mr Bill Watson, MD – Coats, Vietnam , will shed light on how the various FTAs , some of which are signed and some of which are under process, will affect the Textile and Apparel Industry in Vietnam. This will , again , be an important presentation for most of the attendees.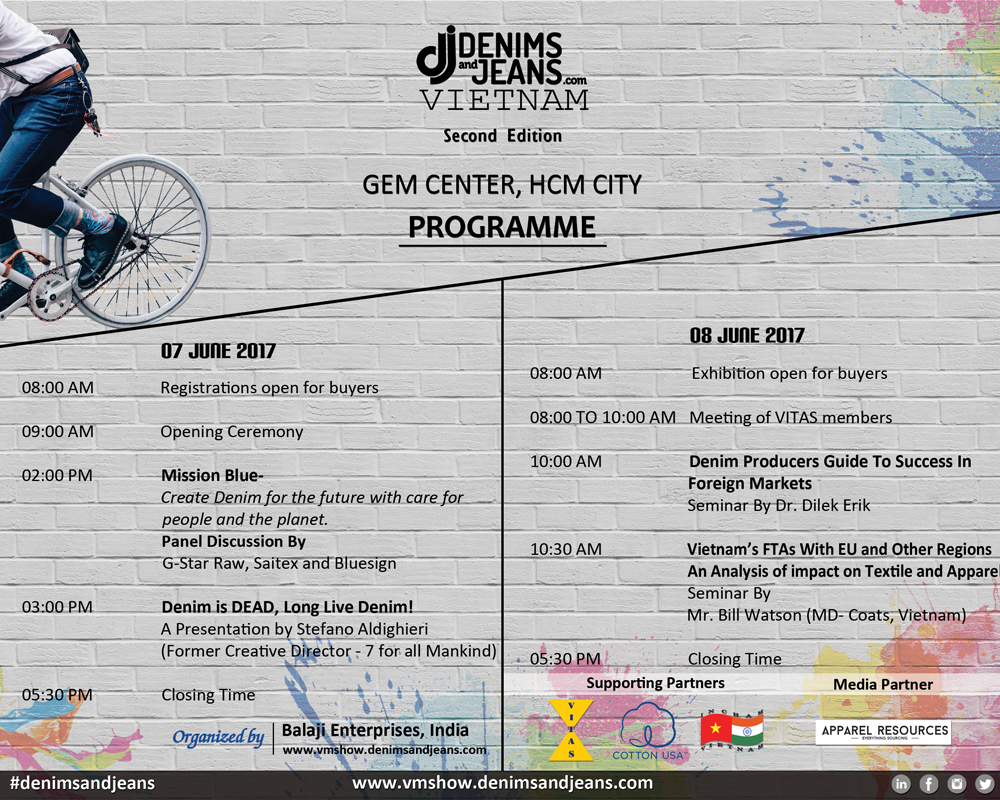 If you are still missing the invitation to the show, there is still one more day to register . Visit the link https://www.vmshow.denimsandjeans.com/invite.php