The first ever  Global denim awards – brought by Mariette Hoiting of Fashion recruitment agency HTNK together with denim trade fair Kingpins, e3 and House of denim , Netherland were held at Amsterdam on 30th Oct.
The winners were selected by a panel of international denim experts made up by denim connoisseurs Adriano Goldschmied, Jason Denham (founder of Denham de Jeanmaker), Rene Strolenberg (co-founder Tenue de Nimes, Amsterdam) and Norma Quinto, fashion journalist.
The Global Denim Awards is a new event which pairs six emerging designers with no denim experience with six premiere mills worldwide. The idea was to fuse the talent of the designers and the products of the mills to bring out some out of the box and exceptional denim designs .
Dutch Designer Jonathan Christopher won first Global Denim Award.
The selected nominees included Italian designer Stefano Ughetti, Turkish designer Gizem Turn, London-designer Bhavesh Samji, Amsterdam-based designer Fernanda Fernandes and Dutch designers Jonathan Christopher and Anneloes van Osselaer. Each designer participating in the award ceremony had been tasked with the challenge of creating five complete denim looks. The winner in the design category was Jonathan Christopher who had paired with the Italian mill ITV.
Jonathan hails from Rotterdam and has been working on his own collections and also freelances for brands like Karl Lagerfield.
Christopher says his collection was inspired by the urban nomad. "The Nomadum collection gives a look in the different worlds of nomads." He used denim combined with alpaca wool to create a bomber jacket, for example, a time consuming process which took 6 hours per panel to make. He also created a denim bomber jacket, one he liked so much that he ended up crafting a version for himself to wear during his collection presentation to the judges.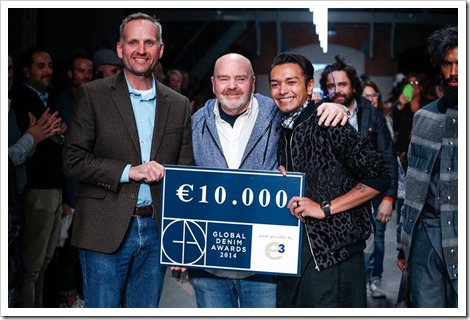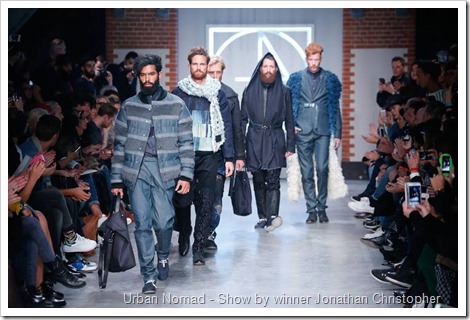 The Global Denim Awards also celebrated the denim mill which produced the best fabric during the competition, which went to Turkish vertical denim mill Bossa for their sustainable fabrics.
We are giving below some cool looks from the runway at the Global Denim Awards. Most of the designs are out of the box, minimalist with not much too much laundry work, concentrate more on usage of clean fabrics , modern designs, mixed patterns and fabrics and standout stitches.