Ramsons,  an Indian brand for over 30 years known for its innovative cutting edge technology machines will be presenting new technologies related to  Sustainability at the fourth Denimsandjeans Vietnam show on June 12-13.Their machines aim to make sustainable equipments by saving and reducing the use of  water, energy, chemicals and increasing automization.
The company gives information about some of its new products which include – Nano Go Green technology , Ozone , Conveyor Drier ,Low Liquor ratio Vertostar Technology , High Spin Washer Extractor  etc. The company gives the details of their products in their own words below :
GO GREEN
 " Nano or Go Green technology drastically reduces water / chemicals in the Effluent treatment plant. The technology uses negligible water and works on the principle of chemical blasts into the warp and weft of the fabric for finishing effects of softeners / Enzyme, resin applications, and other similar applications in Garment Dyeing." – Ramsons
The characteristics of this machine include :
The machine is provided with spray nozzles which will be placed in the front loading washing / dyeing machines.
Apply only the required product along with water which is completely absorbed by the garment resulting in huge savings of water and chemicals / Dyes stuff.
Fully automatic operation controlled by PLC. Timing and flow rate can be controlled as per the requirement of the fabric/garment.
This unit can be connected to existing washing / dyeing machines.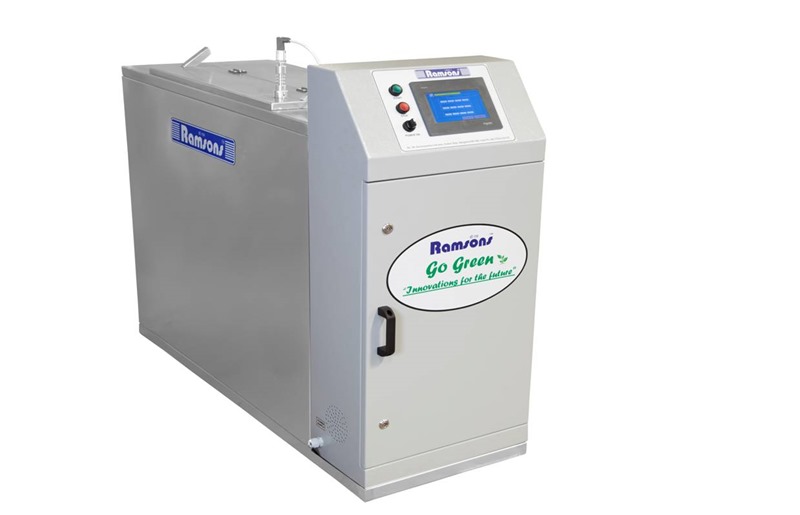 VERTOSTAR
The characteristics of this machine include :
Low liquor ratio Vertostar 7.7 with jet spray /Sprinkler technology for garment /denim washing and dyeing with MLR (liquor ratios as low as 1:3)
Ramsons Vertostar Series uses a state-of-the-art Dual Drainage System, which enables the reuse of effluent water and can reduce the size of the ETP while reducing the overall cycle time.
Some of the optional features in these machines are:Jet spray technology (recycling of water),De-stoner attachment (easier removal of pumice stones),Controlled heating & cooling (for uniform dyeing),Filtration unit,Color kitchen and many other features.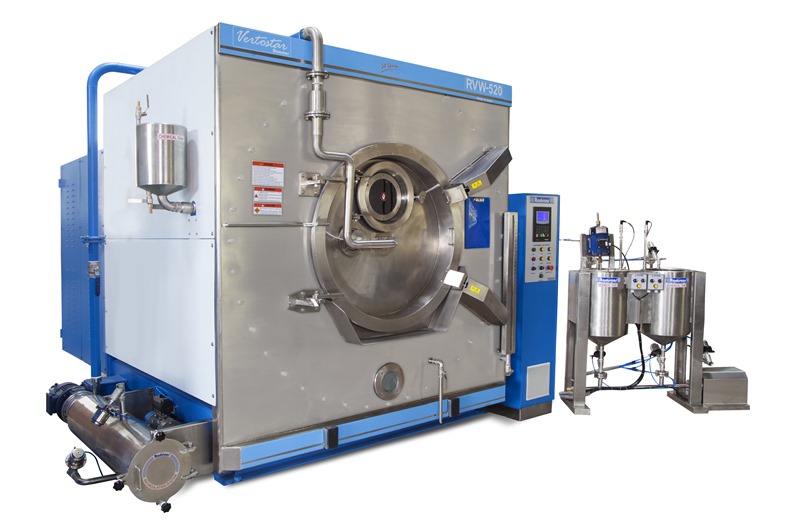 CONVEYORIZED DRIER
The characteristics of this machine include :
Conveyorized Line drying that utilizes the atmospheric energy and saves drying time by over 85%
This system takes 85% Less Energy

than standard tumble drying system.

Also it helps to avoid problems like Back staining, Lycra Damage or Garment DE shape etc.
AUTOMATIC ROBOTIC SPRAY
The characteristics of this machine include :
Robotic spray booths, curing ovens that work on gas in the dry process area to save on energy
Ramsons "YANTRAMAN"

Automatic Robotic Spray machine designed for PP spray process on denim trousers.  It has a Robot fitted with a spray unit and the machine has 2 trouser Mannequins for continuous operation. Fully Enclosed cabinet with Exhaust blower and filter unit system for compliance and ease of working

High Production with better consistency

Less Dependency on Skilled operators hence better productivity

Totally enclosed cabinet no pollution or suffocation in the working area.

User friendly programming and  easy operation  of the Robot.

Can be customized with different configuration as per customer requirement.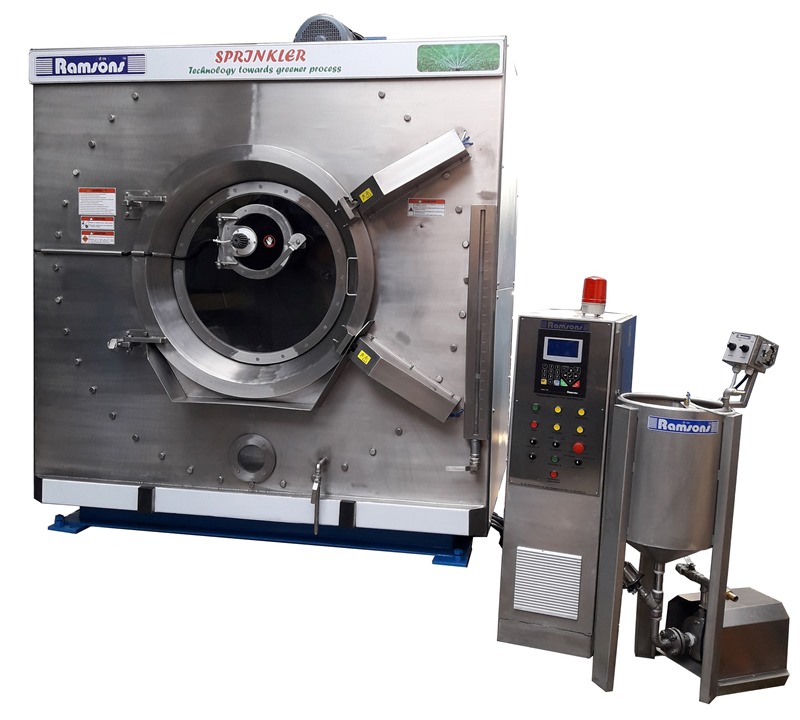 An extensive range of over equipments will be on display at the Denimsandjeans Vietnam show  on June 12-13.