A seminar on denim  titled "Improved Denim Manufacturing" will be held in the city of  Leon, MEXICO on November 12th and 13th (2014)  It will be a two day seminar where various aspects , technical-fashion trends and commercial aspects of denim fabric and jeans and other denim garments manufacturing will be discussed . Some of the topics to be discussed are:
High Tech washes
Denim Finishing
Solving problems in Jeans Manufacturing.
Denim for the 21st century
Fabric Management for cutting.
Innovative garment manufacturing procedures
New ways of shopping in the future
Retail trends in Mexico and Canada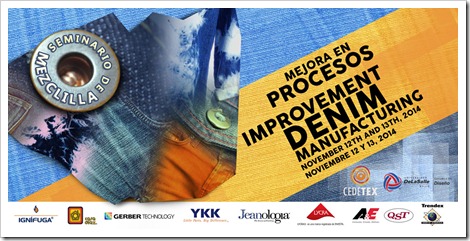 The panel speakers will include senior executives from denim companies, denim professionals, global suppliers -fibers, fabrics, chemicals, machinery, trends-  and others. Attendees will include retailers, apparel brands, representatives from denim mills, jeans manufacturers and others in the denim supply chain.
The tentative schedule of the seminar is given below:
Date

Time

Topic

Given by

Nov 12th '2014

08:00 -09:00

Attendees
registration

09:00 – 09:30

Opening

09:40-11:30

Apparel manufacturing production

PENVILLE

Lourdes Perez, Arturo Rodriguez TC2

11:30-11:50

Break

11:50-12:20

LYCRA® in Denim fabrics

Humberto Arvizu & Isabel Zurita , INVISTA

12:40-13:20

Key factors for sewing a good jeans

Eloy Quintana. Casa Diaz, Sewing machines

13:20-14:20

Denim trends

Sandeep Agarwal , Denimsandjeans.com

14:30 – 16:30

Lunch

 

16:40 – 17:20

Linings

Jaime Halabe, QST

17:30 – 17:50

The Role of Restricted Substances in Chemical Management Plans for Textile Production

Dr. Sam Moore, Hohenstein Institute

17:50 – 18:30

Carolina Protect, Smart Finishes in Fabrics

 

19:30

Cocktail

 

Nov 13th '2014

09:00-09:40

Zippers, buttons, rivets and snaps for Jeans

YKK Inocencio Espindola, Ivan Guerrero

09:50-10:30

30Thread Education (Sewing thread and of stitches for denim)

A&E, Francis Moran, Gabriel Cortés, Mauricio Silos

11:40 – 12:20

Fabric management for cutting

Jorge de Leon Gerber Technology

12:30-13:40

High Tech Wash: A Key to The back to America Revolution.

Rolando Sierra,

Jeanología

12:45-13:00

Indigo, the basics

Jimmy Mc Farland.

13:00-13:40

Quality control for denim fabrics

 

14:30-16:30

Lunch

 

16:30–18:00

Retail trends for denim in Mexico y Canada

Randy Harris,

Trendex North America
The Denim Seminar will have an exhibition of fabrics and supplies for apparel manufacturers.  Those companies who are interested to display their products can also do so .
To enroll for the seminar , a registration is required. Pl follow the link to register :
For more details on the conference , contact Miguel Angel Andreu at this email address