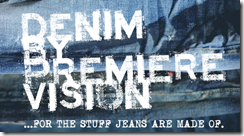 Denim by Premiere Vision is again coming back for its 6th edition . To be held on 2nd-3rd June , it will be held in the Halle Freyssinet in the interiors of Paris – in an industrial building . This is not the only difference this time. Denim By Premiere Vision has opened itself  to a number of participants from around the world. This includes a number of known denim manufacturers , labeling companies and a natural dye company from countries like India, Pakistan, South Korea , Thailand etc. This has enabled the fair to increase the number of exhibitors from 62  in the December 2009 edition to 68 exhibitors this time. This is a natural progression for the fair since the the major part of denim world is outside Europe (particularly in Asia)  and that is where the real growth is happening. It can ill afford to ignore the major segment of the denim industry.  The new exhibitors include  :
Arvind – India : The only new addition from India ,and with about 110 million mtrs of denim production and licenses of a number of international denim brands, Arvind was a natural choice for being included as a new participant.
Isko – Turkey :  With a capacity of over 200 million mtrs p.a , Isko is a major  denim player worldwide .
Artistic Milliners – Pakistan : Founded over 60 years ago , this company has a production capacity of 31 million mtrs/year and proposes 2 collections each year.
Artistic Denim Mills -Pakistan :  Integrated denim mill which specialises in dyes and coatings.
AMC Atlantic Mills -Thailand : Though with a capacity of only about 18 million mtrs pa, the company makes some very cool denim fabrics including super dark super soft denim.
Eco Yaa – South Korea : Manufactures natural dyes from plants and particularly grapes – a technique for which it has submitted a patent.
Future Denim Designer Awards
Denim by Premiere Vision has asked students from the prestigious  fashion and design school – Central Saint Martins – to design jeans (of the future) . The project shall be supervised by Adriano Goldschmied( of Diesel and AG fame). The six finalists shall present their fashion silhouettes (a top + a skirt or trouser) with material supplied by three exhibitors – Orta, TRC  Candiani and Berto . The garments shall be displayed in the show in a special area designed by Saint Martin students.
Here is a complete list of the exhibitors for reference:
Denim Exhibitors
The maximum number of exhibitors – about 22 ( 32%) – are from Turkey and much higher than Italy which has 12 ( 17% ) exhibitors participating. Surprisingly, there was no participant from China – but that may be we will that happening soon.