What are the denim looks on the streets of New York, Tokyo , Paris and other fashion cities around the world ?
Stylesight– the leading trend agency worldwide-  shares with us the denim street shots from various cities around the world . Lets have a look at them .
Double Dame
A variety of different styles, attitudes and eras transform the double denim look for Women this autumn. Cool 90s styling combines cropped tied shirts and the classic mini / Grunge references are achieved with shredded shorts and cut-off vests / 50s preppy looks combine the button-down shirt with cute, high-waisted shorts and ankle socks / 70s flares and waistcoats look new.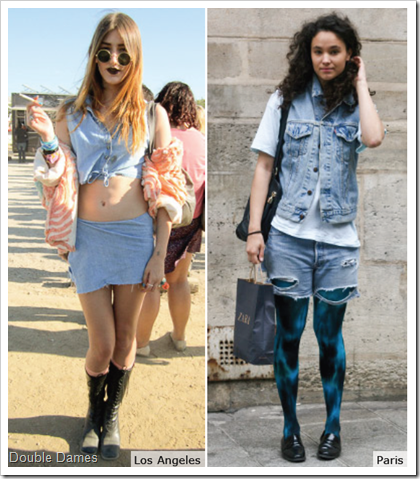 Grunge Denim Juniors
Juniors still favor grunge styling for carefree, casual denim looks. Aged denims and stonewash finishes in mid to light indigos / Thrift store finds and hand-me-downs / Plaid shirts
and denim remain the ultimate combination / The denim vest is the key fall item for Juniors / Cropped and nipped-in top-blocks / Oversized hourglass short fits.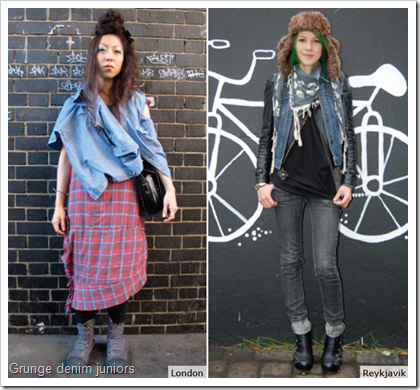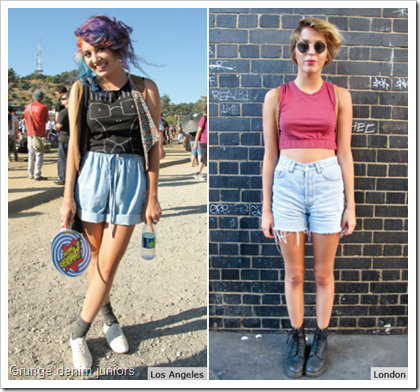 80s Regular
A new, feminine fit takes over from the looser Boyfriend pant shape for Fall. Higher waists and curved, hourglass outseams / Roomy thigh and tapered hems / Modest carrot fits with a feminine attitude / Clean, tubular leg shape / Rolled and cuffed hems or clean, cropped finishes.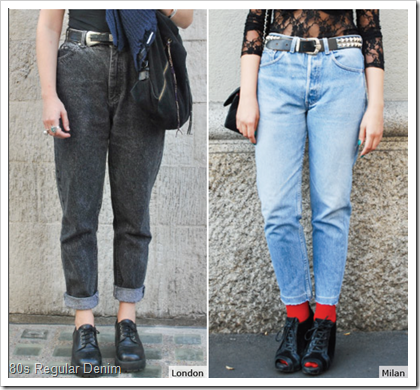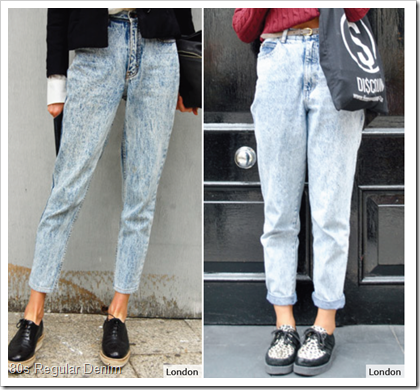 Low N Loose
The dropped crotch emerges as Women's boyfriend-fit denim moves on. Dropped and elongated flies / Extreme carrot looks / Exaggerated volume through hips and thighs / Tapered, skinny calves and ankles / Worn-in and dirty denim looks and green cast denims emerge / Focus on rolled hems
and peg-leg fits .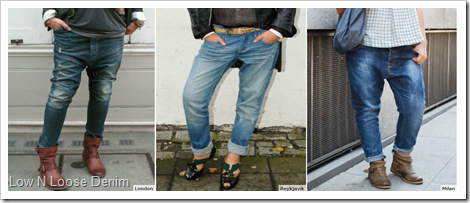 Lightweight Slouch
Lightweight denims combine with loose and relaxed fits to create the ultimate lounge-pant denim item.
Loose trouser shapes with a track pant aesthetic become comfortable jean alternatives / Super-relaxed lounge
and active attitude / Gathered and elasticized waistbands and cuffs / Tencel® denims add gloss and drape /
Dropped crotch and seats / Front pleats and gathers add movement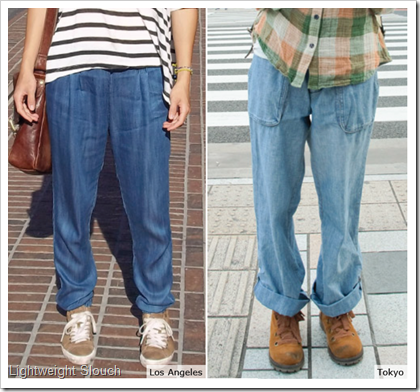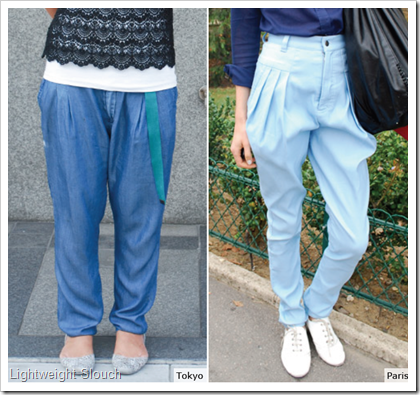 Flared Updates
The 70s-style Dunaway Pant is updated for Fall 11 with new proportions and silhouette nuances. Fit ʻn' flare silhouettes and parallel leg silhouettes / High waisted top blocks remain key / Studio 54 looks and ultra-wide lounge pants / Awkward and cropped thrifted looks create new, directional looks / Bright mid blues or faded vintage pales / Front pocket placements cement the retro 70s appeal.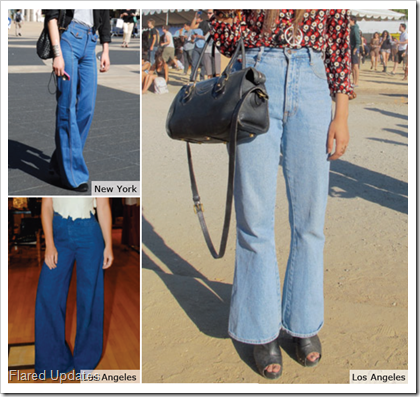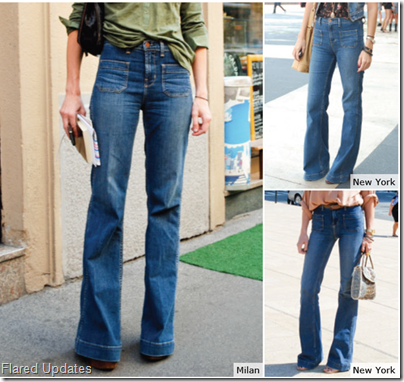 Lean Legs
The second-skin jean shows no sign of down-trending; slimming black shows off Fall's shapely legs. Almost taking over from indigo, traditional indie skinnies are back to black / The classic black jean continues to appeal to fashionistas and grunge kids alike / Saturated and clean, smart blacks / Worn-in "ex-black" looks / Ergonomic paneling accentuates curves and adds surface interest / Super-stretch capabilities give a legging look.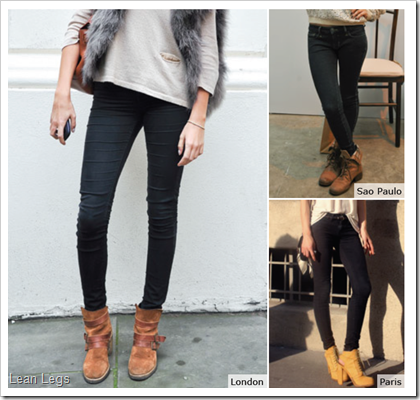 Black Wax

Leather looks and black, saturated resins continue to appeal to fall ladies. High-shine leather-like and rubberized denims / Lightweight and super stretchy finishes / Breathable coatings / Rubberized finishes nod to fetishism / Super-skinny fits and legging looks / Soft, high-stretch and malleable resins have latex and rubber qualities.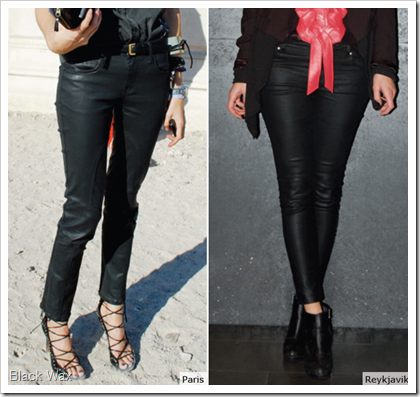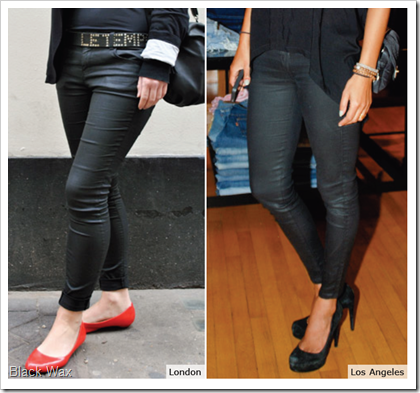 Metallica Mania
All over the runway for S/S 12, metallic jeans have already hit melting point at fashion week streets. Coatings become theatrical and glitzy with thickly applied surface finishes / Applied and destroyed gold-leaf looks / Glossy mirror shine and thickly coated, clean silver resins / Paneled silver coatings create slim-line illusion / Key fashion-denim story with bold and directional appeal.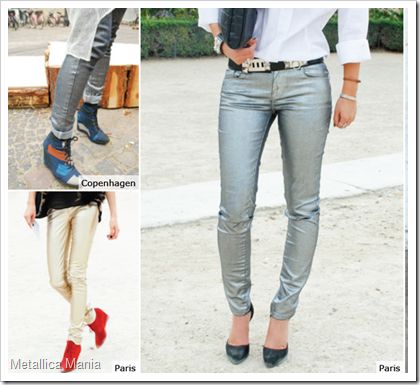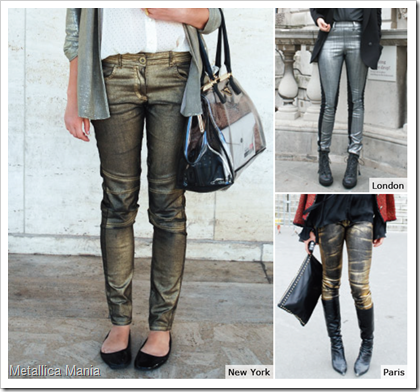 The Printed Jean
Allover and statement prints are a key Fall update for Women's denim. Animal prints prove to be a key conversational direction / Zebra, leopard and python prove most popular / Ikat and Navajo placements emerge for Fall / Graphic use of bold color and high contrasts / Skinny and slim fit jeans remain key for this bold update.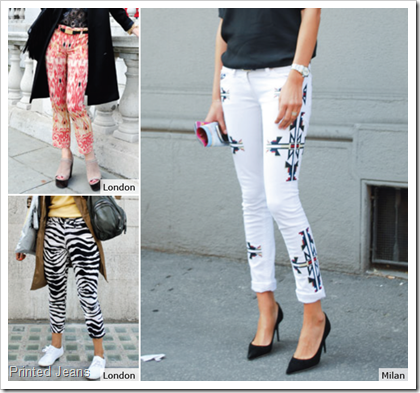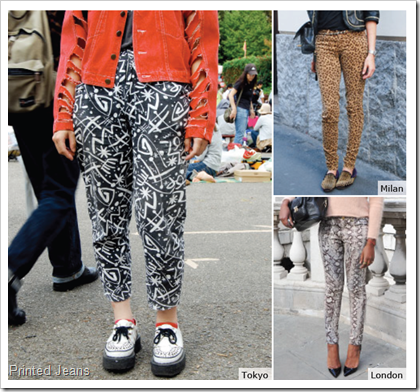 Blocked Tops
The colorblock trend, as seen on F/W 11 runway, proves a popular look for fashion week streets. The Celine pre-fall denim fabric blocked shirt proves a "must-have" item on the streets / The Acne color-blocked vest also proves successful / Geometric inserts and indigo-blocking are used to striking graphic effect / Front plackets, pockets and collars in tonal lighter or darker shades / Torn-off pockets reveal unbleached indigo "shadow" beneath.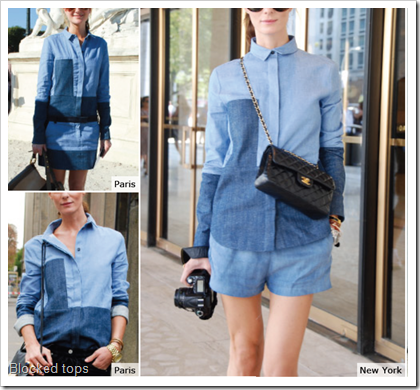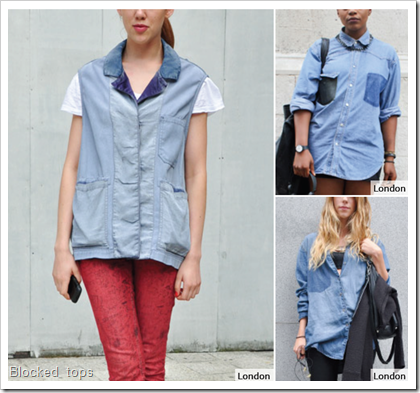 Boxy Shirts
Re-worked boyfriend shirts look to short sleeves and box silhouettes for a new take. Short sleeves, sleeveless vests and cap sleeved lengths / Preppy buttoned-up styling and necklace adorned necklines / Oversized proportions in lightweight, fluid denims and chambrays.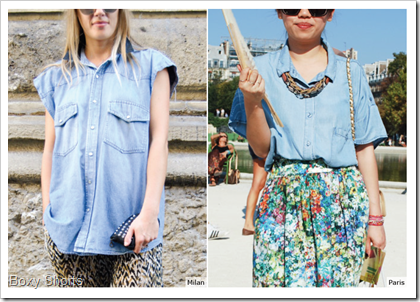 Re- Proportioned Vests
The must-have denim vest is re-worked with quirky proportions and modern styling for Fall. Boxy and top-heavy shapes with nipped-in and cropped waists / Wider shoulders contrast with a fitted waist / Traditional button-up fastenings are replaced with functional zips / Cut-off and shortened waistband / Biker styling continues to hold interest as a styling update.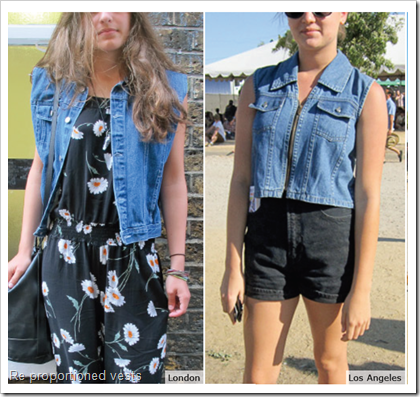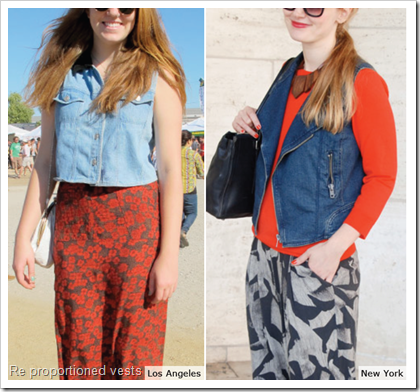 Re- Worked Truckers
The classic trucker continues as a trans-seasonal staple. Bold updates give it a playful twist. Oversized "daddy's girl" jackets with dropped shoulders and long-line hems / Customized and graffiti'd jackets with studs, badges, charms and hand-painted text / Collarless jacket shapes nod to baseball styling / Fabric blocked jackets with jersey sleeves / Pointed sleeves give jackets an extreme makeover.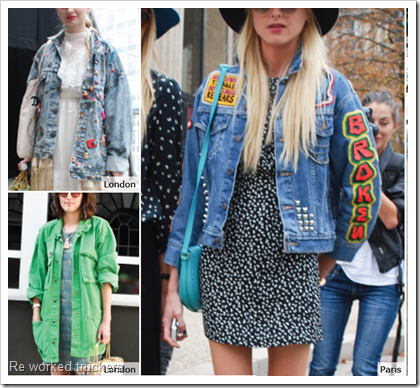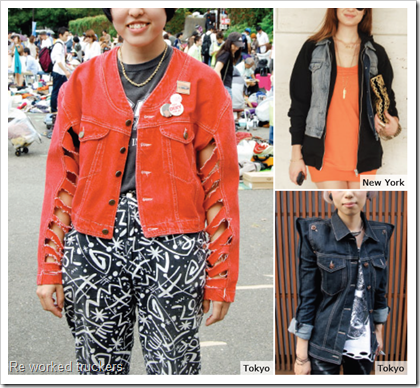 Upsized Sack Dress
Throw-on chic is achieved with these volume silhouettes and clean lines. psized and volume silhouettes / Extreme boyfriend shirtdress looks / Half plackets styling for pop-over ease / lean tunics and tabard styling / The exaggerated T-shirt dress / Utility pockets cement the minimalist attitude /
Chic Womenswear item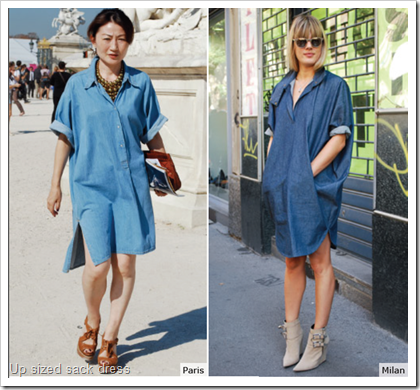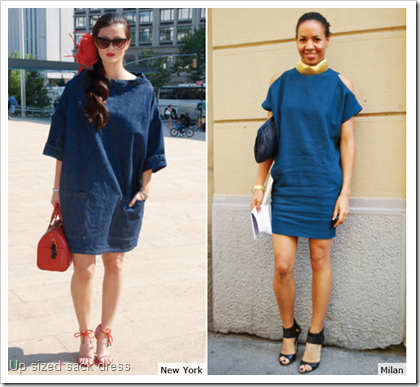 The New Shirt Dresses
A must-have wardrobe item, the shirtdress is given a fashion-forward makeover for Fall. ongline dresses trend for trans-seasonal appeal / Vest styling updates the basic shirtdress look / Full-length leeves and buttoned-up collars / Lightweight chambray with loose short sleeves / Oriental looks with mandarin colars and frog closures.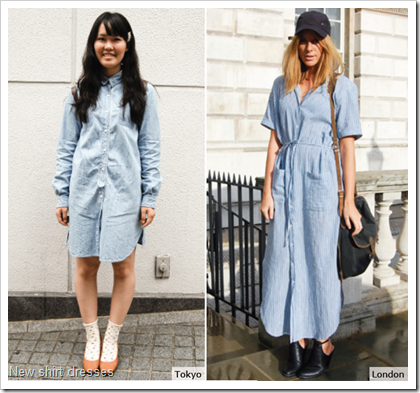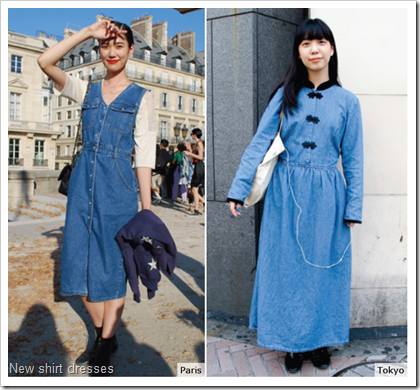 The Clean Overall
As workwear coveralls continue, smart and prim styling give the classic piece new direction. Dungarees and coveralls styled with buttoned up shirts and blouses / Minimal or no front pocket detailing / Bright red casts, bleached out solid baby blues and new ecru shades / Clean or rolled hems / Short-alls and full-length versions / Workwear gets a working-girl makeover.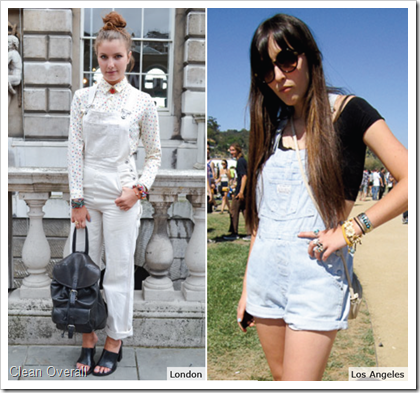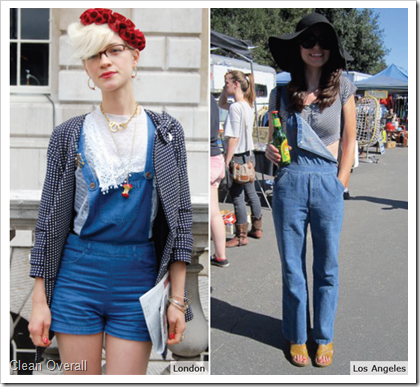 The Mom Skirt
Sensible lengths, fuller hems and sensible styling drive this prim new Fall item. Circle skirts and full, gathered silhouettes / Mid thigh lengths remain but below-knee hemlines prevail / New midcalf pencil length emerges for refined Women's denim looks / Strong 90s direction / Modest and ladylike silhouette / High and true-waist fits emphasize hourglass cut / Five pocket jeanswear styling / Bright retro denim shades cement retro feeling.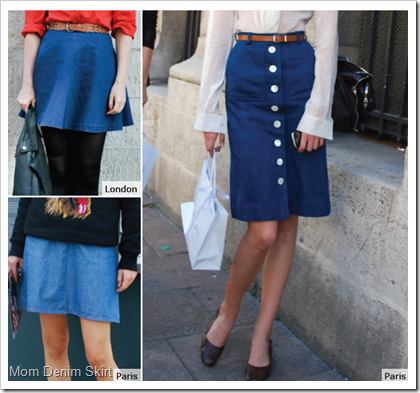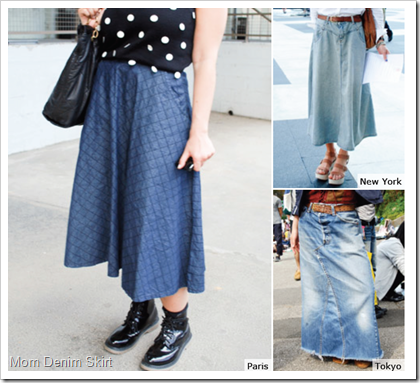 The Clean Pin Up
The mainstream pin-up short is given a retro, cleaned-up look for Fall 11. Bright red cast denims and retro green casts give a fresh, playful feel / Crisp turned hems emphasize slightly
roomier hem opening / Super-high waists are cinched in and belted / 50s hourglass silhouettes and styling / Traditional, no nonsense 5 pocket denim styling.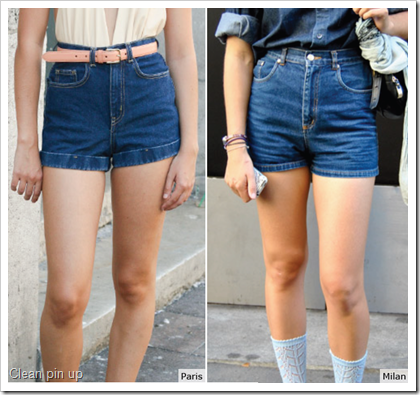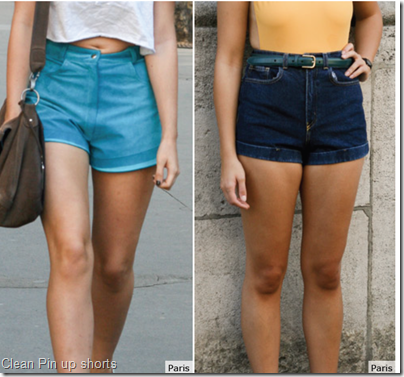 Slouch Short
Short-shorts continue but modest volume gives the classic item a new tomboy attitude. 80s "thrift store" shorts and modern interpretations / Drawstring and gathered waistbands and front trouser pleats / Upsized hot-shorts with the volume of Bermudas / Shorts are belted in to create volume through the thigh and hem / Bold acid and stonewash finishes / Ultra-bleached looks / Loose and full leg shapes with nipped-in waists.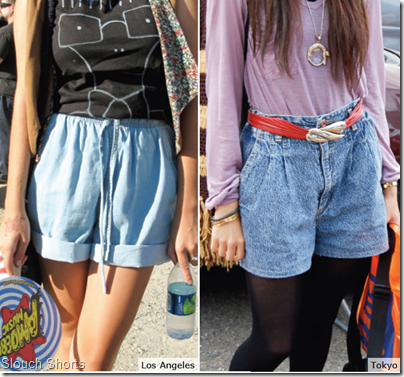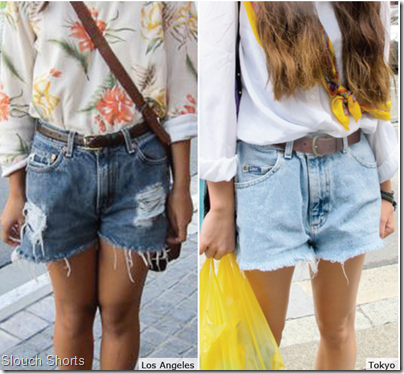 Slash N Fray
Destruction gets an intentionally meticulous, cleaned-up makeover for Fall 11. Manufactured destruction takes over from D.I.Y. looks / Understated items such as the skinny jean get a directional makeover / Repetitive horizontal slashing with tonal frayed edges adds surface texture / Extreme
bandage looks are coated and layered / Coarse slashes, raw edges and laddered stitches / Harsh, bright white wefts reinvent the classic shift dress / Cut-off shorts are treated to a pinked edge trim.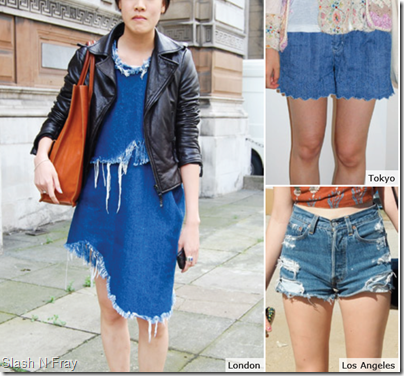 The New Rouge
Deeper red shades and broken in surfaces emerge for Fall.
Destroyed and worn in off-beat hues / Deep wines and acidy orange cast reds / Sprayed, tumbled and sponged
pigments / Laundered and impure color / Over-dyed acid washes give reds a blackened tint / Deep and saturated
maroon looks chic and fresh / Painted and peeled red gives a fashion-punk attitude.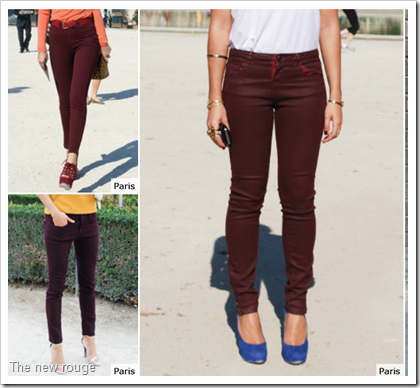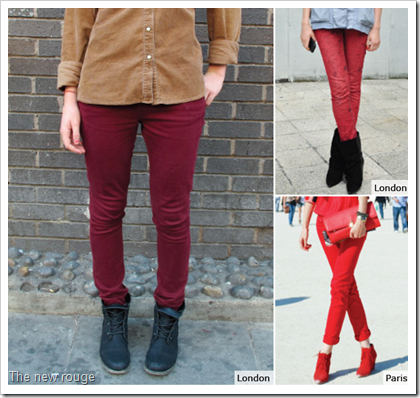 About Stylesight:  Stylesight  is a leading provider of trend content, tools and technology for creative professionals in the fashion and style industries.  Visit their website by clicking here