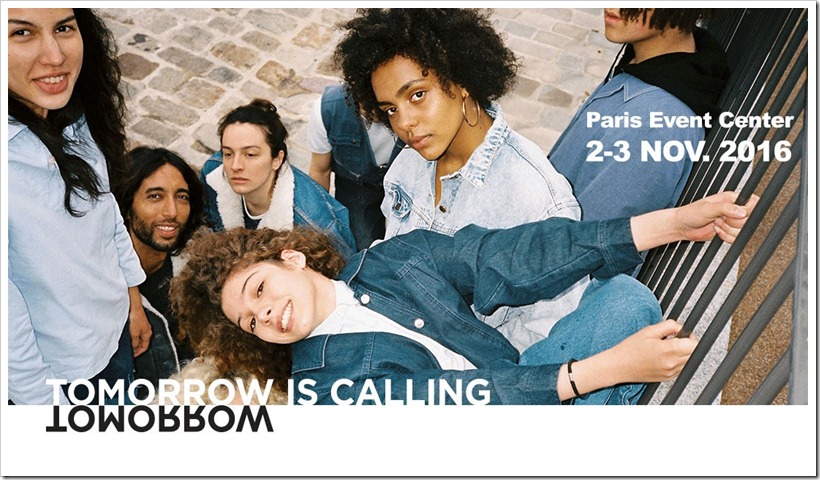 Denim by PV comes back to Paris on November  2nd and 3rd Nov and will be held at Paris Event Centre. The last 5 editions of DPV were held at Barcelona from where it has moved back to Paris . With over 77 exhibitors from around the world, DPV hopes to draw in more than the 4000 international visitors who came in the last show.  The Director of Denim PV – Chantal Malingrey – says
"New consumers -the millennials, Generation Z (or C for creation, collaboration, communication, connection)– move the boundaries and call into question well-established principles. Denim Première Vision wants to speak to insiders as well as the new generation of designers of fashion and denim. We are going to put forward new experiences to stimulate brands' imagination and enable buyers and designers to better understand the issues of creation and consumption. This is to develop experiences around this unique material: denim.
Products
Some of the key exhibitors showcase the details of the products that they are going to launch at PV. The main focus of their launches and new products seems to be 'Sustainability' and 'Eco-Initiatives'.
Vicunha Textil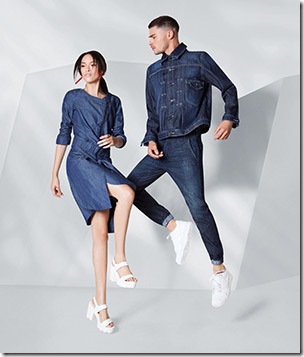 VICUNHA denims are distinguished by 100% BCI (Better Cotton Initiative) cotton. The recycling processes, as per company,  are so efficient that there is no waste at the end of the production phase. VICUNHA is the largest individual consumer of BCI cotton in the world. The fabric range also includes a series of styles made using three recycled PET bottles per metre and which require around 80% less water to produce. Launched this season, the ECO RECYCLE range of fabrics incorporates waste yarn which is recycled back into the spinning process to create new yarn.
SOORTY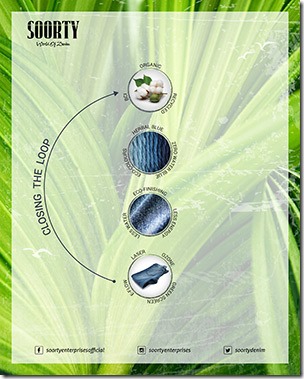 Soorty launches a collection that is sustainable from raw fiber till washed garment. The company aims for responsibility in each and every stage of their vertically organized production process. Soorty offers green fibers, sustainable dyes and processes, eco- finishes and responsible washing.
Prosperity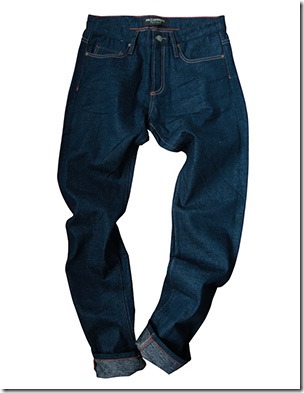 Prosperity Textile has continued to expand its offering of hydrosulfite-free indigo colours by introducing Carmine Blue: a unique 70's inspired indigo shade that is a perfect colour for vintage inspired denims, either rigid or with a hint of stretch.
Sustainability remains a key driver at Prosperity. All lightweights/shirtings are made with BCI Cotton and the use of post-consumer recycled cotton has become a mainstay.
Naveena Denim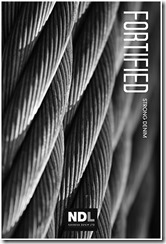 Presenting for the first time, Naveena Denim presents a Fortified Denim collection of durable denim fabrics using the Dyneema® fibre. Dyneema® is an ultra-light fibre that is up to 15 times stronger than steel and up to 40% stronger than aramid fibre, weight to weight. The properties of Dyneema® enhance all aspects of classic work wear denim, like durability and resistance.
Baykanlar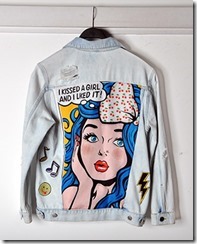 For the SS18 season, Baykanlar presents a large selection of denim silhouettes. The denims include artful details, uneven high-low hems, strong prints, floral & animal embroideries, customized slogans and punk inspirations. Furthermore, romantic details with a bohemian touch are found on the inside. Baykanlar denim represents with this collection pop culture with humour and charisma.
Below is an exhaustive list of participating companies .
| | | |
| --- | --- | --- |
| EXHIBITOR NAME | COUNTRY | CATEGORY |
| ABSOLUTE DENIM CO., LTD. | THAILAND | WEAVER |
| ADM ARTISTIC DENIM MILL LTD | PAKISTAN | WEAVER |
| ADVANCE DENIM | CHINA | WEAVER |
| AKKUS TEKSTIL SAN.TIC. A.S | TURKEY | GARMENTS & FINISHINGS |
| ALBIATE 1830 DIV.COTONIFICIO ALBINI SPA | ITALY | WEAVER |
| ARTISTIC MILLINERS | PAKISTAN | WEAVER |
| ARTISTIC FABRIC MILLS | PAKISTAN | WEAVER |
| ARVIND LIMITED | INDIA | WEAVER |
| ATLANTIC MILLS (THAILAND) CO. LTD | THAILAND | WEAVER |
| AZGARD-(PAKISTAN) | PAKISTAN | WEAVER |
| BAYKANLAR TEKSTIL | TURKEY | GARMENTS & FINISHINGS |
| BLUE FARM | HONG KONG | WEAVER |
| BOSSA DENIM | TURKEY | WEAVER |
| CALIK DENIM | TURKEY | WEAVER |
| CAPPIO TESSUTI SRL | ITALY | WEAVER |
| COPEN UNITED LTD | HONGKONG | ACCESSORIES |
| CREORA – HYOSUNG CORP | KOREA | FIBERS/YARN PRODUCE |
| CROSSING | MOROCCO | GARMENTS & FINISHINGS |
| DENIM CLOTHING COMPANY (DCC) | PAKISTAN | GARMENTS & FINISHINGS |
| DENIM AUTHORITY | TUNISIA | GARMENTS & FINISHINGS |
| DERIDESEN ETIKET | TURKEY | LABELING |
| DESERT STUDIO | UAE | GARMENTS & FINISHINGS |
| DNM TEXTILE | TURKEY | WEAVER |
| DYNAMO DNIM | TURKEY | WEAVER |
| E-JEANS BY GSI CREOS | JAPAN | WEAVER |
| ETIQUETAS DEL | SPAIN | LABELING |
| FILATURES DU PARC | FRANCE | FIBERS/YARN PRODUCE |
| FIREMONT  TEXTILE LTD | MAURITIUS | GARMENTS & FINISHINGS |
| I.MA.TEX. S.R.L. | ITALY | WEAVER |
| KASIV LEATHER LABEL | TURKEY | LABELING |
| KASSIM DENIM | PAKISTAN | WEAVER |
| KILIM DENIM | TURKEY | WEAVER |
| KIPAS DENIM | TURKEY | WEAVER |
| KURABO INDUSTRIES LTD | JAPAN | WEAVER |
| KUROKI CO. LTD | JAPAN | WEAVER |
| LARUSMIANI | ITALY | WEAVER |
| LAVASSER SARL | MOROCCO | GARMENTS & FINISHINGS |
| MAFACO | MOROCCO | WEAVER |
| MARASSI DENIM | TURKEY | WEAVER |
| MAROC EXPORT | MOROCCO | PROMOTION |
| MATESA TEKSTIL | TURKEY | WEAVER |
| MERKOTEKS TEKSTIL (MBLUE) | TURKEY | GARMENTS & FINISHINGS |
| MOROCCAN DENIM CLUSTER | MOROCCO | PROMOTION |
| MOU FUNG LIMITED | HONGKONG | WEAVER |
| NAVEENA DENIM(NDL) | PAKISTAN | WEAVER |
| NEW WASH GROUP | MOROCCO | GARMENTS & FINISHINGS |
| NIGGELER & KUEPFER | ITALY | WEAVER |
| NIHONMENPU TEXTILE CO | JAPAN | WEAVER |
| ORTA ANADOLU TAS | TURKEY | WEAVER |
| PANAMA TRIMMINGS SRL | ITALY | LABELING |
| PARIS TEXAS | MOROCCO | GARMENTS & FINISHINGS |
| POLSAN BUTTON | TURKEY | METAL TRIMMINGS |
| PROSPERITY TEXTILE (HK) LTD | HONG KONG | WEAVER |
| PRYM FASHION | ITALY | METAL TRIMMINGS |
| QUICK SERVICES TEXTILES MAROC | MAROC | ACCESSORIES |
| REALTEKS TEKSTIL | TURKEY | WEAVER |
| RED BUTTON | TURKEY | METAL TRIMMINGS |
| RSPS1, SA | SPAIN | WEAVER |
| TEXTIL SANTANDERINA SA | SPAIN | WEAVER |
| SOORTY ENTERPRISES | PAKISTAN | WEAVER |
| SWIFT DENIM | FRANCE | WEAVER |
| TAVEX | MOROCCO | WEAVER |
| TIMAY & TEMPO | TURKEY | METAL TRIMMINGS |
| T.M. CONFECTION | FRANCE | GARMENTS & FINISHINGS |
| TORAY INTERNATIONAL INC | JAPAN | WEAVER |
| TURTEKS ETIKET A.S. | TURKEY | LABELING |
| TUSA DENIM | TURKEY | WEAVER |
| UCO RAYMOND WORLDWIDE | BELGIUM | WEAVER |
| ULUDAG TEXTILE EXPORTERS ASSOCIATION | TURKEY | PROMOTION |
| UNITIN – INDUSTRIAS MORERA SA | SPAIN | WEAVER |
| US DENIM MILLS LTD | PAKISTAN | WEAVER |
| VAV TECHNOLOGY | TURKEY | TECHNOLOGY |
| VELCOREX SINCE 1828 | FRANCE | WEAVER |
| VICUNHA TEXTIL SA | BRAZIL | WEAVER |
| W DENIM BY WHOVAL | TURKEY | WEAVER |
| WSG USA LLC | USA | ACCESSORIES |
| YKK EUROPE LTD | ITALY | METAL TRIMMINGS |