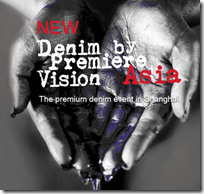 For the first time , Denim by PV – the famous denim supply chain show – is being held at Shanghai , China .  The show is dedicated to jeans fabric, which in five years has become the must-attend event for the international jeanswear community (with its last May 2012 edition registering a record 10% growth rate). Denim by PV now exports its unique concept to the Asian continent.
China is the largest manufacturer as well as consumer of denim fabrics worldwide .. It is not a wonder that Denim by PV chose this place to hold its show .The new event, Denim by Première Vision Asia, addresses the premium jeans market in China, Hong Kong and neighbouring Asian countries such as Japan, South Korea and Taiwan. Attendance by the top denim buyers and other participants from the denim supply chain is expected from this region as well as from other countries.
For its first edition, Denim by Première Vision Asia will bring together some forty exhibitors. Worldwide key players such as Soorty Denim , Absolute Denim, Artistic Fabrics Mills, Artistic Milliners, Arvind, Bossa, Candiani, Freedom Denim, Golden Win, Isko, JWS, ITVomano, Montebello, Orta, Realkom, Sartex and Tejidos Royo.
Also present will be major Japanese denim producer Kaihara which, since 1893, has been creating fabrics of exceptional quality, thanks to production methods unmatched in the world of denim.
12 exhibiting countries are represented: Turkey (24%), Pakistan (15%), Italy (12%), Hong Kong (12%), China (10%), Spain, France, Japan, Thailande (5%), Bangladesh, Tunisia, India (2%).
The offer consists of exhibitors from the Paris show joined by companies selected from the region (China, Japan, Southeast Asia).
Denim by Première Vision Asia aims to underline the added-value of premium jeans and the differentiation it provides, by supplying content that both informs and inspires current or future denim brands.
63% of the exhibitors are denim weavers, 20% integrated denim garments makers, 5% trimmings, complete by Designer Office, Equipment, Fiber and Technology. To show what premium denim is and to illustrate this specific know-how in terms of choice of materials, washing-out, finishing and cut, etc., a Denim by Première Vision Asia collection will be specially created for the event, in collaboration with Italian experts well known in jeanswear : Umberto Brochetto and Massimo Munari from Creative Room and the laundry Martelli. The collection will be revealed at the show in a denim scenography. To support the understanding of premium denim to the market, Massimo Munari will give a seminar "Premium blue wave" at 11.30 each day. Denim by Première Vision Asia will be held in a building whose spirit is certain to resonate with the denim community: a former cotton mill dating from 1929, whose generous volumes were designed by a Japanese architect.
Première Vision China will take place Tuesday 23 and Wednesday 24 October at East Dock in Shanghai. The show offers 2 days for business exchanges and meetings between top textile companies and the best of Chinese fashion professionals. For this 18th edition, dedicated to the Autumn Winter 13/14 season, the show has  61 participants coming from 11 countries (France, Italy, Turkey, China, Japan, Spain, South Korea, Bulgaria, India, Germany, United Kingdom).