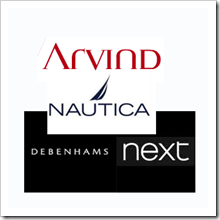 Arvind Ltd – the flagship company of the $1.2 billion Lalbhai Group – has reinvented itself from a traditional ethnic fabric manufacturer to a dynamic company that professionalised its management and is now a force to reckon with in apparel brands and retail. Arvind Lifestyle Brands, a subsidiary of the Ahmedabad-based denim major Arvind, has acquired the business operations of British fashion retailers Debenhams, Next and American lifestyle brand Nautica in India from Planet Retail. Though India allows foreign retailers full ownership of their local operations in the single-brand segment, but many of these companies prefer to come into the country through the franchisee route.
The acquisition of Debenhams is considered  as significant mainly because it gives Arvind an entry into the luxury department store segment. Arvind plans to increase the current number of Debenhams stores in India from two to eight over the next three years. While through acquisition of Indian businesses of Next, Arvind will enter the fast-growing segment of the apparel specialty retail. It plans to increase the number of Next stores from three to 12 in the next three years. The licensing arrangement with Nautica will strengthen Arvind's already strong position in high potential sportswear segment of the market. The company plans to set up additional 30 Nautica stores taking the tally to 41 free standing Nautica stores and 71 shop in shops in the next 3 year.
The company  plans to achieve Rs 500 crore (about $100 million ) revenues over the next five years from the current Rs 70 crore (about $14 million ) by investing Rs 150 crore(about $30 million )  in these three brands."
The company previously also has a large portfolio of brands including Licensed brands like Gant USA 1949,  Arrow, Cherokee , Energie , joint venture brands like Tommy Hilfiger, Bridge to Luxury, and own brands like Excalibur, Flying Machine, Ruf & Tuf, New Port University etc. The addition of  three more brands adds significantly to the portfolio of brands with Arvind.
At the same time,  Arvind  is also the 5th  largest denim manufacturer in the world. Arvind has since become one of India's largest manufacturers of other woven fabrics as well, vertically integrated into garment manufacturing, and built one of India's most impressive apparel brand portfolios.
Managing Director of Arvind -Sanjay Lalbhai – is working on creating the future growth engines for Arvind and setting it on its path to achieving the goal of being a $2 billion company in sales revenue by 2015 and these acquisitions are a part of this strategy.
Even on the social front, Sanjay Lalbhai  is actively involved in shaping Arvind's engagement with society at large. Two such initiatives have flourished under his supervision. The first involves Arvind working with over 7,000 farmers to grow sustainable cotton across 60,000 acres of impoverished areas in Gujarat and Maharashtra. Through this project Arvind, is attempting to build a business model that integrates socio-economic benefits to farmers, a greener textile supply chain and financial benefits to industry.
The second initiative involves Arvind working with the municipal school system of Ahmedabad to build an education intervention model that helps impoverished students progress through the system and access opportunities for employment. Currently, this project benefits about 1,000 students each year.