Pakistan had always had a strong textile industry due to historical reasons and an  abundance of cotton fibre grown in the country . However, the denim component has been developing the fastest in the last decade – with Pakistan touching almost 350 million mtrs of denim fabric production p.a. There are many players in the denim industry of Pakistan  , but some of them like Artistic Fabric Mills/ Artistic Garment Industries  stand out due to their innovative approach  . We thought it might be a good idea to speak to the owners  of the group – Mr. Javed Ahmed  and Mr. Iqbal Ahmed-  to know more about their companies and about Pakistan Denim Industry in general.
Tell us briefly about the history of the company.
Artistic has been a pioneer in the textile industry of Pakistan. It all started in 1949 with an enterprising man and his dream to own mills one day.
In the last 60 years, with this vision the company expanded from a small retail shop to establishing many garment factories. The Artistic group has come a long way since its initiation. The 1990's saw the first venture into the denim field. Vertical growth took new meaning and denim-weaving plants were set up. Artistic Fabric Mills (AFM) and Artistic Garment Industries (AGI) have recently expanded to become a fully vertical set up and are together one of the leading manufacturers of high fashion denim fabrics and garments in the region, offering high end customers innovative products, premium quality and efficient service.
Presently, we have doubled our Fabric capacity with the help of our new Denim Mill -AFM 2, which has a 36 Rope Indigo Dyeing Technology. We will be looking to produce 40 million meters of Premium Denim Fabric annually in addition to 12 million Garments from our garment set-up, which includes an in-house State-of-The-Art laundry.
Why did Artistic Garments choose denim as an area of growth ?
I guess you could say Denim is in our blood !
There are actually several factors that influenced us. For example raw materials; Pakistan is the fourth largest cotton producer in the world with an annual production of 14 million bales. This makes Textiles one of the most important industries in the country. We could have chosen other segments within this industry such as twills, home textiles etc. but we have always been very passionate about Denim. It is a fascinating product- always changing and evolving yet staying true to its core.
Every season we see something new and innovative in this field and that really excites us. The glamour associated with denim is quite attractive as well. You constantly see it featured in movies, endorsed by celebrities, on the runway and now it's making its way into Couture. Also, the various denim tradeshows provide an opportunity to network with denim lovers from around the world, teaching you a lot about the industry and its infinite possibilities.
How do you think Artistic Fabric Mills is different from other denim mills in Pakistan?
Firstly, we are one of the oldest Denim mills in the country. However, the oldest doesn't always mean the best. Being the best is about Innovation, dedication, investment and a true passion for denim – all of which are qualities we pride ourselves upon.
We like to think of ourselves as leaders in the Pakistan market rather than followers. The reason for this being that investing in the best technology and human resources is one of our fundamental beliefs. With a vision to serve the buyers better, we move forward with an experienced team of people and a strong orientation to latest technical know-how.
Artistic Fabric Mills continuously strive to be the best by investing in superior R&D.
We use only the finest quality dyes and liquid indigo. Our weaving department is equipped with the latest Projectile and Rapier looms. We have modern finishing and mercerizing set ups, with an added bonus of Stenter technology, through which we create premium finishes and coatings.
AFM also has foreign fabric/yarn designers and technologists on board, who have a plethora of experience in this field. They have a good pulse on the future denim market trends and accordingly develop a collection with new colors and warps every season. In addition to this, we have an office in Los Angeles, California to keep up with the latest Denim Trends originating from the West Coast (the home of Premium Denim Jeans in the US). On the European side, our organization has a showroom in Stockholm, Sweden with a denim guru there to develop a broader and more versatile range of fashion concepts.
There is a famous quote: "Even if you are on the right track, you will get run over if you keep standing there". Therefore, we are always trying to innovate and improve ourselves. Our team has set high production quality standards and works hard to sustain them.
All in all it's our integral values that make us different. We have a loyal and sincere approach to our product and the customer. With us its about multiplying value, we believe in giving more value to our customers in return for their business.
What are your other denim fabric styles, which are your best sellers ?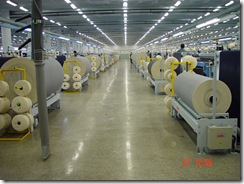 We at Artistic Fabrics and Garments have a great relationship with Invista and our vintage stretch collection using their LYCRA® fiber always gets a great response from buyers.
As far as our recent best sellers are concerned- For Womens The new Super stretch with soft hand feel and Jeggings have been quite popular recently.
For Men's Rigid, 100% cotton based subtle cross hatch constructions, heavier weights with Left Hand Twills and softer feels is one of our best selling category. Most popular are the black bottoming, pure indigo and green indigo shades. The coated and over dyed denim range is always a top favorite for designers.
Coated denim seems to be getting popular. Do you also feel so ?
Definitely. We have been very innovative in exploring different coating technologies and chemicals.
Coating is the next big thing because of the high and lows one can achieve and the multiple washes that are possible. It adds a whole new dimension to the normal denim fabric and what wash experts can do with it. We see the trend growing with raw coated finishes and vintage looks.
Artistic Fabric Mills will be launching the New collection of our coated fabrics at the Hong Kong edition of the Kingpins show in November.
You also have a large garment division. Is denim the main product there?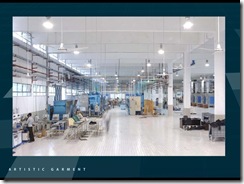 Actually, Denim is the only product at Artistic Garment Industries. 100 % of the garments are stitched using Denim fabrics. Primarily, we manufacture denim jeans and cater to all types of bottoms: Straight leg, boot cut, skinny etc. Apart from jeans, we also produce denim jackets.
The output capacity is about 1,000,000 garments per month, which covers many different age groups from Toddlers to Adults. The production at AGI has been enhanced by our state of the art laundry facility, which was established in early 2007. This modern plant is equipped with the latest Italian washing machines and can be compared with any of the world's top laundries.
Which are your main markets? Would you like to share names of some of your main buyers with us?
Roughly half of our exports go to the US market. The other half goes to the European market. Many of the Middle to Upper Tier Fashion Brands are our main buyers.
What new trends do you observe emerging in the denim jeans silhouettes?
Men's silhouettes have remained fairly constant over the past couple of seasons. We're used to seeing the usual straight leg or boot cut styles. Comfort Stretch seems to be getting more popular for men.
On the other hand, the women's collection has been tailored by major changes in fashion trends. While the boyfriend and skinny fits remain popular, leggings/jeggings are taking the markets by storm. We think the tapered/skinny boy friend along with skinny cargoes will be big soon. However, the women's market changes more quickly so in the near future, the market will want something new.
Pakistan denim industry is getting bigger. Can you tell us something about its size, growth etc ?
It is getting bigger indeed. This means more competition for us. However, we enjoy the challenge.
Presently there are about 15-20 denim mills in Pakistan, and about 35-40 companies involved in denim fabric or denim garment production.
The Monthly Production is about 30 million meters of finished Denim Fabric.
Direct Employment of 18,000 People in industry. A major part is employment on contractual basis.
The Textile sector contributes to a 60% share in the exports of the country.
Presently in Pakistan, Denim Production is on top in Textile Sector due to Export & Garments Industry. Export of denim has shown a 27% increase per annum in the Dollar value since 2005.
Denim is now one of the key apparel sectors and the driving force behind the apparel exports of the country. Total apparel exports from Pakistan were approx US$ 1.23 Billion in 2008-09. This sector still has potential for further growth.
(Statistics taken from the Pakistan Textile Journal).
How does Pakistan compete with countries like Bangladesh and China for denim exports?
As compared to Bangladesh, we have an advantage of having an abundance of cotton and greater experience in this field. Bangladesh is catching up fast and with their advantage of cheaper labor we often compete fiercely with them on price. Pakistan has an edge due to the availability of the Basic Raw Material though and having the Yarn locally produced. The AGI/ AFM nexus has the added benefit of a Strong Spinning Mill being part of our vertical set up. Pakistan has also benefited from a more favorable exchange rate for export in recent times.
China has historically been a strong competitor but lately we feel we have come to par with them as the number of local trained Professionals and Technicians for the Denim field increases in Pakistan. We strive to continuously improve and enhance ourselves to rise above the competition from this region.
The recent floods in Pakistan have caused a lot of devastation. Do you think the floods will affect the denim industry or the textile industry as a whole ?
The recent floods really have been quite catastrophic. However, fortunately for the Textile Industry the flood waters did not affect any of the major urban cities. The main impact has been through the damaged cotton crop. There is some speculation that around 2-3 million bales might have been affected.
Luckily in some areas that have not been hit by the floods, the rain has actually benefited cotton and this year Pakistan was expecting a bumper crop as some farmers had opted for cotton instead of rice and sugarcane so despite the damage, the total crop might equal last years amount. Furthermore, Pakistan will gain from the fact that next-door neighbor India has lifted the restriction on Cotton Exports and therefore, will import a fairly large quantity from across the border. So overall the rates should be at par with New York Cotton Exchange. We feel the Pakistani Textile Industry is quite resilient and will not be so severely impacted by the floods.
How is Pakistan denim industry dealing with the environmental issues like waste water disposal etc ?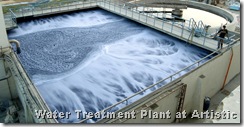 One of AFM/AGI's main goals aside from quality service and on time delivery to its customers is to be environmentally friendly and adhere to social compliances. Therefore over 4000 employees at AGI are enjoying all the social benefits, as we are compliant approved by all our customers. In the past we have been approved by ISO and we established a state of the art Waste Water treatment Plant (WWTP) in 2007 with the help of an Italian company ,
What is your forecast for the demand growth in the next 2 years ?
We predict that the next 2 years are going to be challenging but rewarding at the same time. Denim is a lifestyle and that culture will never cease so we hope it will grow bigger and better.
There is usually a lot of movement in denim and currently we see a definite shift towards the Pakistani market. With our new mill coming up we are definitely looking forward to the near future as we constantly endeavor to upgrade ourselves with revolutionary ideas and adapt to the fast changes in trend.