The year 2020 will be remembered for a lot of reasons, COVID 19 will always be on top that almost froze the entire humankind for some weeks, however, there have been a plethora of good things that happened due to this pandemic, from embracing a great understanding of family values to acknowledging the virtual space in all business functioning and verticals at a larger scale, this pandemic definitely gave altogether a new direction to the globe and the denim industry perse one of the early adopters. From shifting to virtual sourcing to depreciating the fast fashion culture and focusing on more quality/durable cloths, the denim industry dedicated this covid time towards navigating more sustainable processes.
For denimsandjeans, the initial months were very tough, back to back postponement of shows were pushing us towards abyss but with the supports of our partners, we adapted very soon and started our brainstorming on how to connect the industry when everything and every one was struggling on mobility. In this article, we would like to share some of our reports, efforts and talks that helped the stakeholders of global denim community to understand whats happening, where the industry is looking forward to move in coming years due to this pandemic and how the things have been changing rapidly?
Reports On COVID and Its Impact On Clothing/Textile/Denim Industry
In this segment, we would like to list some of the reports which we did on COVID's impact on the industry.
COVID TIMES – An Instagram Live Chat Show with Denim Experts
It would be not an exaggeration if we could call the year 2020 – a digital year, the people at different places used to zoom, Instagram, Whatsapp, and other social media and video conferencing apps to stay connected. Netflix and Amazon saw a massive spike in their subscription and then we thought to leverage this mode to talk about the denim industry, its issues, and the way ahead.
COVID TIMES was one of our initiatives through which we used the Instagram Live feature and Zoom Webinars to invite denim experts to discuss different subjects pertaining to denim, especially SUSTAINABILITY.
Here are the 7 talks one should not miss:
Apart from our COVID TIMES talks, we had many talks at our virtual shows and other platforms. The latest talk series we have launched was – A 5 Minuter Talk, you can watch all the episodes on our youtube channel.
Our all talks are available on our official youtube and Instagram channel. You can listen podcasts of our all talks at Spotify now.

Efforts Towards Digitalisation Of Denim Sourcing and Trade Shows
Launch of Virtual Shows
In the month of July 2020, we had announced the launch of our first denimsandjeans virtual show where for the first time denim supply chain partners were got an opportunity to have a one to one video calls with their buyers in real-time. Leading denim companies including Artistic Milliners, Artistic Fabric Mills, Jeanologia, Tonello, Arvind Denim, Raymond UCO, Archroma, Garmon/Kemin, Deridesen, Ribbontex, Siddiqsons, Indigo Textile and Wiser Wash participated in the show.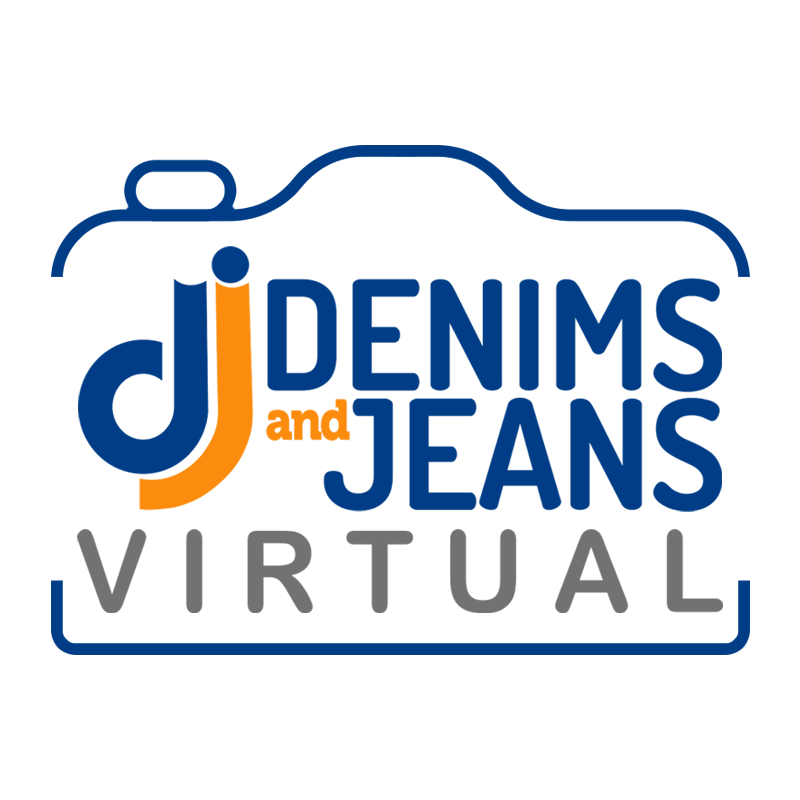 Exhibitors were given virtual booths where they can enter and interact with the buyers visiting their booths, exhibitors were even able to share their brochures and screen with the buyers to present their collection digitally. The show also had over 12 denim sessions where leading denim experts shared their thoughts on the latest developments and design innovation through different talks, seminars and panel discussions.
The show got an unprecedented response from the industry and witnessed the participation of over 35 companies around the globe from the supplying side including mills, factories, chemical manufactures, technology companies, and consultants. Over 1000+ buyers from leading retailers/brands have logged in to the platform in two days to see the latest offerings and have also appreciated the effort to organize this one of its own kind of show.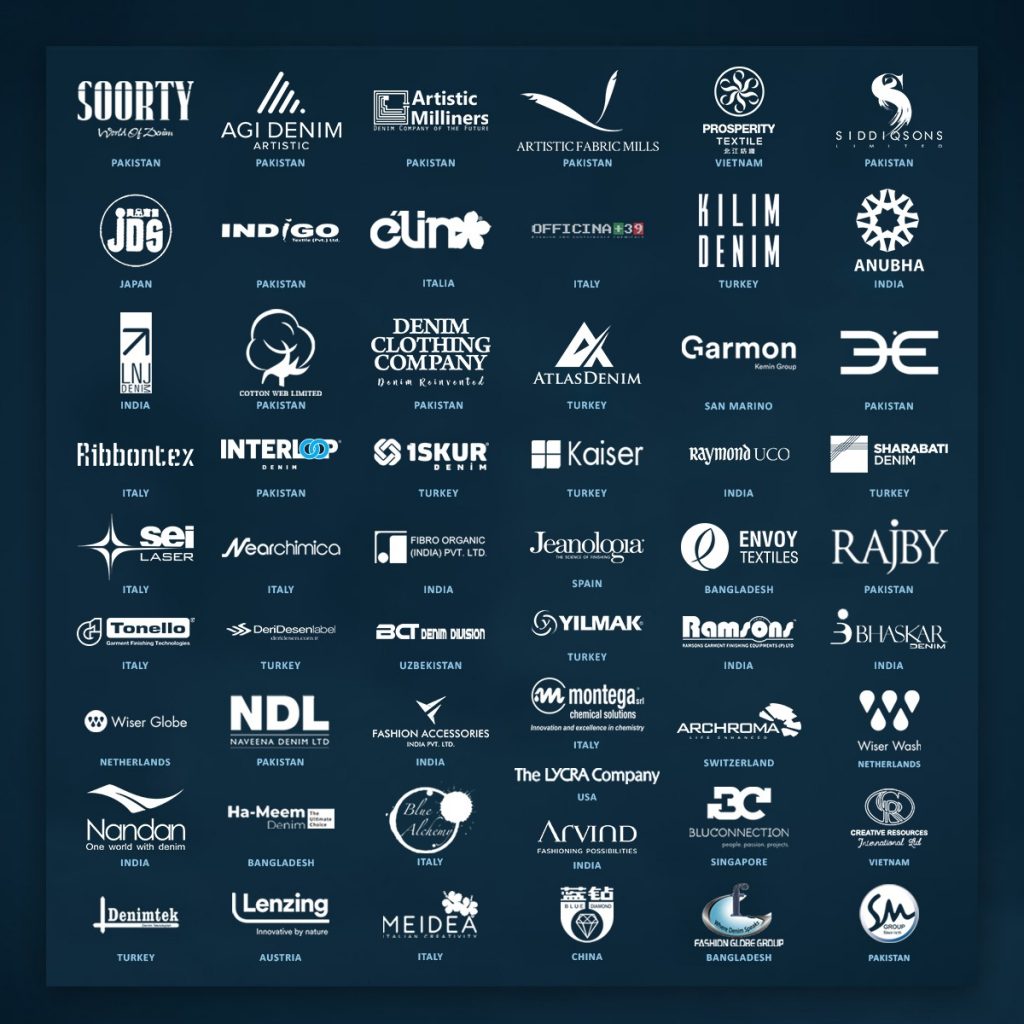 Extending the success of the 1st virtual show, Denimsandjeans hosted the 2nd show virtual show in the month of October and another follow-up show in the month of November under a theme – Sustainable Interplay, propagating the joint and equal responsibility of both buyers and suppliers towards sustainability. More details can be accessed at www.virtual.denimsandjeans.com
DE-Brands : A B2B Denim Sourcing App
De-Brands, a prodigy of Denimsandjeans and the 1st b2b denim sourcing app was launched in a new avatar this year with new modifications and designs.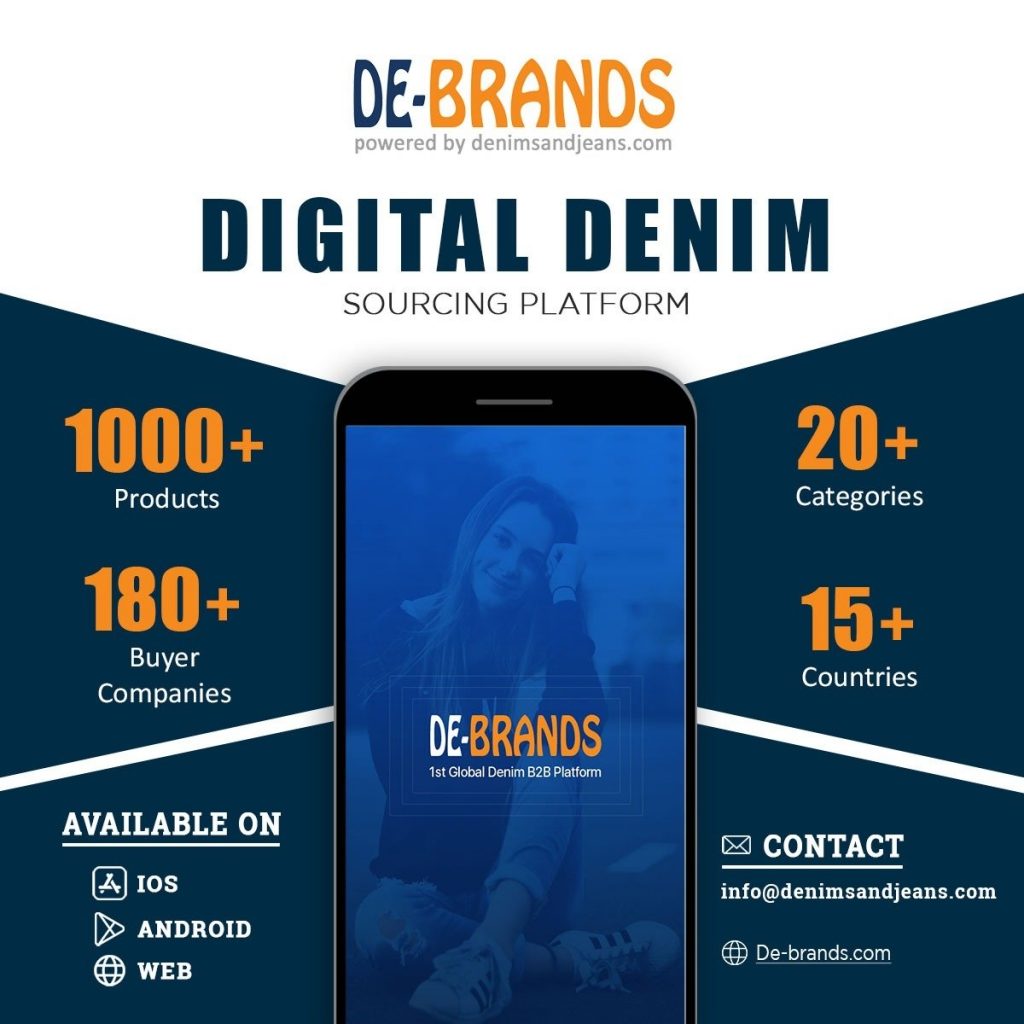 The app offers a unique opportunity to the denim suppliers to set up its virtual showroom and connect with their buyers virtually 24*7 on 365 days of the year. The app is available on both Playstore(android) and AppStore(ios) as well the web version has also been launched in a completely different look this year. The web version can be accessed at www.de-brands.com
The app has over 55+ exhibitors and 350+ buyers.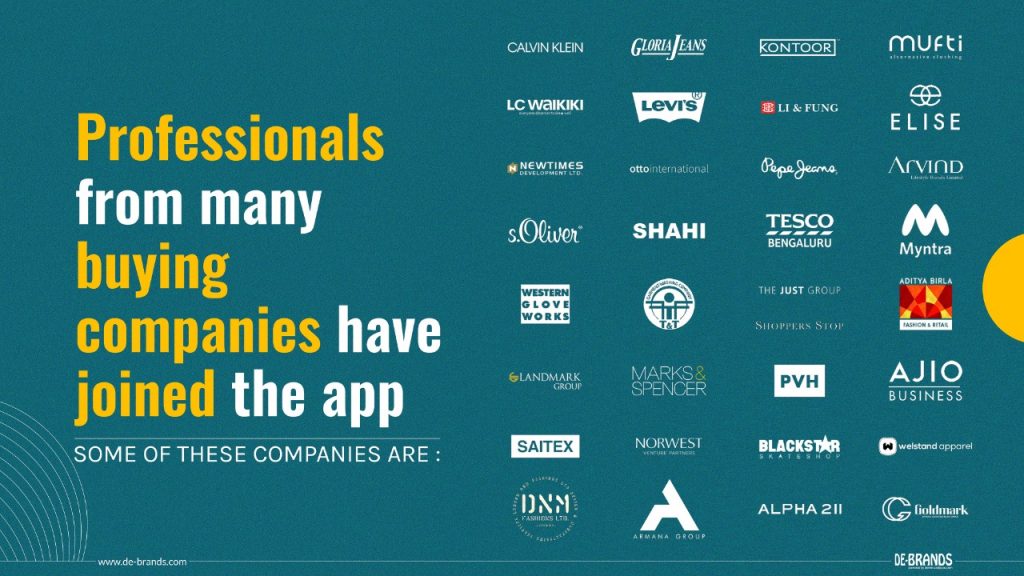 Support to denim professionals affected due to pandemic
Denimsandjeans invited all the denim designers, washing experts, and sustainability warriors who have lost their work/jobs during the COVID pandemic. We all have witnessed a very disturbing time in the past few months, a lot of people left us, and a lot of professionals/workers were forced to leave their positions.
This invitation was for those denim professionals who wanted to provide services to the industry in terms of designing, washing, marketing, consulting, etc. These services are looked for by different global companies and through our network, we endeavored to reach their messages to such companies.