In this report, we are presenting the Las Vegas Trade show for the Spring / Summer '13 denim trends. This trend report has been prepared by Stylesight and kindly shared with us.  Its PRINTS, PATTERNS and PRINTS all over . Its like the whole world has been printed in some or other motif !. Denim prints, which were unthinkable a few years ago , now seem to be the major trend among top brands – though medium and mass labels have yet to pick it up in a big way . But surely, its coming !. Here are the key findings from the report.
Aloha Denim (Print + Pattern)
The seasonally appropriate Hawaiian story reaches saturation point for S/S 13.
A 50s vacation theme drives new retro takes on this summer story / Retro postcard scenes and placements /Tropical all overs feature palms, parrots and sunsets / Hand-drawn looks conjure 70s wallpapers / Photo-realistic looks offer a more modern interpretation / Key unisex story for denim brands.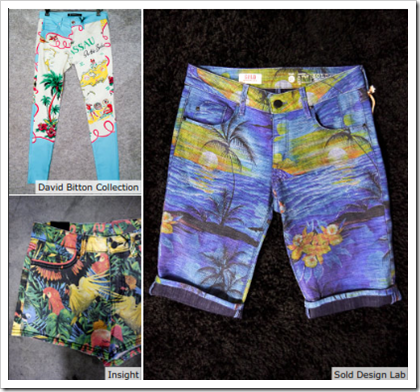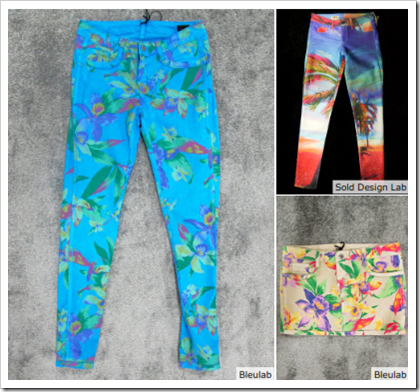 Photo-Real (Print + Pattern)
One of the most important and visually impactful trends at the show, digital photo prints are key for S/S 13.
Digitally rendered prints adorn entire pant silhouettes / Engineered artworks are designed to work with pant shapes /all-over repeats of sunglasses create a summery attitude / City-scapes and sunset horizons are key / Color-blocked photo prints offer a fresh take.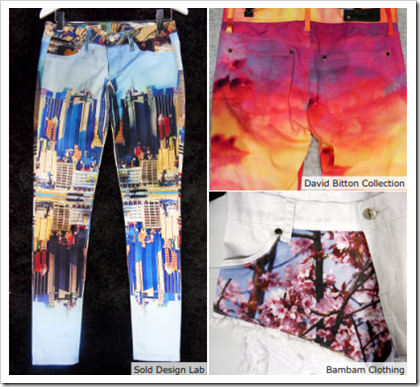 Painterly Print (Wash + Color)
Denim brands play with the concept of prints replicating laundries or vice-versa
Layered graphic dye effects look digitally printed / Detailed batik and tie-dyed create a more sophisticated aesthetic/ Print techniques in mottled and layered paintery effects / Abstracted florals offer an updated feminine look.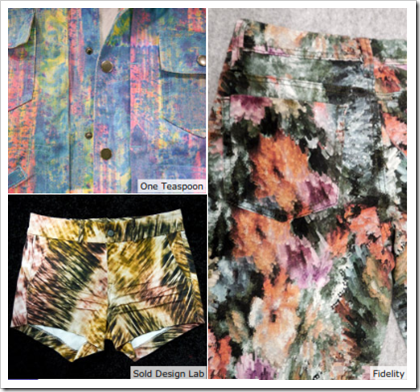 Galaxy wash (Wash + Color )
Photo-real prints and diffused laundries create a new frontier of laundered denim.
The photo-real trend enables digitally created space-scapes to adorn denim / Airbrushed and bleach splashed surfaces evoke stars and galaxies / Deep and dark color palettes / Strong hi-lo contrasts / Ethereal looks and techniques apply to a unisex market.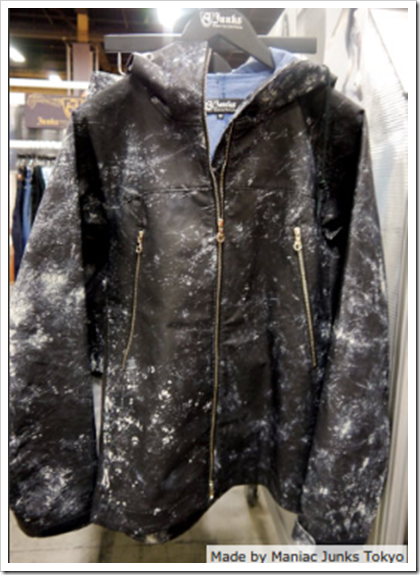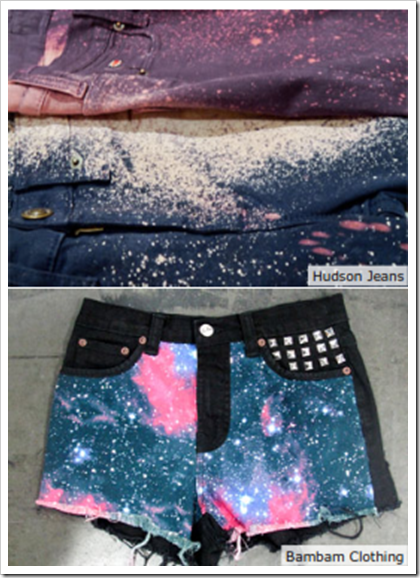 Sponged Color (Wash + Color)
New color applications take over from tie-dye looks for S/S 13.
Sprayed, sponged and blotched color is applied to denim surface / 3, 4 and 5 colors in one jean / Batik techniques add another dimension / Soft focus and bled pigments and dyes / Creates a new update to hippie tie-dye looks.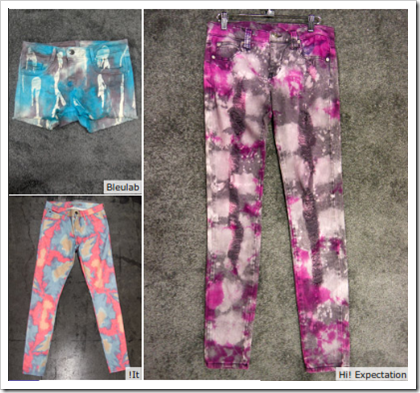 Iridescent Treatments
The holographic trend, which emerged last season at the Las Vegas shows, continues for S/S 13.
Multi-tonal metallics and holographic PU coatings / Pearlescent qualities update pastel color ranges / Manish Arora x Notify continue their collaboration with holographic finish washable leathers / Focus is on 3-5 shades of metallic in one jean.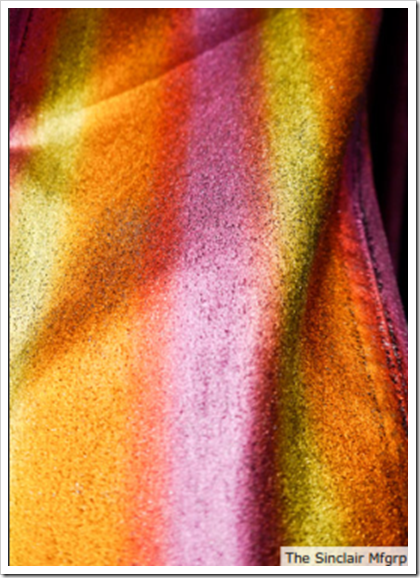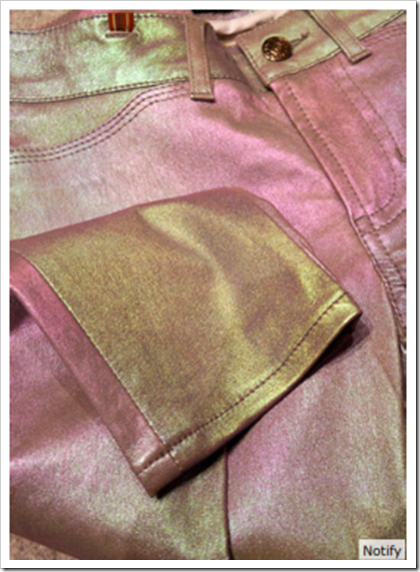 Opulent Denim (Print + Pattern)
Opulent denim surfaces emerge for S/S 13.
A trend that's set to progress into F/W 13 / Deep and dark shades of black, indigo and burgundy / Accents in antique gold and bronze / Heavy and dense embroideries / Foil prints and lasered "burn-out" looks / Wallpaper designs, rococo and arabesque artworks / fits in with the Outré trend for F/W 13.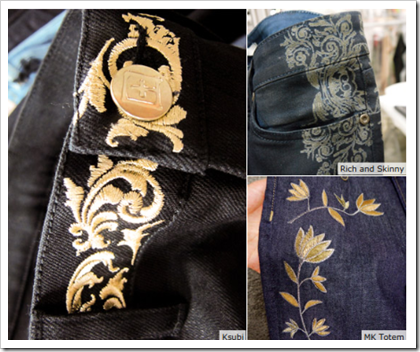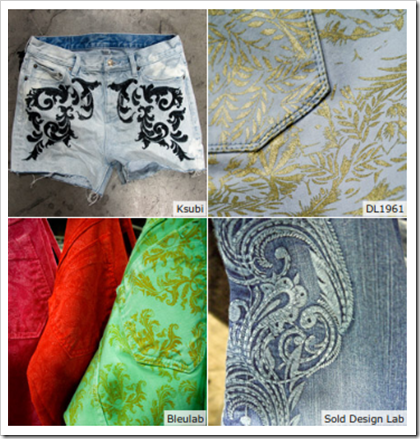 Paisley Indigo ( Print + Pattern )
For Juniors, the Paisley skinny becomes an essential item in many denim ranges.
Bright indigo and stark white are paired / Micro repeats and scaled-up allovers / The Bandanna print was noted at many S/S 13 vendors / Denim Jacquard trends for Women's markets / Lasered denim effects create a subtle and tonal look.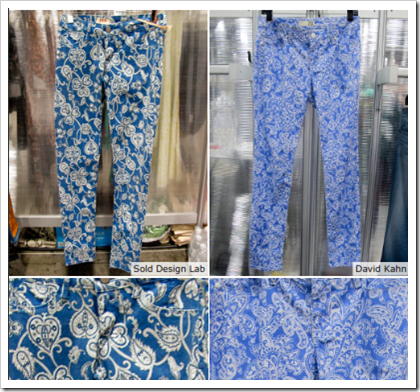 Indigo Pattern ( Print + Pattern )
A huge trend for both Men's and Women's markets, this look has been key at all trade shows from Berlin to Copenhagen.
Discharge prints, laser technology, embroidered motifs and indigo jacquards are all key / Adds textural interest to Summer indigo garments / Micro repeats and jacquards trend / Embroideries nod to traditional British menswear looks / Key unisex story.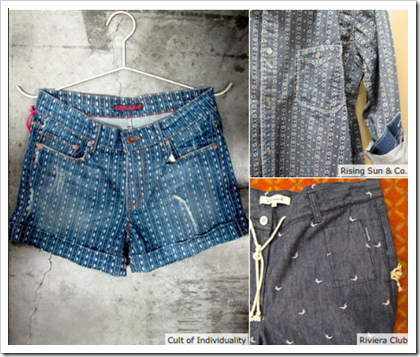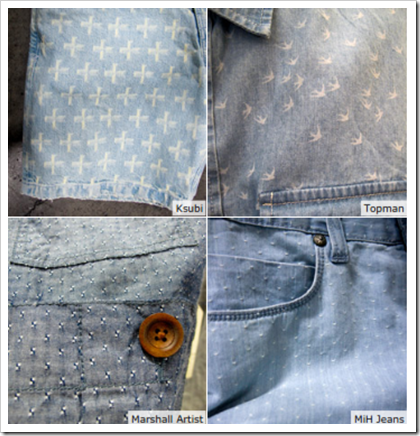 Summer Blanket ( Print + Pattern )
The success of the blanket lined trucker has led to summer versions of blanket stripe emerge on the market.
Re-working internal blanket stripes into external prints / Wider-spaced awning stripes are key for S/S 13 / Double faced chambrays offer a summer alternative to fleecy blanket qualities / Printed and yarn-dyed stripes / Girly colorways are key for the womens wear market.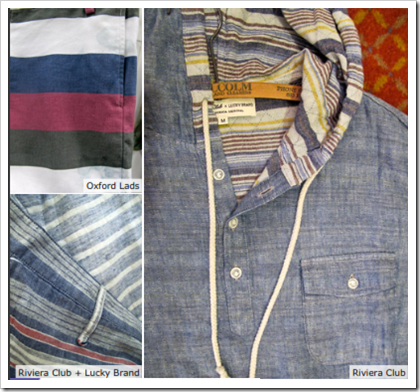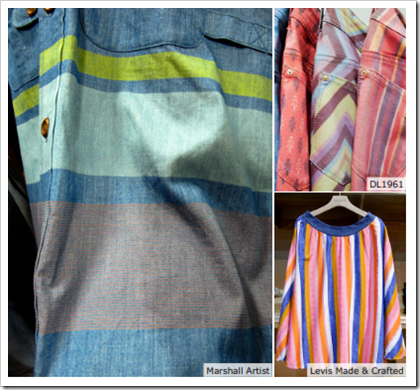 Ticking Stripe ( Print + Pattern )
The success of the railroad stripe has led to traditional ticking stripes emerging in the market.
Purist denim brands begin to favor ticking over railroads / Clean and crisp indigo and white cloths / Faded and antiqued looks replicate antique garments / Variegated stripe patterns create further interest / Wider-placed prison stripes also remain key.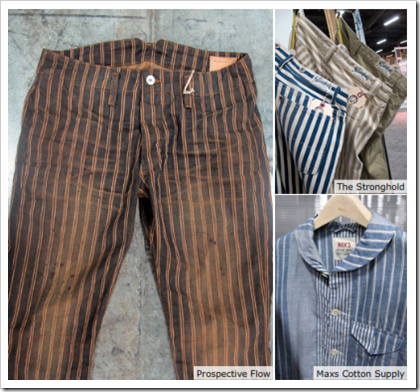 The Gold-Rush Vest Product
Brands continue to tap into Old West styling for a traditional take on workwear.
Styling ranges from mid-17th century gold-rush looks to more 30's influenced workwear / Utility styling is taken over by a more gentlemanly look / Collared waistcoats borrow from maritime looks / Color-blocking and pinstriped fabrics add interest.
Granddad Shirt Product
A new unisex shirt shape for Summer 13, this Spartan Granddad silhouette was seen at many key vendors. Small stand collars create a puritanical attitude / Half-placket styling remains strong / Color blocked detailing gives the item a more modernist look / Bib seams nod to traditional menswear looks / Elongated bed-shirt silhouettes.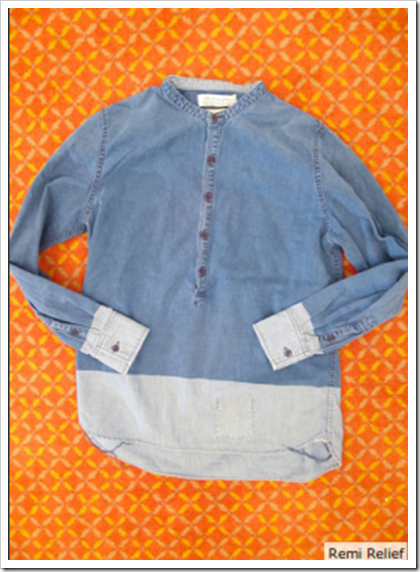 Bowling Shirt Product
The 50s short-sleeved shirt becomes an essential Men's item for S/S 13. Retro, Button-down styling / Clean chambrays and lightweight denims / New Spread-collar styling for on-trend, directional brands / Crisp and short sleeve length / Single or twin pocket styling / Boxy loose shape replicated the Hawaiian shirt block.
Chambray Classics Styling
Chambray continues to dominate the Summer denim market for both guys and girls.
A key fabrication for Summer 13, re-working classic shapes in this lightweight cloth give and immediate update / Traditional 5-pocket jeanswear styling is a refreshing alterative to tailored items / Colored chambrays uptrend, particularly red and grey shades / The pleat front trucker and railroad jacket is re-worked for Summer.
Neo-Shirtdress Product
The classic shirt-dress is re-worked for Summer 13, with innovative and directional updates.
Outdoorsy, parker styling gives the classic shirtdress a tom-boy attitude / Mending function and fashion for a fresh take on a womens wear item / Retro 70s styling drives fitted, Charlie's Angels style pieces / Functional zip-through detailing is key / Simple shift and shell dress updates offer high-summer appeal / Bright, 70s cast denims and light weight chambrays.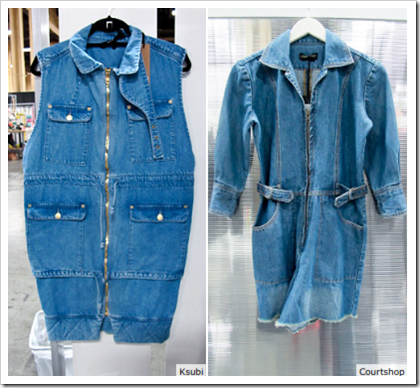 All-Weather Summer ( Print + Pattern )
Unisex story; brands explore functional outerwear silhouettes and detailing for Summer 2013.
The denim cape emerges for Women and Juniors / Hooded jackets, storm flaps and drawstrings add functionality / Multi-pocket parker shapes / Military and utility references / Lightweight denims and chambrays lend summer appeal to traditionally winter items / The popover style trends for men.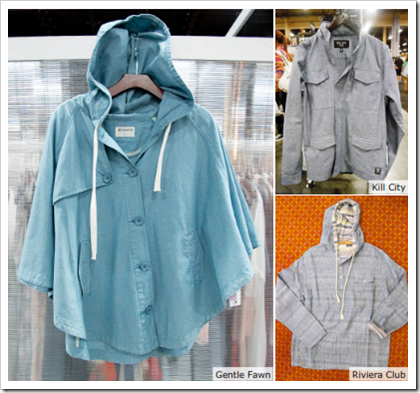 Indigo Camo ( Print + Pattern )
Camouflage repeats have been trending for some time, but S/S 13 collections continue to celebrate this classic print.
Camo repeats over indigo denims and chambrays modernize the color palette / Woodland and flecktarn camos nod to outerwear and military / Upsized and exploded prints add graphic boldness / Indigo-on-indigo looks create a subtle effect / Contemporary and modernized camo interpretations.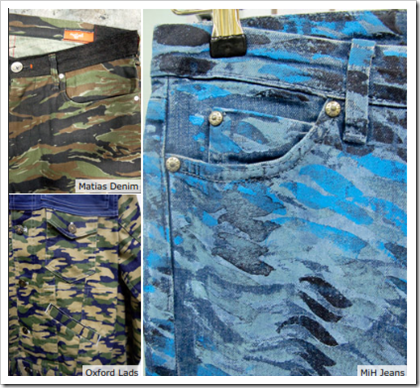 Stylesight is a leading provider of trend content, tools and technology for creative professionals in the fashion and style industries.