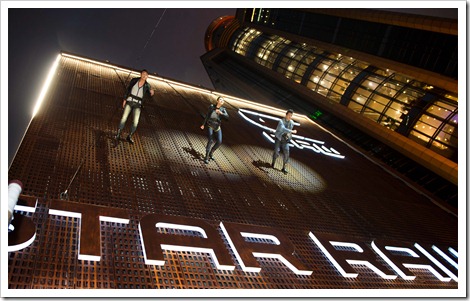 On 21st Feb G-Star RAW officially opened its global flagship store in Hong Kong in the iconic Times Square area in Causeway Bay on Hong Kong Island. G-Star, known for its innovative and cutting edge style in the world of denim, hosted an eclectic night of performance, art, music and fashion . The most awe inspiring was the Vertical Catwalk from the top of the building by the models/stuntmen.
The second Hong Kong store is G-Star's largest store in the world, accounting for 7,319 square feet of denim innovation. G-Star has expanded rapidly over the last few years, opening stores in the world's biggest metropolitan capitals from Tokyo to New York to Sydney to Los Angeles. In December 2011 G-Star celebrated the opening of its 300th store at Rodeo Drive, Los Angeles. Currently G-Star has over 6,000 points of sales in 70 countries.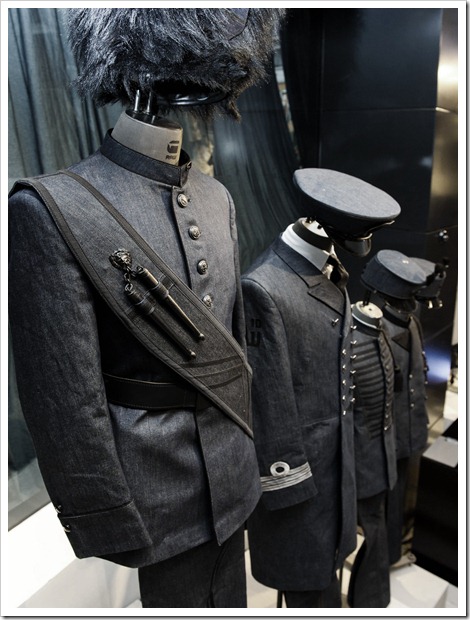 For the Hong Kong store G-Star presented an opening ceremony highlighting G-Star's core philosophy around unexpected combinations. The official opening ceremony commenced with stunt men and women running down the façade of the building also featured a traditional Chinese lion dance, a champagne crusher (handled by American Grammy nominee Skylar Grey and Chinese singer and actor Aaron Kwok) and a denim curtain revealing a tableaux vivant. In store the guests experienced an acoustic performance of the American singer, songwriter and record producer Skylar Grey and G-Star's Pop-up show, transforming a collection presentation into real live interaction.

At the Hong Kong store opening G-Star also presented the travelling gallery Raw Art Series. For Raw Art Series denim is taken to another level in terms of craftsmanship by re-contextualizing denim as collectable art objects. RAW Art Series will be exhibited in the Hong Kong store for four weeks, starting February 21st 2012.
Here is a video from the show
G-Star Largest Store Opening : HK