Despite various controversies surrounding the trade shows clashing each others' timings, the DPV held on Nov 5 and 6 at Paris – with the first Paris returned edition – went off well with decent attendance , though there have been many opinions on this issue. Many exhibitors were quite happy with the visitations and return to Paris , while many other felt that it could have been better . The next edition will again happen on April 26-27 and it will again be a tightly packed schedule with  shows in Amsterdam and NY also happening closely .
Premium Vintage Market
A new concept of Vintage Denim Market was initiated by DPV and some very authentic and vintage garments specially in denim were brought out by the Denim Boulevard ( Murio and Antonio). With many garments and accessories over 100 years old , it was a treat for most of the visitors with most of them shooting the looks while others lapped up the vintage apparel as they were on sale. We interviewed Murio and Antonio on the kinds of vintage apparel they were displaying and some of them were just mind blowing.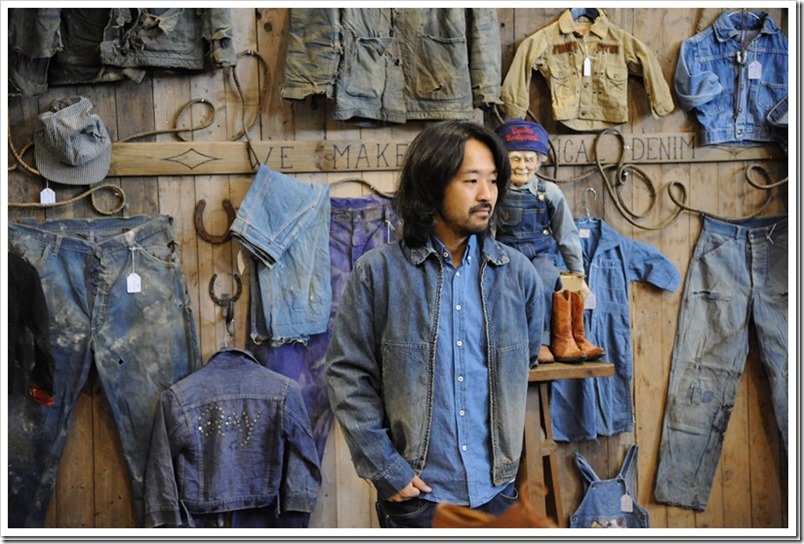 Coming to the aspect of  new products from different companies, we visited some of the global denim leaders and spoke to them. We bring out the talks with the companies along with some details on their products.
Kassim Denim | Pakistan
Kassim introduced the 38oz jeans and which has  been claimed as the world's heaviest denim by the company. Technically a very difficult weight to achieve and to sew, it added a feather to the cap of the company. Further the company introduced two major innovations at DPV
They launched the first indigo fabric made with a 3-D printer which is a perfect blend of use of ancient technique of Indigo dyeing and future technology of 3D printing . It is made with TRT, a polyester resin. This specific material is made with made out of recycled plastic material, it is biodegradable, highly flexible and breathable. It can be used for five-pocket jeans while it can also be aged and treated as regular indigo denim. In the future, Kassim is also working on to develop stretchable 3D.

They also launched a special microchip that can be attached to jeans and can trace position, body movement, body temperature, humidity, medical information and many other information of its wearer. It can track the wearer anytime from anywhere with the use of technology.
An exclusive interview by Denimsandjeans with Kassim can be seen below
Soorty | Pakistan
Soorty focused on Sustainability with some of their key products.  Soorty introduced three products in this arena.
Denim Active : Two bases have used to develop this product , one is Bi-Stretch base with a recycled component and another one with Cool Max base and moisture management and temperature control. This product can be used for cycling ,yoga and while playing sports.

Herbal Blue   : Made with Natural Indigo and extracted from the plant " Indigofera" and then further processed to make it completely sustainable and organic with least consumption of water.

Zero Water Blue: The products under this project have been developed with 90% less water consumption during the dyeing process. 3.1 Liters water per garment from Raw Fiber till Finished Garment has been used.
Denimsandjeans.com has an exclusive chat session with Mr Mansoor Bilal from Soorty where he explains about the new S/S 18 collections and its specialties. Check out the video !
Arvind Denim | India
Arvind Denim came up with variety of developments. The first in the line was Recycle denim . Under recycle denim , they offered Renaissance which had Men/women bottom both in stretch and rigid which have been developed by using post consumer waste and it also meets Global Recycling  Standards ( GRS). The next concept which they were offering at DPV was Azurite ,a product which has been saturated with the Indigo which can be washed at multi levels.The next concept was Neo Bubble developed by using sustainable dyeing which contains different textures and blend. 
An exclusive interview by Denimsandjeans with Arvind can be seen below
Bossa Denim | Turkey
Bossa came this time with some advance developments covering a series of new denims including its Dye-Art process  which enables the manufacturers  to reduce usage of water upto 22 litres of water per meter of dyed fabric  . The Turkish Denim giant is also targeting to increase usage of BCI cotton in their production from 35 % to 60 % for years to come with an ultimate objective to reach at the level of 90% usage  of BCI Cotton.For the rest of 10 % , they are aiming for Organic Cotton.
An exclusive interview by Denimsandjeans with Vicunha can be seen below
Prosperity | China
While talking to Denimsandjeans , Mr Kary from Prosperity introduced some new innovations which were made with their recent collaboration with Creora Fit2. They developed a garment which is a four way stretch that gives more elasticity in the warp (40-50%) and less in the weft (22%) with great stretch recovery. Another product that Prosperity introduced was ISPO with a temperature circulation technology . Prosperity also brought some cotton linen sustainable products to showcase along with sweet Indigo garments.
An exclusive interview by Denimsandjeans with Vicunha can be seen below
Vicunha | Brazil
Vicunha brought some fabrics which incorporate Dryarn fibers for 30% lighter denims with cooling properties . They introduced some major other products from their stable including  Athiletic Denim ,Hi Technology Sportswear and Eco Recycling being some of them. The Hi Technology Sportswear keeps you dry and cool in summer and that is because of the Yarn used in it as per Vicunha. The Eco Recycling promotes greener approach towards fashion by using water lesser upto 80% . Vicunha is a BCI rich company with most of their production being done with BCI cotton  An exclusive interview by Denimsandjeans with Vicunha can be seen below
Naveena | Pakistan
  At the Denim PV ,  Naveena Introduced their capsule collection in Indigo with their new idea of fabric .The company believes that Paris is not only a  great platform to showcase  latest collection but also a very good opportunity to communicate with the consumers. The company introduced a very elegant garment ranging between 6Oz-10Oz which has been developed by using light weighted yarn and fabric .The company claims that this product will give a new interpretation to what formal denim suits could look like. This collection has been developed with Naveen by the renowned denim designer Mr Francois Girbaud !
An exclusive interview by Denimsandjeans with Naveena can be seen below
Mr. Francois Girbaud speaks about the new collection of Naveena and denim direction in general  .
Hyosung | Korea
Hyosung Creora came to DPV with an idea to promote their garments having Bi-Stretch with 360 degree of comfort.
Fabric created with spandex developed by Creora with 40% walk way stretch using Ecosoft.

The another product was Highclo, which is a high chlorine resistance spandex which retains stretch ability of the garment tact even after heavy washes.
An exclusive interview by Denimsandjeans with Hyosung  can be seen below
Filatures Du Parc | France
The Spinning mill from France came up with an Innovation which is related with Production Of Recycled Yarn Made From Post Consumer Denim .  Talking broadly about this innovation, they explained us the process of recycling .Initially they collect denim wastes including stretch fabrics  and they are   they cut   into small pieces and fiber is extracted from it . The fibres are then blended with polyester and fibers  . The Polyester that they use is also a recycled polyester from plastic bottles. The Yarn that comes out is known as ECO JEANS – to focus on the sustainability part of the product. An exclusive interview by Denimsandjeans with Filatures Du Parc can be seen below
Calik Denim | Turkey
Calik Denim came up with its new Fix-Fit soft touch denims available in very light weight denims for both men and women.  Their other Hyperlight superlight and highly stretch denims weigh only 10oz and can reach up to 70% elasticity. An exclusive interview by Denimsandjeans with Calik Denim can be seen below
US Denim Mills | Pakistan
100% stretchability with a very low growth is one key product from US Denim of Pakistan.  They also came out with self recyclable synthetic fiber that auto decomposes in 2 years as per the company – making the recycling of jeans a very easy affair. The key focus of the company has been high technology and sustainability.
Kuroki | Japan
An exclusive interview by Denimsandjeans with Legend Mr Tatsushita Kuroki  can be seen below
Jeanologia | Japan
Jeanologia   presented their  Light Sensitive Fabric a new way of studying how a fabric can react to various treatments so that the manufacturer can plan for the same before hand.
The Denim PV team had their own take at clubbing the trends seen during the show . We bring below some looks from the DPV team which they released shortly after the show.
---
The early summers going to be a great opportunity for sourcing and meeting all the global denim experts under one roof . Please block the dates of our Bangladesh & Vietnam Edition . The Bangladesh Edition will held on March 1-2 and The Vietnam Edition will be on June 7-8 . To get the invites , please register here.