Denim by PV is back again on 27th and 28th Nov at Paris. With over 80 companies from different countries around the world participating from the denim supply chain , the fair is always an exciting place to be to. Companies shall present their collections and there will be some events as well.. We are giving here below a snapshot of some of the activities and  presentations that will take care . Of course, a much more detailed report will follow after our visit !
Arvind Brings the Neo Denims
Arvind brings their Neo denims in various categories – cords, shirtings, jacquards, prints and more..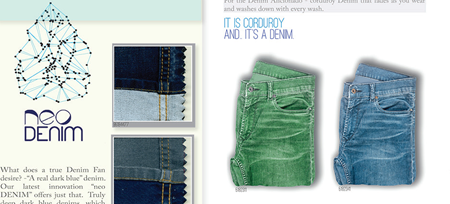 ISKO and Creative Room: Creativity, education and innovation
ISKOTM -a leader in the production of denim fabric technologies-, together with its specialized Italian center for design and style research, Creative RoomTM, is launching a project dedicated to the young talents of fashion design, with outstanding partners. Denim, creativity and education are at the core of this initiative that is revealed at the ISKOTM booth A3.
Come and discover how ISKOTM and its partners combine creativity and education to drive innovation in the fashion denim industry!
Six New Concepts by Soorty
As detailed in another article , Soorty brings out 6 novel concepts including the one dip, 3sixty, Extreme Sports , Dance, Sustainable  and Coating Kitchen.


CALIK DENIM: Making Botanical Sense
Calik has combined its sustainable efforts under a "natural" collection. Botanical Sense draws inspiration and raw materials from nature, and makes them industrially applicable. For the launch of Botanical Sense, 20 new natural denims will be introduced. The denims are made from organic cotton, BCI cotton, recycled cotton, linen, paper yarn, Tencel and Modal.
Denim Innovation – New Performance For Denim Fabrics
INVISTATM, maker of LYCRA® fibre, and Lenzing, producer of TENCEL®fibre, are working together to address unmet consumer needs and to bring improved performance to stretch cellulosic fabrics.
Come to the conference on November 27th at 2:30 p.m. to discover how technology from INVISTATM is being paired up with Lenzing's TENCEL®
fibre to create soft denim fabrics that drape well and give enhanced comfort,
fit, and freedom of movement.
Global Fashion Awards 2013
A jury of 63 international experts, designers, artists, journalists and industry leaders from five continents named Jeanologia the winner of the award for the best sustainable design team in the world.
During the show, discover the work of this leading company  in the global laser-technology market in the Jeans gallery! This season Jeanologia is collaborating with 8 weavers to bring out an interesting collection.
DeriDesen: 3 Concepts for SS15
This season, DeriDesen is introducing its new collection composed of 3 categories: Vintage, Clean and Suncity.
For the "Vintage" concept, the company is using vegetal, semi- vegetal , and organic leather qualities. Deep emboss techniques and stone and some different washes are applied to make denim look used.
In the "Clean" category, the company is combining different techniques such as mixing serigraphic and emboss down techniques together. By doing rinse wash, Deridesen tries to give little wash effect to leather labels.
Finally, with its "Sincity" concept, the company has decided to focus on chic and modern women! Therefore, foil print is used, and leather and jacron are covered with foil. Deridesen also uses horse and snake leather in many colours, with metal accessories! Many novelties to discover at the show!
Its always a pleasure to visit Denim by PV and meet with worldwide denim fraternity . Local Contact – +33-760103937