The  BBB Jeans fair (July 2009) was a great success regarding the number of visitors coming from all parts of the world.
But,the question is still of it was a fair for designers and photographers are where there so many buyers !!.
The layout of the stands were excellent made and well organised and generally many colours could be seen!!!!
Here is a brief note on some of the denim brands that were present there.
LEE:
-garments with holes ,,,,,, no pressing
-unwashed
-old and vintage look
-bigger back pockets!!!! And low positioning
-loose fit
-back is the bib overall
101 CONCEPT:
-Ring/Ring fabrics , The fabrics were japanese – from Kurabo!!
-Dark and medium washed
WRANGLER:
-Labels are bigger and colour full
-Garments are more even,,,,, dark and medium washed (14OZ)
-No pressing just blowing
-Very few with dirty wash look
LEVI'S
-Black denim for 501——-normal washes !!!!dark/medium/bleached
-Bleached with holes!!!!
-Loose fit
-Unwashed. I have the impression that Levi's is moving away from the extreme washes.
-many colours and coarse stitching on the back pockets and embroidery
Similar  trends I found in brands – COLLIN'S and MAVI jeans (turkey)
garments.
Only brands made by ADRIANO GOLDSCHMIED you find the extreme washes!!!
Denim Fabric Trends Noticed:
I have the impression that the most manufactures put more ATTENTION again to the fabric for sure 14OZ!!!
The flamed denim is still in collection (inherent to ring yarns)
Also crosshatch fabrics (R/R) more expensive fabrics are used more
DEEP DYEING and PURE indigo
Shrink to Fit Fabric is becoming

HOT.

It is weft stretch denim which is not sanforized and has a residual shrinkage of 15% in weft and 15% in warp.Elasticity is about 20-30% . Such fabric was made in the Eighties…
A Note On TRC – (Denim Mill From Italy)
TRC PROPOSED The  Selvedge Denim…
Woven on the old Picanol president loom( anno 70 _80)
Shuttle loom (unifill) width of fabric 75 cm
Speed of loom :15O picks/min VERY SLOW
Same concept was noticed at PH7 -Japanese brand– handcrafted…
CONCLUSION
Everyone was a little bit nervous for the further evolution and result AND hoping that after TWO years the economy should improve!!
BUT now they all should try to overcome the 2 difficult years!! HOW ??
Note for Denim Companies :
IT IS VERY IMPORTANT to present the Fabric in LEG form and washed very well( different washes).
Back pocket on the leg to see the contrast
This makes the fabric more attractive FOR PRESENTATION.
Here are some photographs I shot from the fair which show some of the trends noticed at the fair. Specially , notice the large pockets on some of the jeans .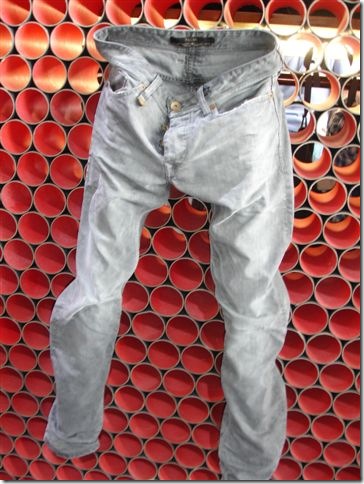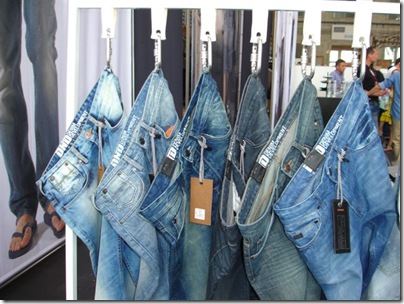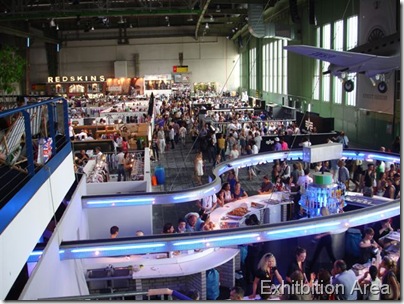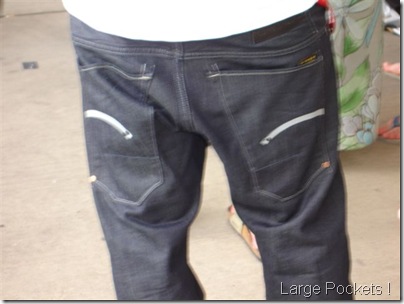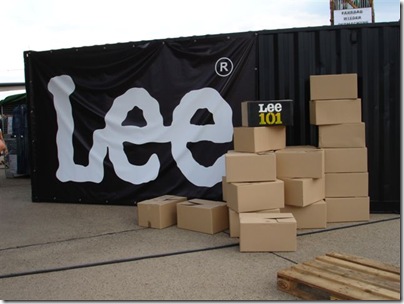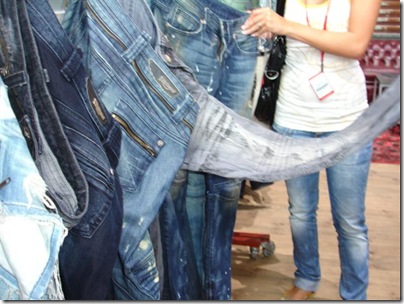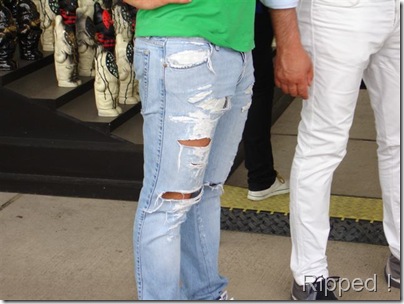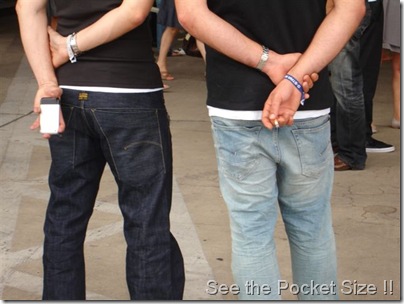 Can't miss to show this stack of denim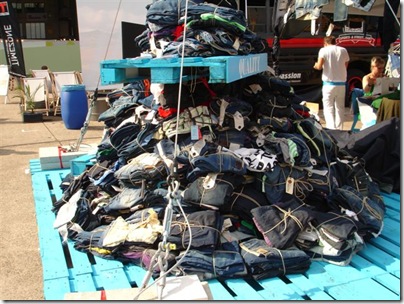 And Myself !!!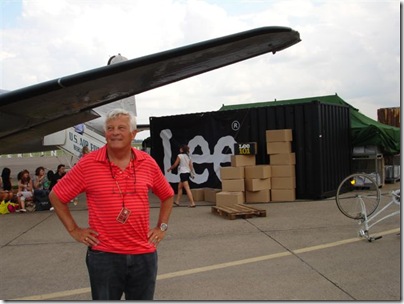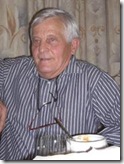 This is a guest post by Rik Vanniewenborgh who has over 30 years experience in Denim Industry. He has worked over 25 years in the VF Corporation (Belgium) in various capacities (including quality control)and has travelled over around the world living and breathing denim. This post is from his recent visit to the BBB Berlin Jeans Fair.Contact him on email here